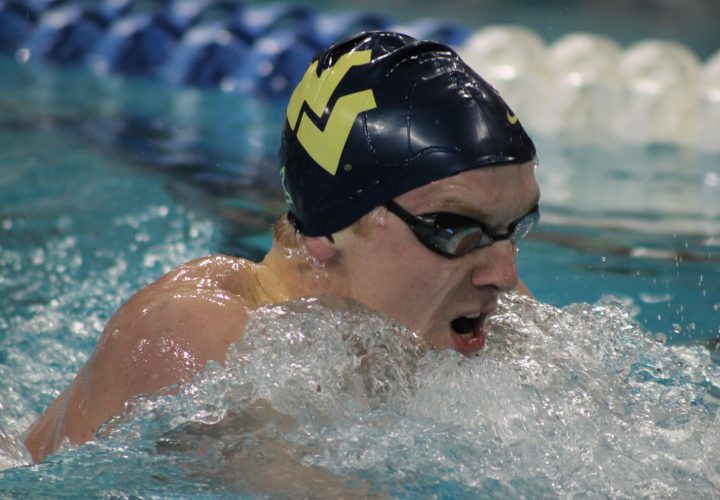 Photo Courtesy: Andy Ringgold / Aringo Photos
Featuring five home meets at the WVU Natatorium, West Virginia University Director of Athletics Shane Lyons announced the 2017-18 men's and women's swimming and diving schedule on Thursday.
Five of the Mountaineers' seven regular-season meets will be in Morgantown, highlighted by the West Virginia State Games, the Backyard Brawl and a Senior Day matchup against Big 12 foe Iowa State and Villanova.
On the road, the WVU swimmers will compete at the Ohio State Invitational and the divers will travel to the Frank Elm Invitational, while the Mountaineers also face TCU in Fort Worth, Texas.
Men's Schedule | Women's Schedule | Printable Schedule (PDF)
The Mountaineers' home schedule commences with the annual Gold-Blue intrasquad to open the season on Saturday, Sept. 30.
WVU is set to host the seventh annual West Virginia State Games on Oct. 6-7, a competition featuring swimming and diving programs from around the Mountain State. The opening homestand concludes with Seton Hall and Xavier coming to Morgantown on Oct. 27-28.
"This season's schedule gives both teams a wide range of competition," WVU coach Vic Riggs said. "It is always nice to start the season off by hosting the West Virginia State Games. The Seton Hall/Xavier weekend will be a new format and I think will provide some great racing."
West Virginia will travel to a pair of invitationals on Nov. 17-19. The Mountaineer swimmers will head to the Ohio State Invitational in Columbus, Ohio, while the divers will compete at Rutgers' Frank Elm Invitational in Piscataway, New Jersey.
Following a week-long training trip to Florida in December, the Mountaineers will return to the competition pool to host rival Pitt on Saturday, Jan. 6, in the Backyard Brawl.
A trip to Big 12 Conference foe TCU follows a week later, on Saturday, Jan. 13.
Villanova and Iowa State will visit the WVU Natatorium on Senior Day, Saturday, Jan. 27, to close out the regular season.
"Heading back to the Ohio State Invite gives us the competition needed to set us up for a successful second half of the season," Riggs said. "January is rivalry month again, and having Pitt, Iowa State and Villanova at home will be exciting. I look forward to each meet giving the teams an opportunity to improve and prepare for Big 12's and NCAA's."
WVU will begin the postseason at the Big 12 Championships, which will again be held in Austin, Texas, on Feb. 21-24. Jake Armstrong's gold medal-winning, 100-yard breaststroke performance paced the men's team to a second-place finish at the conference meet last year. The women's team placed fourth.
The women's NCAA Swimming and Diving Championships is set for March 15-17, in Columbus, Ohio, while the men's national championship meet will be held in Minneapolis, Minnesota, from March 22-24.