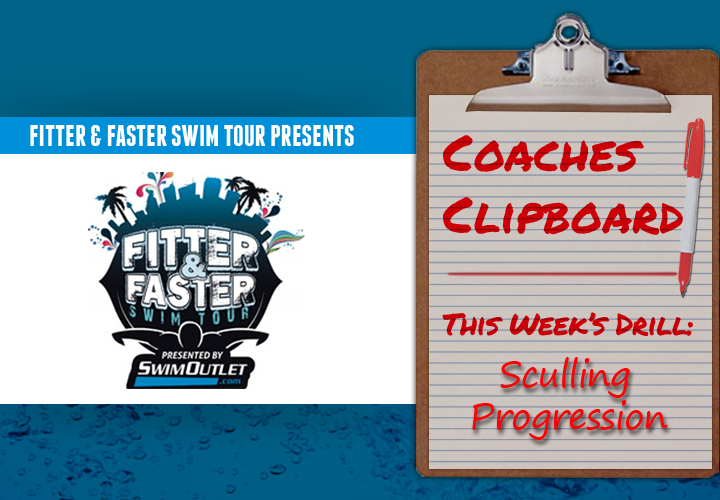 Welcome to the "Swim Drill of the Week" sponsored by The Fitter and Faster Swim Tour presented by Swimoutlet.com. Swimming World will be bringing you a drill, concept, or tip that you can implement with your team on a regular basis. While certain weeks may be more appropriate for specific levels of swimming (club, high school, college, or masters), Drill Of The Week excerpts are meant to be flexible for your needs and inclusive for all levels of swimming.
This week's drill is a sculling progression that transitions from Front Scull to Windshield Wiper Scull over the length of a pool. This drill is designed with breaststroke in mind, but can be used with swimmers who specialize in all strokes.
Pushing off the wall, swimmers will begin with a front sculling and slowly transition their way to the windshield wiper sculling position, moving their hand position in the water relative to their body as they progress down the pool. When doing this, it is helpful to set a particular count for each scull. For example, 4 cycles of a pure Front Scull to begin, then dropping the hand position for another 4 cycles, then dropping again for another 4 cycles, and so on until you end in the windshield wiper scull position.
Moving slowly from the from the front position to the midline position helps swimmers develop a "feel" for the water at different parts of their strokes and encourages them to be thoughtful of their body position as they move down the pool. For breaststrokers, this drill is great for developing a feel for the "insweep" of the pull, which has a markedly different feel than the other three strokes. However, this drill can still help create awareness and control in all of the strokes. Anything that will enhance your swimmers' ability to have self-awareness in the water will be advantageous in the long run of their swimming.
When doing this drill with your team, make sure you encourage them to go through it slowly and purposefully. Moving from the front position to the midline position before you are halfway down the pool will do little to develop an awareness of the water in those positions that may be foreign to them. Using a snorkel is a good idea to slow things down and have them focus just on moving through the different positions of the drill. Happy swimming!
All swimming and dryland training and instruction should be performed under the supervision of a qualified coach or instructor, and in circumstances that ensure the safety of participants.