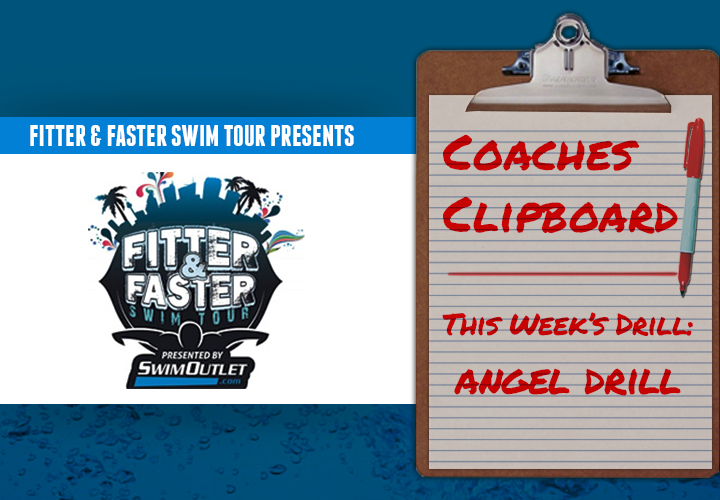 Welcome to the "Swim Drill of the Week" sponsored by The Fitter and Faster Swim Tour presented by Swimoutlet.com. Swimming World will be bringing you a drill, concept, or tip that you can implement with your team on a regular basis. While certain weeks may be more appropriate for specific levels of swimming (club, high school, college, or masters), Drill Of The Week excerpts are meant to be flexible for your needs and inclusive for all levels of swimming.
This week's drill is Angel Drill for butterfly. To do this drill, have your swimmers balance on a kickboard and push off of the wall. Balancing on the kickboard with their arms by their sides, your swimmers will lift their arms out of the water and recover to the front as if they were taking a normal butterfly stroke. At this point, instead of entering the water with their hands and pulling underneath their bodies, they will gently swing their arms back to their sides. When explaining it, is helpful to describe this motion as if they were making a snow angel on their stomach (hence the name of the drill!). Using a small flutter kick to propel themselves, your swimmers can move down the length of the pool repeating this motion.
Angel Drill is a great drill for beginning swimmers to teach them how to recover with their arms clear of the water in butterfly. One of the biggest challenges for beginning swimmers is the arm pull and recovery phase of butterfly. Too often you will see young swimmers unable to get their arms out of the water and all the way around in front. This drill allows young swimmers to feel what it is like to bring their arms around clear of the water on the recovery phase of their stroke.
Balancing on the kickboard adds an additional element of core stability, forcing swimmers to engage their entire body and relax their arms to stay balanced. This promotes whole body awareness while swimming butterfly and encourages them to have a low, relaxed recovery with their arms. Using this drill as part of a progression including boom drill or single arm butterfly can help your younger swimmers piece together the different parts of butterfly and develop a complete stroke. Happy swimming!