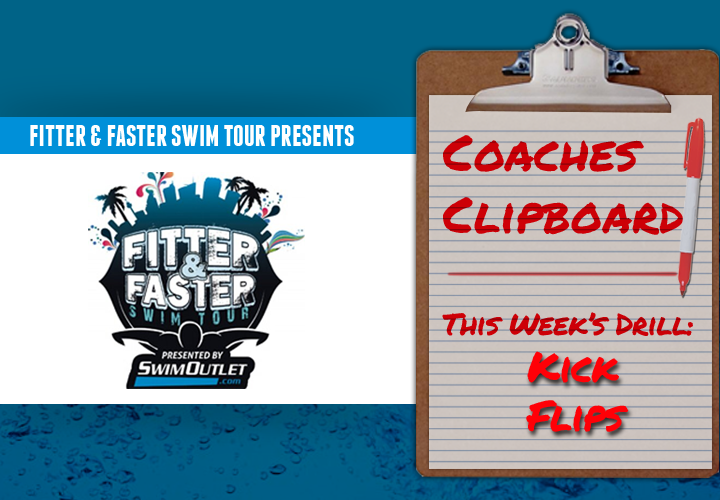 Welcome to the "Drill of the Week" sponsored by The Fitter and Faster Swim Tour presented by Swimoutlet.com. Swimming World will be bringing you a drill, concept, or tip that you can implement with your team on a regular basis. While certain weeks may be more appropriate for specific levels of swimming (club, high school, college, or masters), Drill Of The Week excerpts are meant to be flexible for your needs and inclusive for all levels of swimming.
This week's drill is perfect for perfecting flip-turns, and is a great drill to incorporate with beginners, experienced swimmers, and everyone in-between! Take a look at the video below and the following description to see how you can use this drill with your team!
Have your athletes on the wall with their arms extended and feet behind them, kicking steadily. After roughly 5 seconds blow a whistle that sends them directly into a flipturn, fast underwater, and half-pool sprint. Make sure your swimmers are flipping in a straight line and pushing off on their backs. This is a great drill to identify which of your swimmers may be twisting during their flipturns and slowing themselves down. It also provides an opportunity to focus specifically on underwaters and clean breakouts.
This drill is also flexible enough to do with a large group. Simply have your swimmers arrange themselves in the lane and have each consecutive swimmer start kicking on the preceding whistle blow. You can send 8 lanes of 4 swimmers each within 20 seconds, giving everyone the chance to work on a perfect flipturn in a short amount of time. You can also use this drill at the end of warm-up to focus in on turn technique while also giving them a chance to work on speed in and out of the wall. For example, you can get 10 great turns in less than 7 minutes with the following:
10 x Kick Flips w/ 12.5 fast, 12.5 easy to opposite wall on :40
This is also a useful drill to introduce the concept of fast flipturns to younger swimmers. There is an opportunity to provide feedback after every single repetition, so take advantage of it. Happy swimming!