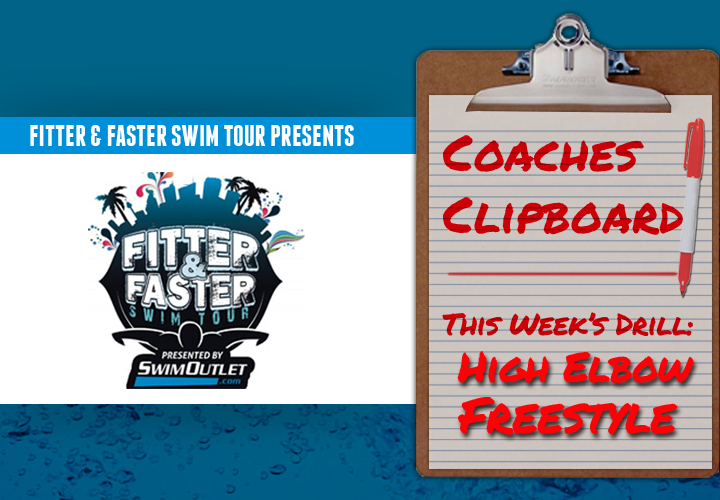 Welcome to the "Drill of the Week" sponsored by The Fitter and Faster Swim Tour presented by Swimoutlet.com. Swimming World will provide you with a weekly tip or drill from an elite level swimmer to make you a smarter and faster swimmer.
This week's drill is High Elbow Freestyle Catch, explained by two-time Olympian and American Record holder – Larsen Jensen. Having trained with several of the best distance coaches in the world, Jensen shares his perspective on what swimmers should be thinking about to maintain a high elbow catch, throughout each stroke cycle.  
High Elbow Catch is often described as a "pulling" motion that is initiated from the swimmer's elbow, forearm and wrist. However, Jensen provides a unique mental picture for swimmers and coaches to think about when trying to achieve a high elbow catch.  Instead of thinking about the arm "pulling" past the body, Jensen views the arm as staying stationary in the water, like an 'anchor', while the body moves past the arm.  This simple visualization will allow swimmers to set a high elbow 'anchor' or catch, while utilizing more of their body for forward movement and power.  
Jensen recommends paying attention to the hand entry point in the water with each stroke. If the high elbow catch is done correctly, you should be able to see your body move past your hand entry point in the water. This is a great drill to use video and film yourself doing and then review with your coach.
Sign up for a clinic with Larsen Jensen or request Larsen for your next event.