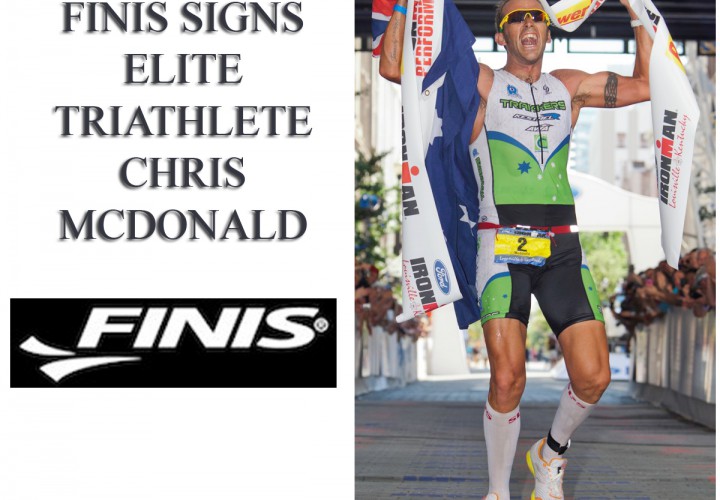 LIVERMORE – FINIS, a world leader in technical swimming products, announces the addition of elite triathlete Chris McDonald to the team of FINIS sponsored athletes.
McDonald is an Australian native now living and training in Austin, Texas, and Boulder, Colo. Since McDonald began professionally racing in 2004, he has maintained an exhaustive race schedule, competing in over 40 Ironman events in the span of just 10 years. McDonald's demanding race schedule has certainly produced results; among other victories, he is a 7-time Ironman Champion:
Ironman Louisville 2007, 2011, 2013 & 2014
Ironman Lake Tahoe 2013
Ironman Wisconsin 2007 & 2008
In tandem with McDonald's sponsorship, FINIS has officially partnered with Big Sexy Racing (BSR), an elite amateur triathlon team. McDonald and his wife Erika created and now manage BSR. BSR is a network of 100 elite triathletes throughout the United States. FINIS will usher all members of BSR into a rapidly-growing community of FINIS Brand Ambassadors.
"We are thrilled to have Chris and Big Sexy Racing on Team FINIS," said Robert Nichols, FINIS Sales Representative. "The triathlon community is filled with athletes who love swimming and we are always looking for new ways to connect with them on a grassroots level. We want FINIS products in the hands of athletes that are making an impact in the triathlon community so the decision to work with Chris and BSR was an easy call. We truly believe that we will see Chris and other BSR team members atop podiums across the world."
The above article is a press release submitted to Swimming World. To reach our audience, contact us at newsmaster@swimmingworldmagazine.com.