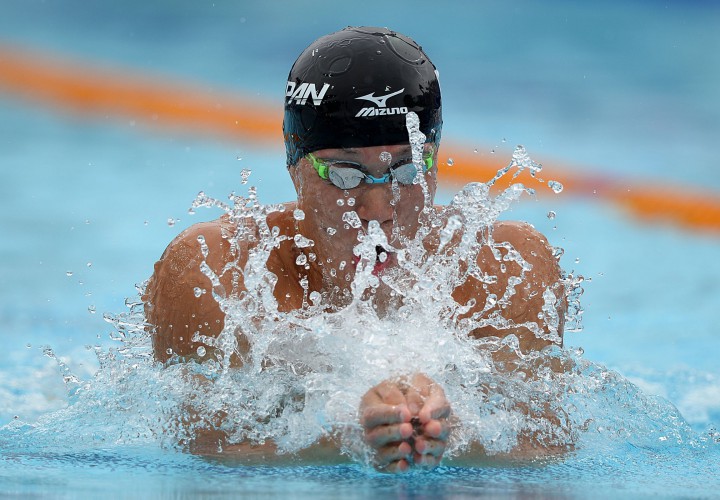 Photo Courtesy: Delly Carr
Editorial content for the 2017 FINA World Cup is sponsored by TritonWear. Visit TritonWear.com for more information on our sponsor. For full Swimming World coverage, check event coverage page.
At the Tokyo World Cup stop, the second of three meets in the final cluster of FINA's signature circuit, the first day of prelims was dominated by Japanese swimmers competing in their home country.
Japan's Hiroko Makino led the way in the women's 200 fly in 2:07.62, and she was followed by countrywomen Suzuka Hasegawa (2:07.82) and Mizuki Kurashina (2:09.41). Another trio of Japanese swimmers grabbed the top three spots in the women's 100 back, Emi Moronuki (57.52), Natsumi Sakai (58.58) and Miki Takahashi (58.95).
Junki Yasuda led the way in the men's 50 back for Japan in 24.09, two hundredths ahead of Junya Hasegawa (24.11). Another Japanese swimmer, Yuuma Edo, took third in 24.48. Takeshi Kawamoto led the 100 fly in 50.95, with fellow Japanese swimmer Nao Horomora edging 200 fly Olympic silver medalist Masato Sakai for second, 51.32 to 51.34.
Japan's Saaya Isobe finished in 31.22 for the top seed in the women's 50 breast, a tenth ahead of countrywoman Shiho Terukina (31.32). Asuka Ohwada, Kako Ishida and Yuki Takasaki all tied for third at 31.42.
Japan's Yasuhiro Koseki paced the field in the men's 100 breast, followed by countryman Masaki Niiyama (57.76) and Brazil's Raphael Rodrigues (57.78). Russia's Vladimir Morozov was first in the men's 100 free with his time of 46.85. Japan's Katsumi Nakamura took second in 47.06, and South Korea's Park Tae Hwan was third in 47.59.
Japan's Rikako Ikee edged out Brazil's Daynara De Paula for the top spot in the women's 50 fly, 25.74 to 25.83, and the Netherlands' Maaike De Waard took third in 25.93.
China's Xu Jiayu put up a time of 1:51.04 to top the field in the men's 200 back. Japan finished 2-3 with Masato Kaneko (1:51.36) and 2012 Olympic silver medalist Ryosuke Irie (1:51.90). In the men's 50 fly, Belarus' Pavel Sankovich finished just ahead of Japan's Takeshi Kawamoto, 22.87 to 22.92. Hong Kong's Kenneth To was third in 23.02.
Japan's Emi Moronuki took the top spot in the women's 50 back (26.58), while Australian great Emily Seebohm was just behind in 26.66. American teenager Alex Walsh qualified third in 26.89.
In her only prelims swim of the day, Sweden's Sarah Sjostrom topped the field in the women's 200 free, touching in 1:55.02, while Australian sprinter Cate Campbell made a rare 200-meter appearance and qualified second in 1:55.48. Japan's Chihiro Igarashi took third in 1:55.89.
Japan's Mahiro Ishii posted the top time out of the early heats of the women's 800 free, touching in 8:30.49. In the women's 400 IM, Hungary's Boglarka Kapas had the top time at 4:36.11.