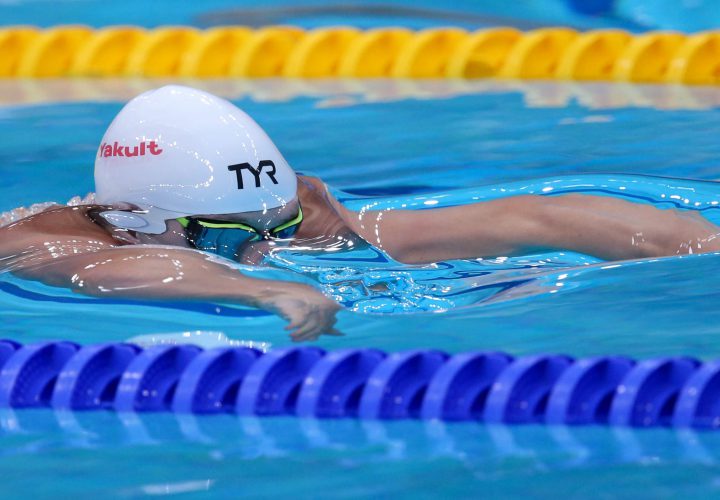 Editorial Coverage provided by

Check out quotes and audio interviews from athletes who posted impressive performances on the third day of the 2017 FINA World Championships in Budapest!
"I'll never forget the final five meters of the 400 IM when I knew I didn't have enough of what it took to get it done. Everything I do every single day, that final five meters replays in my head. It haunts me, and I was lucky to turn that into motivation." — Chase Kalisz (USA), after men's 200 IM final (gold, 1:55.56), on how finishing second in 400 IM at Olympics motivates him

"We could have gone without my swim. I was fairly confident with Caeleb that he was going to back one up and light one up… He's something else. He's going to be something in our sport for years to come." — Kalisz, on Caeleb Dressel's gold medal in men's 100 free
---
"Coming in here, going 1:56 three times is as much as I could have imagined. Disappointing to come fourth, but it's promising for the rest of the meet." — Max Litchfield (GBR), after men's 200 IM final (fourth, 1:56.86)
---
"Going into the race I have no expectations. I think everyone's like, 'Oh, Olympic champion, you have to win again.' But going into the race, I'm excited to see how low I can make my time." — Penny Oleksiak (CAN), after women's 100 free semi-finals (qualified sixth, 53.05)
---
"It was a coaches' decision, and I think it's probably in my best interest. I'm going with it and hoping to swim as fast as I can for Team USA." — Simone Manuel (USA), on not swimming on U.S. women's 800 free relay, after 100 free semi-finals (qualified second, 52.69).
---
"Right now, it's all smiles. Let it sit in a little bit… Man, it felt nice to go 1-2 with Nathan (Adrian). Nothing like that. Americans on top." — Dressel (USA), after men's 100 free final (gold, 47.17 AR)
---
"That was just exciting. Before the race, it was like, 'Hey man, this is going to be the first of many, many (World Champs) finals (in the 100 free) that you're going to be in. Don't stress out too much. He obviously didn't , and he crushed it. It's just fun to watch. He's going to be incredible in the years to come." — Adrian (USA), on Dressel's performance, after men's 100 free final (silver, 47.87)
---
"It's been a pretty up-and-down road. A lot of cricket alleyways I've been up and down the past couple years in terms of my swimming performance. I'm happy that I made the team. I'm absolutely delighted to have made my main event, and I was do everything I can to make sure I was in better shape than that." — Ross Murdoch (GBR), after men's 200 breast semi-finals (qualified third, 2:07.72)
---
"You've got to put your blinders on. The 200 breaststroke is a dogfight. No one really lets anyone get too far ahead. It's going to be a dogfight, back and forth." — Kevin Cordes (USA), after men's 200 breast semi-final (qualified fifth, 2:08.40), previewing final
---
"It means the world coming back. It's been a while, even if I didn't make a final. If you have a lane, you have a chance. I'm just happy to be in the race." — Nic Fink (USA), after men's 200 breast semi-final (qualified eighth, 2:08.80)
---
"It's my first international meet. This is something really special. I knew I was going to be nervous, but this is a lot more nerves than I thought, so it's fun to have all this energy." — Bethany Galat, after women's 200 breast semi-finals (qualified second, 2:21.86)

"She's tough as a nail. She's just taking one race at a time. She just had some bad luck—she caught a lot of water… That just shocked her a little bit, but she's ready to go for the 400 IM. She's going to kill it." — Galat, on Texas A&M teammate Sydney Pickrem swallowing water and stopping early in her 200 IM final
---
"That was a little uncomfortable, cutting it a little close. But I conserved energy (in prelims), so that's good." — Jacob Pebley (USA), after men's 200 back semi-finals (qualified fifth, 1:55.20), on barely making semi-finals and swimming from an outside lane
---
"I think the easy, get-out speed is there right now. I think I'll be able to utilize that tomorrow." — Ryan Murphy (USA), after men's 200 back (qualified second, 1:54.93)
---
"I couldn't believe that I got to swim on the finals relay this summer. If somebody told me that I was going to be representing the U.S. on the 800 free relay at Worlds, I would never have believed them… Even getting behind the blocks with the USA flag on your caps, it's an honor. You just feel ready to go when you have that cap on." — Melanie Margalis (USA), on getting to swim in finals relay, after women's 800 free relay (USA won gold, 7:43.39)