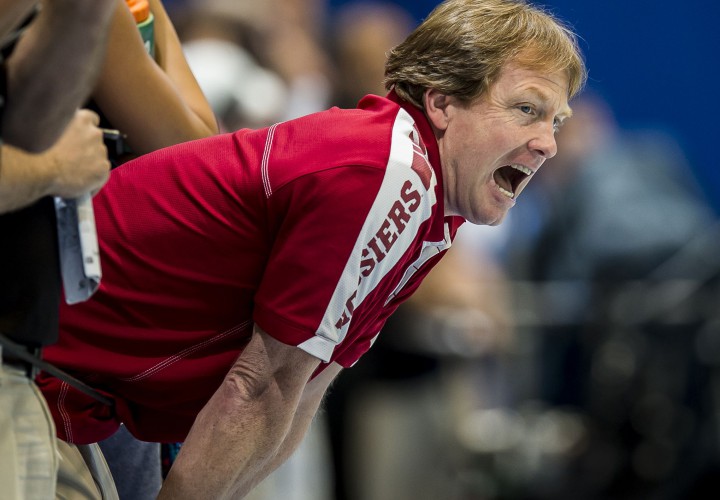 BLOOMINGTON, Indiana, March 13. LAST summer, Indiana head coach Ray Looze along with some well-connected members of his athletics administration, staged the IU Relay Rally, where the Hoosiers were gunning to be the very first swimmers to complete swims for world records in newly-recognized relays.
Initially, much talk occurred stating that most of the records from the Rally that was held in October would not be ratified by FINA, as the international organization initially planned to put baseline times before swims could be recognized. Later on, FINA decided to recognize two short course mixed-gender swims of the eight relay swims as world records, which were subsequently demolished in short course swimming throughout the FINA World Cup and later at national and international short course championships in December.
Today, however, Indiana's athletics department has stated that it has received official ratification of all eight of its initial world-record swims.
Prior to last summer, when FINA decided to officially recognize these eight different events, plenty of world bests had been posted by swimmers throughout the world, with all of their times being much faster than what the Hoosiers were able to post.
But, the Hoosiers were the first to swim them during the FINA-recognized window, as well as have complete measurements and drug testing procedures in compliance with having a world record recognized.
IU Press Release
The Federation Internationale de Natation (FINA) has officially ratified the eight world records set by Indiana University swimmers at the IU Relay Rally held last October in Bloomington.
Cornel Marculescu, Executive Director for FINA, notified USA Swimming that FINA Honorary Secretary has officially approved the following new world records:
400 Meter Mixed Medley Relay
Allie Day, Mike Hurley, Tanner Kurz, Haley Lips – 4:13.47
200 Meter Medley Relay
Grace Padget, Heather Hayes, Bailey Pressey, Claudia Di Capua – 2:04.34
400 Meter Mixed Freestyle Relay
Lindsay Vrooman, Kait Flederbach, Steve Schmuhl, Jackson Miller – 3:45.38
200 Meter Freestyle Relay
Cody Miller, James Wells, Matt Gerth, Philip Butler – 1:36.81
200 Meter Mixed Medley Relay
James Wells, Cody Miller, Gia Dalesandro, Olivia Barker – 1:49.87
200 Meter Mixed Freestyle Relay
Bailey Pressey, Stephanie Armstrong, Tanner Kurz, Cody Miller – 1:41.16
200 Meter Medley Relay
Curtis Goss, Blaine Nichols, Kyle Johnson, Tanner Kurz – 1:50.07
200 Meter Freestyle Relay
Stephanie Marchuk, Claudia Di Capua, Audrey Scott, Grace Padget – 1:54.97