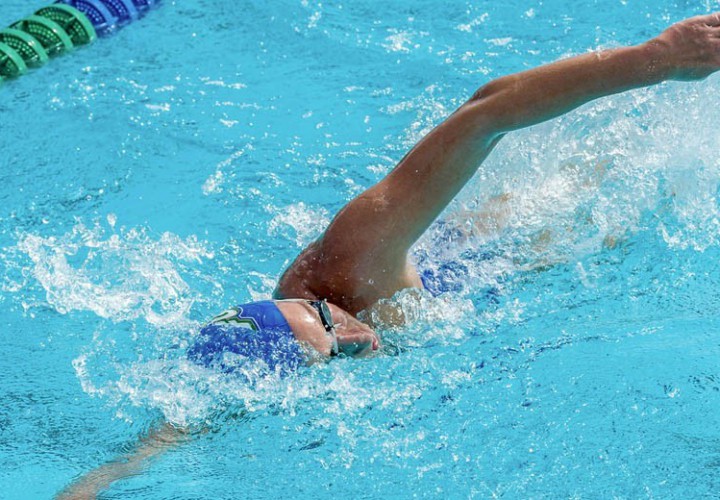 Photo Courtesy: FGCU Athletics
FORT MYERS, Florida, October 17. Florida Gulf Coast swimming picked up its first win of the season with a 175-120 triumph against CCSA foe Incarnate Word.
FGCU Press Release
The FGCU swimming and diving team claimed its first head-to-head victory of the season in its Coastal Collegiate Swimming Association (CCSA) opener against Incarnate Word with a 175-120 triumph Friday afternoon at the Lee County/FGCU Aquatic Center.
"We had a really great day of racing," head coach Neal Studd said. "We performed better than I expected in a few areas as we've suffered some illnesses and injuries. The girls really stepped up, raced hard and showed good character today. Incarnate Word swam and dove really well and stepped up in a few areas as well. I'm sure they are going to have a successful season. As a team we were very thankful to have so many fans and Dirty Birds support us. Overall it was a great conference opener and I'm looking forward to hosting Miami next week."
The Eagles set the winning tone early as they opened the meet touching first in the 200-yard medley relay. Combining for a time of 1:41.88 were Kira Toussaint (Amstelveen, Netherlands/Keizer Karel College), Evita Leter (Paramaribo, Suriname/Doral Academy), Emma Svensson (Uppsala, Sweden/Celsiusskolan) and Rebecca Derogatis (Fort Lauderdale, Fla./ Cardinal Gibbons HS/Indian River).
Taking first in the 1000 freestyle was Nina Schiffer (Dortmund, Germany/SG Dortmund) with a 10:26.16, directly followed by Devon Robins (London, United Kingdom/The Grey Coat Hospital) in second with a 10:30.08 while Caroline Hamilton (Davidsonville, Md./Archbishop Spalding HS) touched fourth with a 10:36.84.
In the 200-yard freestyle Sandra Wilk (Lexington, Ky./Paul Laurence Dunbar HS) claimed second with a 1:55.43, before freshman Yee Ching Wong (Hong Kong, China/Dlocesan Girls' School) touched third with a 1:55.63.
With Toussaint taking first in the 100 backstroke (55.87), two other Eagles finished directly behind her marking a sweep of the top three places by the Green and Blue. Finishing in second was Karen Vilorio (Tegucigalpa, Honduras/Elvel School) with a 57.49, followed by Kristen Julien (San Fernand, Trinidad and Tobago/St. Stephen's College) in third with a 1:00.26. The 200-yard race displayed similar results as Toussaint claimed the win (2:02.44) and Vilorio took second (2:05.55).
The Eagles claimed gold and silver in the 100 breaststroke with Leter touching first after registering a 1:03.41 and Katie Armitage (Bushey, United Kingdom/Queens School Bushey) taking second with a 1:04.31.
Newcomer Christina Herfurth (Greenacres, Fla./John I. Leonard HS) led the Eagles in the 200 butterfly, taking first with a 2:08.39, before Claudia Reyes (Plantation, Fla./American Heritage) clocked a 2:09.50 for second.
In the 100-yard freestyle Svensson cruised to victory in 49.72 seconds, followed by Cassie Niles (Helotes, Texas/Sandra Day O'Connor) in third with a 54.53.
Continuing to shine in a distance event was Schiffer, who touched first in the 500 free with a 5:07.51. Completing the Eagles second sweep of first through third place for the meet were Kellie Roedig (Huntingdon Valley, Pa./Abington Senior HS), who touched second with a 5:10.74, and Hamilton with a 5:10.95.
The Green and Blue saw more success in the diving well as senior Cayla Collins (Largo, Fla./Osceola High School) led the Eagles in the 1-meter event, placing second with a 265, a score which qualifies for NCAA Zones and second on 3-meter with a 626.95.
Up next the Eagles will play host to the Miami Hurricanes on Saturday Oct. 25 at 11 a.m. at the Lee County/FGCU Aquatic Center.