Photo Courtesy: LaPresse/ Fabio Ferrari
2017 Male Open Water Swimmer of the Year
Nearly one hour and 50 minutes had passed in the men's 10K race at the 2017 World Championships. Dutchman Ferry Weertman, the defending Olympic gold medalist in the event, found himself in a familiar situation. Three men were leading the pack in Lake Balaton (Hungary). It would be a fierce battle for gold.
"I had a clear goal for the race in Balaton—I wanted to be the rst to win the 10K at Worlds and the Olympics. I did feel more pressure from the people around me and the media. Everybody said I should 'just do it again'—making it sound like it's easy." – Weertman
In 2017, Weertman became the first Dutchman to win the 10K at World Championships and the first man to win the event at both the Olympics and the World Championships. But he's not obsessing over historic stats like these while he's racing. His consistently excellent performances are worth more than medals and milestones.
Weertman's efforts earned him a unanimous vote for Swimming World's Male Open Water Swimmer of the Year. To learn more about Weertman, check out the November 2017 issue of Swimming World Magazine, available now!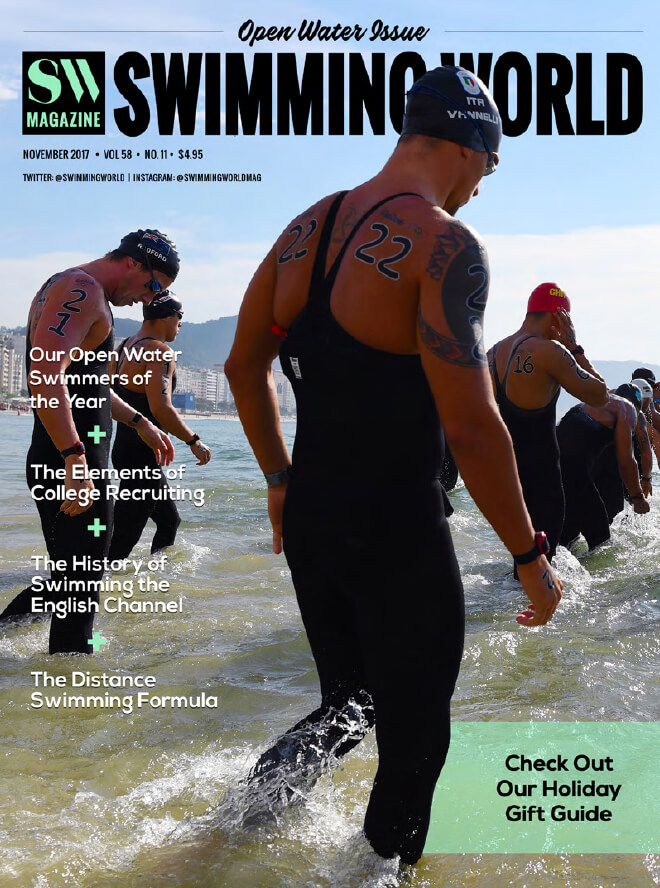 [PHOTO BY KYLE TERADA-USA TODAY SPORTS]
Not a subscriber?  Subscribe With This Special 3-Year Offer! Swimming World Magazine gives you access to all of the back issues of Swimming World Magazine dating back to 1960!  Visit the Swimming World Magazine Vault.
Save 25% on a 1 year subscription and download more issues from the Swimming World Vault and get the following:
Use Coupon Code: realnews and save 25%
A monthly print copy of Swimming World Magazine in the mail for 1 year!
Free download of the next 12 issues and the past 12 issues of Swimming World Magazine!
Free download of next 24 issues and the past 24 issues of Swimming World Biweekly!
Free download of next 4 issues and the past 4 issues of Swimming Technique Magazine!
Click Here For This Special Offer with coupon code "realnews" during checkout.
FEATURES
2017 OPEN WATER SWIMMERS OF THE YEAR
by Annie Grevers
Swimming World's Open Water Swimmers of the Year for 2017 are both two-time winners, with France's Aurelie Muller also having won the title in 2015, and the Neth­erlands' Ferry Weertman taking the honor in back-to-back years.
A PROPOSITION: OPEN WATER RELAYS AT THE OLYMPICS
by Annie Grevers
Open water relays are already part of the swimming schedule at the World Champi­onships. Why not add a 5K team event to the Olympics?
2017: A TIME TO REFLECT
by David Rieder
Water temperatures, water quality and athlete safety are still hot topics in open water swimming.
HURRICANE AFTERMATH: PICKING UP THE PIECES
by David Rieder
Most people who reside in the southeastern United States and Caribbean live their lives hoping to avoid hurricanes, but this year's batch of storms proved especially devastat­ing. However, everyone in the area hosting swimming events intends to be back up and running again soon.
THE ULTIMATE CHALLENGE
by David Rieder
Joe Zemaitis was looking for a challenge, a worthy goal. So, this past summer—after a year of planning and training—the head swim coach at Swim Neptune in Scottsdale, Ariz. accomplished that goal by crossing the English Channel from England to France in 12-1/2 hours.
SWIMMING THE ENGLISH CHANNEL: A LOOK BACK IN TIME
by Bruce Wigo
Legend has it that in 55 B.C., when Roman General Julius Caesar stood on a beach in Gaul, plotting his conquest of Britain, he looked across the sea, saw the white cliffs of Dover and asked one of his men: "Do you think we could swim it?" His subordinate replied, "I think we should take boats." They did, but an idea was born even though it would hibernate in the minds of men for nearly two millenia.
MENTAL PREP: BEFORE THE BEEP WITH LEAH SMITH
by Annie Grevers
COACHING
010 LESSONS WITH THE LEGENDS: FRANK BUSCH
by Michael J. Stott
COLLEGE RECRUITING: HOW IT'S DONE
by Michael J. Stott
In the first of a multi-part series, Swimming World explores the basic elements of the college swimming courtship.
SWIMMING TECHNIQUE MISCONCEPTIONS: FRONT QUADRANT SWIMMING
by Rod Havriluk
A common misconception is that front quadrant swimming (FQS) is an effective freestyle technique. It is not. While FQS has been used by top swimmers, that is not justification for promoting that strategy. FQS produces an arm coordination that is counterproductive to fast swimming.
SPECIAL SETS: THE (SWIMMING) DISTANCE FORMULA
by Michael J. Stott
Olivet Nazarene University (Ill.) swept the women's and men's swimming and diving titles at this year's NAIA Championships—in part because of its outstanding distance freestyle performances. Here, Coach Scott Teeters shares some of his training methods for ONU's highly successful distance program.
042 Q&A WITH COACH JON JOLLEY
by Michael J. Stott
043 HOW THEY TRAIN ROSS DANT
by Michael J. Stott
TRAINING
039 DRYSIDE TRAINING: BUILDING A STRONGER SWIMMER
by J.R. Rosania
JUNIOR SWIMMER
036 GOLDMINDS: RELAX…IT'S ONLY SWIMMING
by Wayne Goldsmith
Stressed? Tense? Anxious? Not to worry…just…relax
045 UP & COMERS
by Taylor Brien
COLUMNS &

SPECIAL SECTIONS
008 A VOICE FOR THE SPORT
030 HOLIDAY GIFT GUIDE
046 GUTTER TALK
048 PARTING SHOT