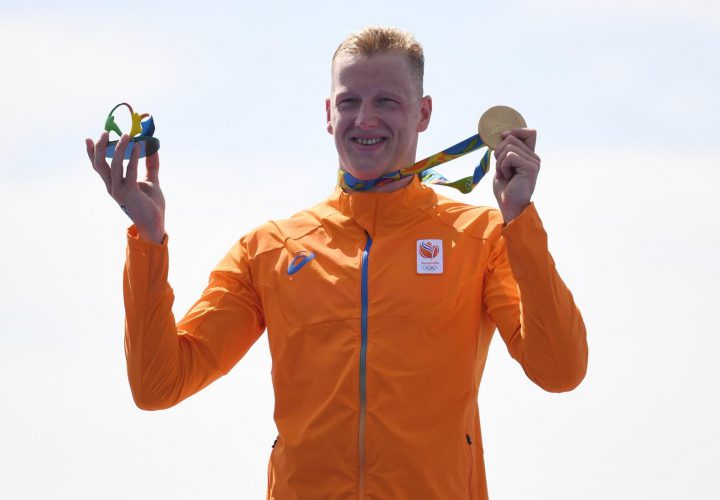 This weekend in London, thousands of swimmers competed in a series of open water races in Serpentine Lake in London's Hyde Park in an event known as Swim Serpentine. Olympic medalists Ferry Weertman and Jazz Carlin provided the highlights, scoring victories in the elite one-mile race.
The Netherlands' Weertman edged out Briton Nathan Hughes to win the men's race, coming in around 17:16. Hughes led for much of the distance, but mis-judged his approach to the finishing shoot and ended up second. The Netherlands' Pepijn Smits took third, and Great Britain's Jack Burnell, competing for the first time since finishing fourth in the 10k at the World Championships, was 14th.
Great Britain's Carlin won the women's race in 18:45. Carlin was the silver medalist behind Katie Ledecky in both the 400 and 800 free at the Olympics in 2016. But she took an extended break after competing in Rio and ended up pulling off this year's British World Championships team.
Germany's Sarah Bosslet and Britain's Danielle Huskisson rounded out the top three.
Aside from the one-mile race, swimmers could also race a two-mile course, and a few opted to participate in a "Super Six" challenge, which involved racing the two miles three different times.
Event director Hugh Brasher explained how the beautiful sunny weather and neat course made for a fantastic event.
"Watching wave after wave of swimmers in this iconic setting and the huge crowd around the Serpentine Lake is an awe-inspiring sight and, in just its second year, this event is firmly established as one of the best open water swimming events in the world."
Read more from Swim Serpentine by clicking here.