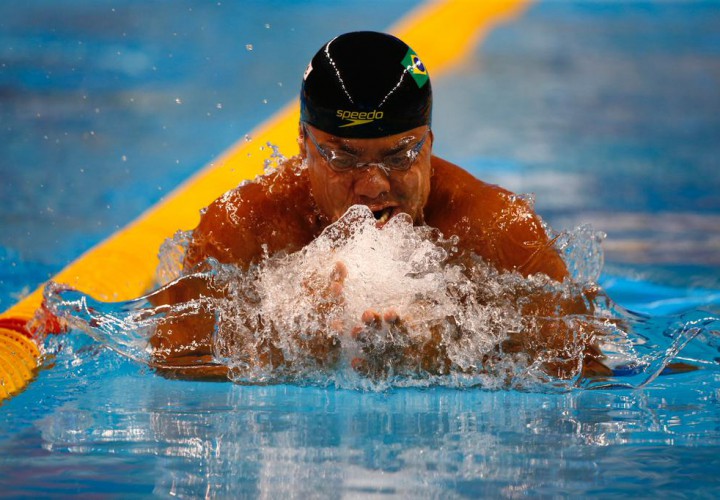 Photo Courtesy: FINA Doha 2014
RIO DE JANEIRO – The sixth and final day of the 2015 Maria Lenk Trophy meet came to a close tonight in Rio and saw a couple of exciting races go down in the men's and women's 100m free, 50m breast and 200m back, along with the 4x100m medley relays. The Brazilian Swimming Federation is expected to officially name its 2015 Pan American Games, World Championships and Junior World Championships rosters next week.
Larissa Oliveira of Pinheiros claimed the opening women's 100m free with a 55.11, a touch in front of Sesi's Daynara de Paula, who came in at 55.34. Oliveira's teammate, Manuella Lyrio, rounded out the top three in 55.55.
Meanwhile, Unisanta's Matheus Santana clocked a 48.78 to win the men's 100m free in a highly-anticipated duel with Mines Tennis' Cesar Cielo, who came in second at 48.97. Pinheiros' Joao de Lucca, the top seed after prelims, touched third at 49.15.
Flamengo's Jhennifer da Conceicao scored a three-tenth victory in the women's 50m breast final, stopping the clock at 31.61 to top Pinheiros' Ana Carla Carvalho's 31.92. Unisanta's Julia Sebastian also broke 32 in the final with a 31.99.
In the men's 50m breast final, Corinthians' Felipe Silva unseated top qualifier Felipe Lima of Tennis Gerais for the title, 27.07 to 27.39, to move to second in the world this year behind Great Britain's Adam Peaty (26.88). Unisanta's Raphael Rodrigues rounded out the top three in 27.69.
Joanna Maranhao claimed the women's 200 back title in dominating fashion, posting a 2:12.47 and finishing just off Natalia de Luccas' national record of 2:12.09. Unisanta's Andrea Eliana Berrino tracked down second in 2:15.79, while de Luccas swam a 2:17.26 for third.
In the men's 200m back, Leonardo de Deus of Corinthians got to the wall first in the only sub-2:00 swim of the final at 1:58.89. Pinheiros' Fabio Santi clocked a 2:01.27 for second, while Minas Tennis' Nathan Biguetti came in third at 2:01.43.
Sesi's Etienne Medeiros, Andressa Sango, Daynara Paula and Jessica Knight posted a 4:06.88 to win the women's 400m medley relay ahead of Pinheiros' Joanna Maranhao, Ana Carla Carvalho, Manuella Lyrio and Larissa Oliveira (4:08.36). Tennis Gerais picked up third, with Tatiana Adorno, Renata Sander, Daiane Days and Daiane Becker touching in 4:09.93.
Tennis Gerais' quartet of Thiago Pereira, Felipe Lima, Henrique Martins and Cesar Cielo clocked a 3:35.20 to edge Pinheiros' Guilherme Guido, Pedro Cardona, Guilherme Rosolen and Joao de Lucca, who came in at 3:35.47. Corinthians picked up third with Lucas Salatta, Felipe Lima, Arthur Mendes and Ricardo Oliveira stopping the clock at 3:38.68.
Pinheiros edged Minas for the team title, 2,138 points to 2,133. Corinthians came in third with 1,732 points, with Unisanta (1,215.5) and Sesi (954.5) in fourth and fifth.
2015 Maria Lenk Trophy, Day Six – Results