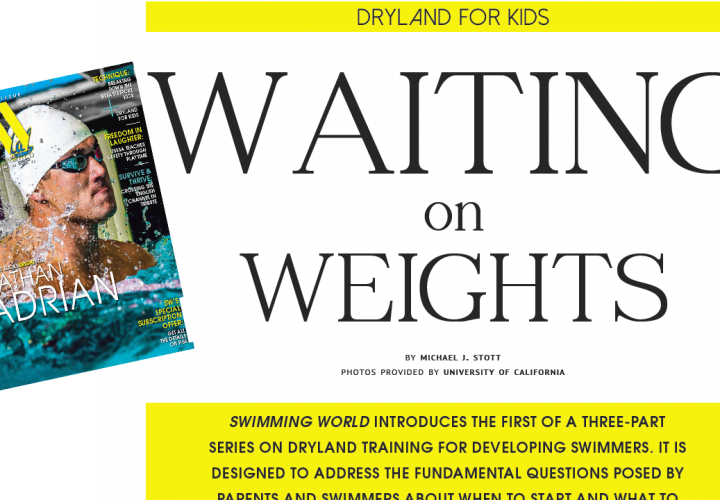 PHOENIX, Arizona, February 3. THE February issue of Swimming World Magazine is now available for download to Total Access Subscribers!
On page 14 of the February, Swimming World Magazine offers advice for Dryland for Kids.
You can read this article today. Not a Total Access Subscriber? A Swimming World Magazine. Subscription gives you unlimited access to all online content on SwimmingWorld.com and access to all of the back issues of Swimming World Magazine dating back to 1960! Purchase your Total Access Subscription TODAY!
Curious about what you'll find inside the February issue of Swimming World Magazine? Watch this month's Inside Swimming World video to find out!

February Swimming World Magazine Table of Contents:
On The February Cover
Following his golden performance in the 100 meter freestyle at the 2012 London Olympics, the media dubbed Nathan Adrian as the "All-American Athlete." Despite a disappointing performance at last year's World Championships, the superstar sprinter still has great expectations for 2014 and beyond. [Photo by Peter H. Bick]
10 Dryland for Kids: Waiting on Weights (Part I) by Michael J. Stott
Swimming World introduces the first of a three-part series on dryland training for developing swimmers. It is designed to address the fundamental questions posed by parents and swimmers about when to start and what to expect once the process is begun.
14 Breaststroke Kick by Jeff Commings
Breaststroke times have gotten faster as athletes find ways to make the slowest stroke more efficient. The breaststroke kick is the latest segment to undergo an adjustment, as swimmers are leaning toward a more narrow kick. Although some power in the kick is lost, the reduced drag creates a smoother stroke and better speed consistency and maintenance.
16 Swimming Technique Misconceptions: Hip Rotation by Rod Havriluk
18 USSSA:The Singer, Not the Song by Casey Barrett
20 Overtraining in Elite Swimmers by Grant C. Smith
23 Nathan Adrian: Still the All-American Athlete by Shoshanna Rutemiller
29 Favorite Sets: Nathan Adrian
30 My "You-Had-to-Be-There" Moment! by Pamela Roberts
Swimming World contributor Pamela Roberts from Germany claims that the 2013 Duel in the Pool between the United States and the European All-Stars was a classic! And she should know: she was there!
42 Nutrition: Easy-to-Make Recipes for a Healthier You
43 Dryside Training: TRX Suspension Training by J.R. Rosania
44 Ask Dr. Shannon: Chest Stretches by Shannon McBride
45 Q&A with Coach Charles Yourd by Michael J. Stott
46 How They Train Yezan Alsader, Grace Ariola and Melissa Pish by Michael J. Stott
48 Survive and Thrive: Paying Tribute by Shoshanna Rutemiller
In honor of her coach and close friend who died from cancer, swimmer Alli DeFrancesco—herself a cancer victim who became cancer-free after surgery and chemotherapy—successfully crossed the English Channel in her memory.
56 Goldminds: Transition Points by Wayne Goldsmith
A transition point is a stage in your swimming career where your level of achievement is determined by the decisions and choices you make in your training every day.
DEPARTMENTS
06 A Voice for the Sport
35 2014 Swim Camp Directory
50 Up & Comers
52 Gutter Talk
59 For the Record
60 CSCAA Swimming Rankings
61 Parting Shot