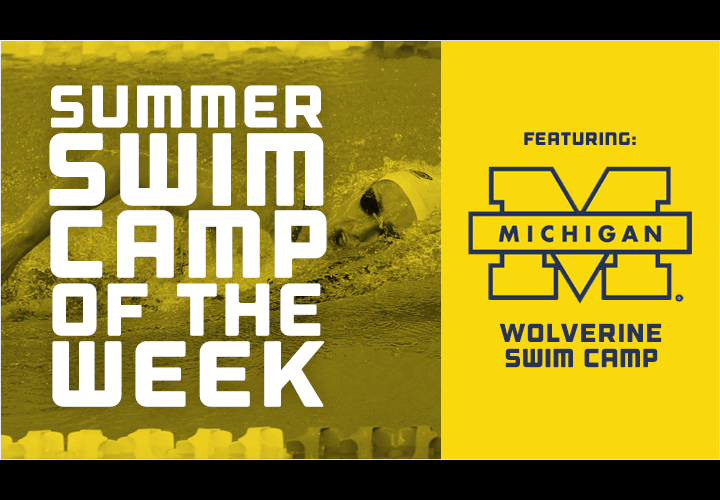 June 11-15, June 18-22, July 30 – August 3, August 6-10
8160 Valley View Drive
Ypsilanti, MI  48197
Phone:  734-845-8596
E-mail:  umswim1@gmail.com
Web:  www.michiganswimcamp.com or www.camps.mgoblue.com
Four sessions open to any and all entrants, limited to 195 campers per session in Canham Natatorium at the University of Michigan.  A staff of 50 and three instructional sessions per day, ensure the individual attention necessary for significant improvement.  Coaches Mike Bottom, Dr. Josh White, Rick Bishop, Sam Wensman, Kristy Brager, Kurt Kirner, and Roger Karns are directly involved in coaching and teaching campers.  All campers HD filmed and receive a written stroke analysis.  Optional custom 4 view underwater video available for a fee.  Choose the Intensive Training Tract or the Technique Development Tract.  World-class staff provides leadership and mentoring that encourage each swimmer to strive for excellence in and out of the pool.  Cost:  $795/week includes instruction, swim cap, T-shirt, color photo, instructional printed materials, "goody bag", and room and board; $640/week day camper fee includes all of the above (less room and board) and between-session supervision.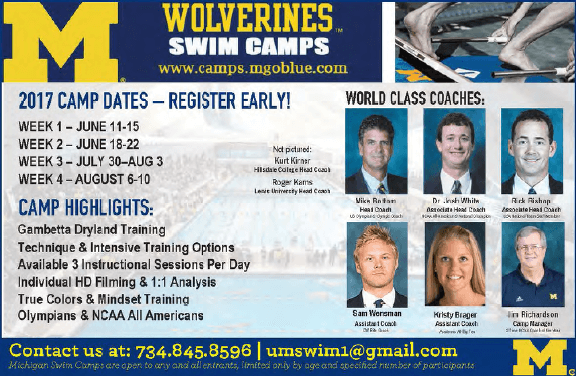 HEAD COACH MIKE BOTTOM
Mike Bottom is in his ninth year at the University of Michigan, overseeing both the men's and women's swimming and diving programs since the 2012-13 season. Prior to the program's combining, Bottom served as head coach for the men's swimming and diving team (2008-12).
In his eight years with the men, Bottom is 70-3-1 in dual meets (43-1 in the Big Ten), with one national championship (2013), seven Big Ten championships (2009, 2011-16) and seven top-10 finishes at the NCAA Championships, including four consecutive top-five finishes from 2012-15. He is a five-time Big Ten Men's Swimming Coach of the Year (2011-15) and was named CSCAA Swimming Coach of the Year in 2013. During his tenure, Bottom has coached the men's swimmers to a total of eight national titles (seven individual, one relay), and has produced 88 Big Ten individual or relay titles and 35 NCAA All-Americans. Under Bottom's guidance, a Michigan swimmer has been named Big Ten Swimmer of the Year in six of Bottom's eight years: Tyler Clary (2009-10), Dan Madwed (2012), Connor Jaeger (2013-14) and Dylan Bosch (2015).
Bottom has over two decades of international coaching experience and has coached athletes at the last six Olympics, including a stint as assistant coach for Team USA at the 2016 Games in Rio. Several current and former student-athletes achieved their Olympic dreams under Bottom's guidance at Michigan, including Clary (USA), Jaeger (USA), Sean Ryan (USA), Charlie Houchin (USA), Bosch (South Africa) and Miguel and Bruno Ortiz (Spain).
Top Camp FAQs
Michigan Swim Camp
The Michigan Swim Camp is designed to provide each competitive swimmer with the opportunity to improve their pursuit of excellence both in and out of the pool. It is open to any and all participants limited only by age (8 – 18) and specified number of campers. During registration, campers will select from one of two tracts depending upon their needs.
The Technique Tract is designed for individual and group instruction in fundamental and advanced stroke skills, and start and turn techniques. A daily optional training workout is available. The use of a front mount snorkel is strongly recommended. The Technique Tract is a skill acquisition curriculum, which begins with basic body balance and progresses to swimming with maximum efficiency (i.e. fewest number of strokes per length). This is the foundation of all fast swimming. Starts, turns, Gambetta dryland training, pacing, nutrition, team building, True Colors, Mindset, and mental training are part of this comprehensive curriculum. Swimmers are filmed daily and their HD video is viewed and critiqued in written form every day. Yardage in this workout varies from 3,000-4,000 yards depending upon the ability level of the swimmer. This tract is designed for: the younger swimmer (12 and under) who has a need to form excellent skill foundations; the older swimmer who is relatively new to the sport and needs to gain a higher efficiency level (yes, we have a lot of high school swimmers in this tract); and the skilled swimmer who needs a week of fine tuning without the added stress of an intense training.
The Intensive Tract challenges swimmers to embrace the importance of team, look at technique in new ways, and learn how to work smarter as well as harder in practices. Athletes will leave this camp with a new understanding of the sport and a desire to make themselves, and those around them better. This tract is designed for swimmers 12 and over who have high aspirations in competitive swimming.
Swimmers will be broken up into training groups depending upon the workout focus.
This camp includes 2 in water training workouts and 1 dry-land workout per day. The morning and afternoon sessions are in-water training sessions. Threshold, VO2max, lactate tolerance, and maximal speed training are part of the in water training program. The evening session will be out of water with an emphasis on core strength, body awareness and overall fitness.
Technique video review sessions each day will provide the backbone for each workout. In addition, swimmers are individually videoed and each swimmer receives a written stroke critique upon completion of the camp.
This tract requires that swimmers arrive in shape and training at full capacity (e.g. ~ 35,000 yds/week) as daily volume averages around 8,000 – 10,000 yards.
A competent level of skill in all four strokes is required. It is important not to "push" younger athletes into this tract in an effort to maintain group cohesion, training volumes, and prevent injury.
WHAT TO BRING
Items to Bring to Camp:
your Speedo
a snorkel (Highly recommended for the Technique Tract)
towels
Rain gear
Cell phone use is only permitted in the dorm / cafeteria
gym shoes for dryland (no Crocs or flip flops)
goggles (extra pair or two)
a backpack or some kind of bag to store your workout "stuff" on the deck
t-shirts and shorts for dryland training
Intensive Tract highy recommended equipment (hand paddles, pull buoy, kickboard, and fins)
Click here to order equipment and receive a team discount from Speedo Resident campers: Please click here to see a list of items to bring for your stay in the UM dorms.
Bedding – twin bed XL sheets, pillows, etc.
Fan – dorm is not air conditioned
Drinks and snacks are permitted
Please check the FAQ page or contact the camp office if you have further questions or concerns on what you will need to bring for camp and/or for your stay in the UM dorms.
RESIDENTINFORMATION
The cost of the week long camp is $795 for resident campers. The camp fee includes: instruction, swim cap, T-shirt, photo, instructional DVD, booklet, goody bag, room and board, and use of the facilities. The first meal served in the dormitory cafateria will be Monday breakfast, and the last meal served will be Thursday breakfast. UM dorms are only opened for overnight lodging Sunday through Wednesday night. Swim camp sessions will begin on Sunday evening after check in and conclude by Thursday at noon. Room assignments will be made by UM residence hall counselors at check in on Sunday. UM Housing only offers double rooms and requests that all roommates check in together. All residence halls are supervised by university personnel, counselors, security, and supervisors. The dormitory experience may be intimidating for some younger campers, because of this, we STRONGLY advise those 10-12 year olds to attend with a friend. If you have concerns or questions regarding supervision, please call the camp office. Meals are prepared and served in each dormitory's cafeteria facilities. An exceptional menu with a wide assortment of foods will be prepared and offer unlimited helpings that are sure to satisfy the biggest appetites.
Children must be at least 10 years old to stay in the dorms overnight.
Jim Richardson, Camp Manager
8160 Valley View Dr. Cell:    734-845-8596
Ypsilanti, MI  48197               Fax:     734-484-1222
E-mail:  umswim1@gmail.com
Web:  www.michiganswimcamp.com