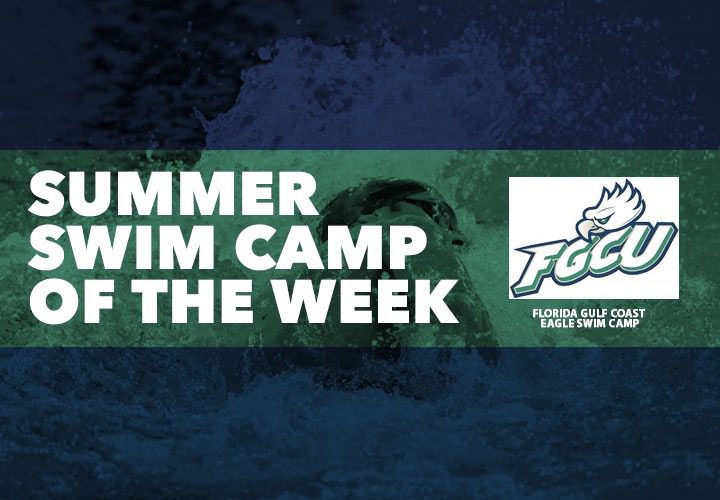 Eagle Swim Camps at Florida Gulf Coast University focuses on providing skill instruction in all four competitive strokes while also providing an incredible overall summer camp experience. Our campers, ages 8-18, will enjoy learning the skills to improve their competitive strokes and turns during their three-water sessions per day.
Between daily sessions, campers will experience the following once-in-a-lifetime opportunities: special guests and events including Q&A and swimming with Olympic and World Champion swimmers, a beach luau, movie night on the water and our special rock wall.
Resident campers will also enjoy staying in 2018's Best Public University Dorms in America. Eagle Swim Camps aim not only to educate our swimmers but also to continue fostering a love for fun in the sport of swimming. Technique Camps are offered the first three weeks in June (3-7, 10-14, 17-21). Elite Training Camp is offered June 7th-10th.
Camp Dates & Registration
Eagle Swim Camps, on the campus of Florida Gulf Coast University take place in beautiful Fort Myers, Florida. Campers will not only enjoy our state of the art Olympic sized pool, but also the beachfront at beautiful Lake Como, home of USA Swimming's Open Water National Championships.
Eagle Swim Camps will offer two options for its campers. An overnight and day camper option. Each camper will receive a free camp t-shirt, have all meals provided, while on campus, as well as have a once in a life time experience interacting with elite athletes.
Technique Camp
Eagle Swim Camps will be open for all swimmers looking to improve their skills, aged 8-18.
Eagle Swim Camp Technique 1: Sunday, June 3rd – Thursday, June 7th – click HERE to register!
Eagle Swim Camp Technique 2: Sunday, June 10th – Thursday, June 14th – click HERE to register!
Eagle Swim Camp Technique 3: Sunday, June 17th – Thursday, June 21st – click HERE to register!
Click HERE to purchase a specialty package for an extended camp experience.
Elite Training Camp
Eagle Elite Training Camp is a series of intense training sessions for athletes who are looking for supplemental training to their season.  Each session is designed to challenge the athlete while ensuring it remains appropriate for the athletes age and skill level.  Athletes are expected to be able to complete 90-120 minute training sessions along with 30-45 minute dry-land sessions.  Training camp is limited to athletes ages 12-18.
Eagle Elite Training Camp: Thursday, June 7th – Sunday, June 10th – click HERE to register!
Click HERE to purchase a specialty package for an extended camp experience.
Special Guest Speakers
Week 1: David Plummer
A 2016 Rio Olympic Bronze and Gold Medalist David Plummer, will be joining us for Week 1 of technique camp!
David's story of perseverance and triumph is filled with valuable lessons and experiences that our campers will enjoy! You won't want to miss the opportunity to meet, take pictures and swim with David.
Week 2: Kara Lynn Joyce
Joining us for week two, Kara Lynn Joyce is a three-time US Olympian ('04, '08, '12) and motivational speaker. In 2010, Kara took moved to Denver, CO to train with Olympic star, Missy Franklin, in an attempt to make the 2012 Olympic Team. Her journey has been captured in the film, "Touch the Wall" and continues to inspire thousands of people.  In 2017, Kara founded the LEAD Sports Summit for girls, with the mission of providing leadership and empowerment opportunities to female teenage athletes.
Week 3: Alia Atkinson
A 4x Jamaican Olympian, World Champion, 2x World Record Holder and Commonwealth Record Holder is working with Eagle Swim Camps week 3! Alia Atkinson is also currently competing at the 2018 Commonwealth Games where she finished 2nd in the 50m Breaststroke!
Continuing to provide the most unique camp experience in the country, Eagle Swim Camps has partnered with these incredible athletes to provide our campers with an incredible experience to learn from some of the best athletes our sport has ever seen. Each with a special, inspiring and motivational story, our campers will walk away from their camp experience with renewed drive and passion for the sport.
We cannot wait to welcome you back to the beautiful campus at Florida Gulf Coast where we can continue to help your athletes develop and enrich their love for swimming.
Camp Staff
Head Coach:
FGCU Director of Athletics Ken Kavanagh named Dave Rollins, who most recently served as the associate head mens swimming coach at The Ohio State University, the new head coach of FGCU swimming & diving on Aug. 31, 2016.
Rollins brings 10 years of coaching experience at the club, high school and collegiate levels with him as he becomes the second head coach in program history. A standout collegiate athlete in his own right, Rollins was a nine-time NCAA All-American and national champion as a member of the University of Arizona swimming & diving team from 2002-06.
Camp Director:
Eagle Swim Camps are committed to bringing the finest aquatic experience to each athlete attending. Towards that end, Caroline Keefe Rollins plays an integral role in the development and implementation of each event. And when you take a look at her credentials, you can understand why. Rollins has been a dedicated educator, successful coach, effective athletic administrator and an individual committed to family.
Following graduation from the University of Arizona, Caroline taught in Arizona and Ohio, she coached with the Cincinnati Marlins and was part of the  staff that earned multiple Ohio championships. As the manager of the U of A National Championship team, she worked in a variety of roles including the summer camp operations.
Married to FGCU head coach Dave Rollins, they have two children (Alice & Elliot) who can be seen pool side on a regular basis. When Caroline says "we have a family atmosphere at our camps", she means it. The daughter of two coaches, she knows how important a great environment is to the satisfaction and development of each camper. Oh and by the way, if you ask her nicely, she may sing to you. Rollins performed at Carnegie Hall while in high school.
Click HERE to view the entire coaching staff!
---
Contact Information
Camp Director: Caroline Keefe Rollins
Phone: (513) 515-7371
Email: eagleswimcamps@gmail.com
Facebook Page: Eagle Swim Camps
Twitter: @FGCU_WSwim
Lodging Address: FGCU Aquatic Complex
10501 FGCU Boulevard South, Aquatics Center
Fort Myers, FL 33965