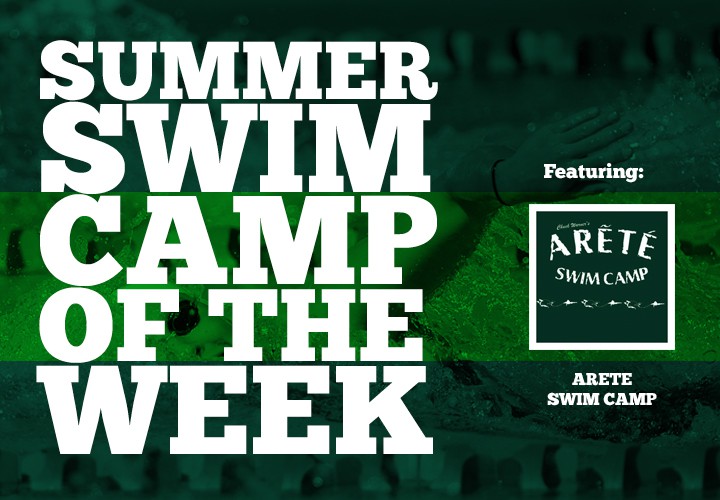 The Arete Swim Camp is 
celebrating its 20
th
anniversary of inspiration and intense instruction led by three-time USA National Team Coach
Chuck Warner
. For sixteen consecutive years ARETE has sold out most sessions and helped more than 4000 swimmers. Their four core objectives are: Immediate Skill Improvement, Self-Esteem Development, Teamwork and "WOW Experiences." Each swimmer is videoed in all four strokes underwater and has permanent access to their own recording. A coach analyzes each stroke with each swimmer using our camp workbook that we provide. All of our camps include an "Inner Engineering Curriculum" and have a coach to swimmer ratio of 1:9 or better. Coach Chuck Warner's experience includes four-time Big East Conference coach of the year, author of
…And Then They Won Gold
,
Four Champions, One Gold Medal
and former President of the American Swimming Coach's Association.
"When I hear other parents talking about how their kids are getting bored with swimming, I tell them, 'send your kids to the Arete Swim Camp!' The kids learn a lot, have a ball and reconnect to what they love about the sport.' Tim S.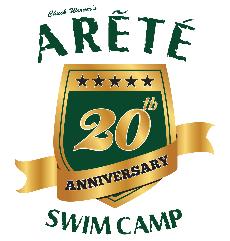 The word "arête" is the Greek for champion or "achievement everlasting".  Chuck Warner's Arete Swim Camp combines the development of an individual's character with that of their swimming skills and conditioning.  This process helps each individual begin the journey to becoming a "champion of themself".  In the past seven years, many swimmers at Arête have begun or continued that journey toward success. The camp has met with very high acclaim.
One of the unique features of the Arete swim camp is the instructional and self-esteem development of each camper.  Pool instruction is conducted with a coach to swimmer ration of one to nine (or less).  Swimmers receive feedback after every drill or exercise with coaches positioned at both ends of the 25 yard pool.  Instruction by coaches in and out of the pool strives to increase the camper's self-image and self-esteem as a swimmer and as a person.
The Arete Swim Camp is open to swimmers with limited competitive swimming experience through national level athletes.  Swimmers should be capable of swimming 50 yards of butterfly, backstroke, breaststroke and freestyle.  Resident campers must be between the ages of nine and eighteen and day campers can be as young as eight years old.
Watch This Video

The ARETE Swim Camp Four Core Objectives:
The single most important aspect of our camp is the safety and welfare of the children in it. We are proud of our superior record in this regard and are vigilant to continue it. Each staff member is trained in our "Child Protection Manual and Safety Procedures Program." As a part of that program our policies include:
No child ever being left alone (this includes a buddy system when going to the restroom).
A counselor is never alone with any child.
Each staff member has a background check.
A thorough reference check for all camp employees.
ARETE Swim Camp – Wesleyan University, CT

Jun 18, 2017 (04:00 PM) – Jun 22, 2017 (04:00 PM)
| | |
| --- | --- |
| | Welcome to the on-line registration platform for the Weslyan University session of the ARETE Swim Camp being held June 18-22. Wesleyan is Middletown, Connecticut  |
ARETE Swim Camp – Ramapo College

Jun 25, 2017 (03:00 PM) – Jun 29, 2017 (04:00 PM)
| | |
| --- | --- |
| | Welcome to the on-line registration platform for the Ramapo College session of the ARETE Swim Camp, our 20th year! This session is being held June 25-29 at Ramapo College |
ARETE Swim Camp – Fairleigh Dickinson U

Jun 25, 2017 (04:00 PM) – Jun 29, 2017 (04:00 PM)
| | |
| --- | --- |
| | Welcome to the ARETE SWIM CAMP on-line registration platform for the Fairleigh Dickinson University Session June 25-29 FDU is a beautiful small campus in Madison, NJ.  |
ARETE SWIM CAMP FREQUENTLY ASKED QUESTIONS
Are there any other optional fees I need to know about?
What are the refund procedures?
What should I do if I find out I cannot attend my camp session?
What is Coach Warner's role in the camp?
What are the water sessions like?
What is the ratio of campers to coaches?
What equipment do campers need to bring?
What if a camper has a pre-existing injury?
Will we need to bring linens and toiletries? Anything else?
Will my child be supervised at all times?
What if I lose my room key during camp?
How much spending money should I send with my camper?
What is the difference between a double room and a suite?
What if a camper gets homesick while at camp?
URL Address: www.areteswim.com
Email Address: areteswimcamp@gmail.com
Camp Director: Coach Chuck Warner
Super-Strokes & Skills Clinics: April 23 & 30, May 7 & 14
Camp Dates:    June 18-22  Wesleyan University, Middletown, CT
                            June 25-29  Fairleigh Dickinson University, Madison, NJ (Tentative)
          June 25-29  Ramapo College, Mahwah, NJ
Mailing Address: ARETE SWIM CAMP
1050 Dellwood Rd
Martinsville, NJ 08836
Age: 7 – 18
Clinic Fees: $245 all four/$70 per
Camp Fees: $550-575 Commuter/$760-785 Resident