US Men's and Women's Youth National Teams in Clearwater, FL. Photo Courtesy: USA Water Polo
In a strong opening defense of its 2017 title, yesterday the USA Women's Youth National Team cruised to a convincing 16-4 win over Puerto Rico in its first appearance at the 2018 UANA Junior Pan American Championships in Clearwater, Florida.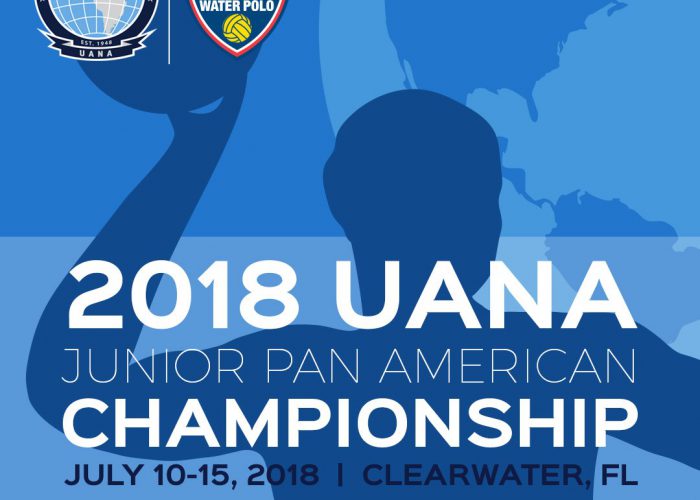 Balanced scoring from Jenna Flynn (three goals) and Malia Allen, Paola Dominguez Castro, Anneliese Miller and Isabelle Zimmerman (two goals each) backed a strong defensive effort that saw the Americans outscore their opponents 9-1 in the second half. Next up for Team USA: a matchup at 10:20 a.m. today against Brazil, a 20-4 winner over Argentina on Wednesday.
On the men's side of the draw, Tuesday saw the USA Men's Youth squad rally late for 10-all time with Brazil. Leading the way for the Americans were Nicholas Tierney and Alex Tostadze with three goals apiece. Down 9-6 two minutes into the fourth period, goals by Tostadze and Makato Kenney cut the deficit to one. After Rafael Vergara put Brazil up by two with his fifth goal of the game, Garret Zahn and then Tierney scored late to allow the Americans to snatch a draw out of the jaws of defeat.
The U.S. Junior men were back in action on Wednesday, where they faced Argentina in the day's final match. Keeping pace with the Brazilians—who beat Puerto Rico 17-8 behind Vergara's nine goals, including five in the fourth quarter—the US registered a 15-6 win on the strength of five goals by Tanner Pulice and two apiece from Kenny, Tierney, Zahn and Ethan Parrish. Team USA will play Puerto Rico today at 4:30 p.m.
After two full days of action, Group A standings for the men are:
Brazil (1-0-1)
U.S. (1-0-1)
Argentina (1-1)
Puerto Rico (0-2)
Group B standings are:
Canada (2-0)
Peru (1-1)
Colombia (1-1)
Barbados (0-2)
On the women's side of the bracket, Canada is on top and will face the Americans on Saturday morning:
Canada (2-0)
U.S. (1-0)
Brazil (1-1)
Puerto Rico (1-1)
Argentina (0-2)
All results and scoring summaries are available on the USA Water Polo website by clicking here.