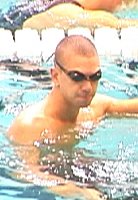 By Phillip Whitten
BERKELEY, Calif, April 21. ANTHONY Ervin, 50-meter freestyle gold medalist at the 2000 Olympic Games in Sydney, will auction off his gold medal on eBay, starting the week of April 25, in an effort to raise money for the Tsunami Relief Fund.
Additionally, Ervin confirmed a recent story in Swimming World Magazine, announcing that he is coming out of retirement when he swims at an Italian Club meet in Mondavi, Italy, this weekend. He left for Italy last night.
Last July, at the US Olympic Trials in Long Beach, Ervin told SwimInfo he was contemplating a comeback. "I've only been training since the end of December, when I flew to Colorado Springs at the invitation of my coach, Mike Bottom," he said. "I'm a long way from being ready to swim fast, but the meet in Italy should be fun and it will pay my bills for a month or so."
Ervin will not be eligible to compete in FINA-sanctioned meets until September.
Ervin retired after the 2003 World Championships in Barcelona, saying he planned to concentrate on a musical career. "Music is still my passion," he told SwimInfo shortly before departing for Europe yesterday, "but I've really missed the water and being in top shape."
"I'm excited to be back in the water again," Ervin said. "As for the gold medal, it's my belief that everyone can help out, whether it is in big or small ways, but it takes everyone to truly make a difference."
He also said giving away his only Olympic gold medal — he also won silver as a member of the USA's 4×100-meter freestyle relay — would "give me an added incentive to replace it with another one in 2008 in Beijing," adding "I am fully committed to swimming through 2008."
Ervin's decision to sell his gold medal to help tsunami victims was one that came only after long consideration. He first developed feelings for the relief effort while conducting swim clinics in Japan with Cal-Berkeley co-head swim coach Mike Bottom and Gary Hall, Jr., his co-gold medalist from Sydney. The three were in Japan last December shortly before the tsunami devastated vast regions of Asia, killing more than 200,000 people.
It was during this trip that Anthony began seriously thinking about coming out of retirement. It was also during this trip that he learned that flooding was a major problem for the Japanese people and he decided to make flood victims his cause in his venture back into swimming.
Shortly thereafter, while visiting his family in their new home in South Carolina, Ervin was invited by Coach Bottom to join the Cal-Berkeley swim team in Colorado Springs to work out at the Olympic Training Center. As fate would have it, the tsunami hit right after Christmas and Ervin found himself glued to the TV in between training sessions. At that point, helping out became an even bigger desire.
"Selling my gold medal isn't an attempt to grab the limelight," said Ervin, who said he was impressed by Polish Olympic gold medalist Otylia Jedrzejczak, who raised over $82,000 last December for a children's leukemia hospital by auctioning off her gold medal. "Rather, it's the least I can do to help give back a little of the good fortune I've experienced through the sport of swimming."
"There are different ways for individuals to make a positive impact on the world," he said. "Some people can contribute from their own funds. Since I'm broke, that wouldn't work for me. But the gold medal has value — we'll find out next week just how much — so it makes sense for me to use it to make my contribution."
Reunited with his coach, Mike Bottom, Ervin has been training in Berkeley since January. "I believe Anthony is ready to go from a competitive standpoint," said Bottom, coach of the "World Sprint Team 2000" and co-head men's swimming coach at UC Berkeley with Nort Thornton.
"It's been good to work with him again. The year away from swimming actually focused him even more on the sport. Anthony has incredible natural talent and we are strategically working together to bring him to the top again."