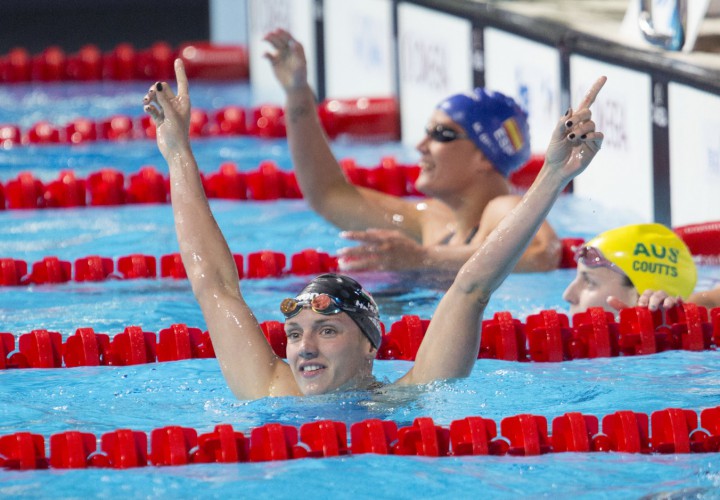 Photo Courtesy: Joao Marc Bosch
BERLIN, Germany, August 21. Impressive double from the Iron Lady Katinka Hosszu as she continues her incredible 10-event schedule here at the European Championships.
Scheduled Events
Women's 800 free finals
Women's 200 IM finals
Men's 100 free semis
Women's 100 fly semis
Men's 200 breast finals
Women's 100 back finals
Men's 200 fly finals
Women's 200 breast semis
Men's 50 back finals
Women's 800 free relay timed finals
FINALS
Women's 800 free
Great Britain's Jazz Carlin turned up the heat in the women's distance freestyle event as she cut a few seconds from her Commonwealth Games gold-winning 8:18.11 with a meet-record 8:15.54.  That performance crushed the previous mark of 8:19.29 set by Laure Manaudou back in 2006.  She still has a lot more time to make up if she ever expects to challenge Katie Ledecky's back-to-back 8:11s, but that much of a time drop in just a few weeks time is encouraging.
Carlin's Splits:

28.98 (2)
28.98 59.91 (2)
30.93 1:30.83 (2)
30.92 2:01.99 (2)
31.16 2:33.25 (2)
31.26 3:04.53 (2)
31.28 3:35.91 (2)
31.38 4:07.51 (2)
31.60 4:38.85 (2)
31.34 5:10.24 (2)
31.39 5:41.76 (2)
31.52 6:13.22 (1)
31.46 6:44.18 (1)
30.96 7:15.22 (1)
31.04 7:45.76 (1)
30.54 8:15.54
29.78
Spain's Mireia Belmonte Garcia checked in with a distant second-place performance of 8:21.22 to move up to sixth in the world rankings, while Hungary's Boglarka Kapas now stands seventh in the world with a third-place 8:22.06.
Denmark's Lotte Friis (8:27.21), The Netherlands' Sharon Rouwendaal (8:28.28), Italy's Martina Rita Caramignoli (8:30.47), Germany's Sarah Koehler (8:30.94) and Slovenia's Tjasa Oder (8:31.09) also swam in the finale.
Women's 200 IM
The Iron Lady Katinka Hosszu jumped to the top of the world in the shorter medley as she rocked a meet-record 2:08.11 tonight.  That swim moved her from second in the world with a 2:08.41 during qualifying to first as she beat the 2:08.21 set by Siobhan O'Connor at the Commonwealth Games. Hosszu's time from yesterday of 2:08.41 also stood as the meet record in the event, as she just missed her European record of 2:07.46 from 2009.
That's another victory for Hosszu, who already topped the 400 IM on night one, along with a truckload of other semifinals appearances.
Hosszu's Splits:

27.67 (1) 1:00.09 (1)
32.42 1:37.73 (1)
37.64 2:08.11
30.38
Great Britain's Aimee Willmott finished well behind with a silver-winning time of 2:11.44, while Austria's Lisa Zaiser took third in 2:12.17.
Hungary's Evelyn Verraszto (2:12.95), Czech's Barbora Zavadova (2:13.24), Sweden's Stina Gardell (2:13.25), The Netherlands' Wendy van den Zanden (2:13.76) and Spain's Mireia Belmonte Garcia (2:18.46) rounded out the finale.
Men's 200 breast
Germany's Marco Koch brought the crowd to its feet with a meet-record time of 2:07.47 to win the event in front of a partisan crowd.  The time smashed Daniel Gyurta's previous record of 2:08.60 from 2012, and nearly trumped Gyurta's European record of 2:07.23 set last year.   The time moved Koch to second in the world behind only Ross Murdoch's 2:07.30 from the Commonwealth Games, and cleared Koch's German record of 2:08.33 from 2009.
Koch's Splits:

29.30 (2) 1:01.89 (2)
32.59 1:34.43 (1)
32.54 2:07.47
33.04
Murdoch could not replicate his world-leading time as he settled for silver tonight with a 2:07.77, but he's showing some remarkable consistency in routinely hitting 2:07 now.  Lithuania's Giedrius Titenis took third in 2:08.93.
Great Britain's Andrew Willis (2:09.19), Russia's Ilya Khomenko (2:10.36), Italy's Luca Pizzini (2:10.93), Luxembourg's Lauren Carnol (2:12.50) and Russia's Kirill Prigoda (2:12.96) also put up times in the championship heat.
Women's 100 back
In a bit of a shocker, the Iron Lady Katinka Hosszu hit the afternburners down the stretch to catch sprint backstroke specialist Mie Nielsen of Denmark to tie for the 100 back gold medal with 59.63s.  Hosszu winning the two IMs or even potentially topping the 200 fly as part of an unreal 10-event schedule isn't all that surprising considering just how strong she is in those events.  But, when the Hungarian is tracking down gold in the 100 back, you know she's firing on all cylinders.
Nielsen has been faster with a second-ranked 59.36 from the Eindhoven Swim Cup, while Hosszu nipped her sixth-ranked 59.64 from the Charlotte stop of the Arena Grand Prix.
Hosszu's Splits:

29.31 (4) 59.63
30.32

Nielsen's Splits:

28.47 (1) 59.63
31.16
Great Britain's Georgia Davies also cleared 1:00 to take bronze with a 59.74, while Ukraine's Daryna Zevina placed fourth in 1:00.33.
Czech's Simona Baumrtova (1:00.38), Italy's Carlotta Zofkova (1:00.80), Russia's Daria Ustinova (1:00.86) and Italy's Arianna Barbieri (1:00.90) finished fifth through eighth.
Men's 200 fly
In a close three-way battle, Denmark's Viktor Bromer (1:55.29) topped Hungary's Bence Biczo (1:55.62) and Poland's Pawel Korzeniowski (1:55.74) in the distance fly event. That moved Bromer up from ninth in the world with a 1:55.43 from earlier this week to seventh.  Biczo is now 10th, while Korzeniowski already is eighth with a 1:55.30 from the Barcelona stop of the Mare Nostrum circuit.
Comparative Splits:

Bromer:

25.98 (1) 55.60 (1)
29.62 1:25.32 (1)
29.72 1:55.29
29.97

Biczo: 

26.14 (3) 55.68 (2)
29.54 1:25.45 (2)
29.77 1:55.62
30.17

Korzeniowski:

26.19 (4) 55.92 (5)
29.73 1:25.49 (3)
29.57 1:55.74
30.25
Belgium's Louis Croenen (1:56.06), Italy's Matteo Pelizzari (1:56.72), Spain's Carlos Peralta Gallego (1:57.01), Greece's Stefanos Dimitriadis (1:57.10) and Russia's Evgeny Koptelov (1:57.14) claimed fourth through eighth in the final.
Men's 50 back
The Sizzling Siberian Vlad Morozov focused his attention on the sprint backstroke after missing out on the 100-meter free semis this morning as Morozov won the European title in 24.64. He's been faster with a second-ranked 24.52 from Russian Nationals, but his time tonight was good enough for gold.
France's Jeremy Stravius finished second in 24.84, while Great Britain's Christopher Walker-Hebborn touched third in 25.00.
Germany's Nicolas Graesser (25.02), Israel's Guy Barnea (25.05), Belarus' Pavel Sankovich (25.11), Norway's Lavrans Solli (25.28) and The Netherlands' Jesse Puts (25.56) placed fourth through eighth in the championship heat.
Women's 800 free relay
Italy's Alice Mizzau, Stefanie Pirozzi, Chiara Masini Luccetti and Federica Pellegrini topped the women's 800 free relay tonight in 7:50.53, edging the previous meet record of 7:50.82 set by Germany back in 2006.  It took a huge anchor leg by Pellegrini to overtake Sweden, who finished second in 7:51.03.  That team, made up of Michelle Coleman, Louise Hansson, Sarah Sjostrom and Stina Gardell, could not hold off Pellegrini even though Sjostrom threw down a stunning 1:53.64 leg.
Comparative Splits:

ITALY – 7:50.53
MIZZAU Alice – 1:58.34
PIROZZI Stefania – 1:57.63
MASINI LUCCETTI Chiara – 1:58.06
PELLEGRINI Federica – 1:56.50

SWEDEN – 7:51.03
COLEMAN Michelle – 1:57.20
HANSSON Louise – 1:58.68
SJOESTROEM Sarah – 1:53.64
GARDELL Stina – 2:01.51
Hungary's Zsuzsanna Jakabos (1:59.25), Evelyn Verraszto (1:59.69), Boglarka Kapas (1:58.71) and Katinka Hosszu (1:56.58) took down Russia for third with a 7:54.23.  Russia, meanwhile, wound up fourth in 7:54.86.
France (7:55.36), Great Britain (7:57.25), Spain (7:57.25) and Switzerland (8:10.53) also competed in the championship heat tonight.
SEMIFINALS
Men's 100 free
Although the field was watered down a bit due to the two-per-country rule that knocked out Andrey Grechin and Vlad Morozov this morning, the sprinters still put on a show in semis tonight.
France's Florent Manaudou led the field with a 48.61, under his 17th-ranked season best of 48.69 from French Nationals.
Manaudou's Splits:

23.09 (2) 48.61
25.52
France's Fabien Gilot and Italy's Luca Leonardi tied for the second seed with 48.67s, while Italy's Luca Dotto took fourth overall in 48.68.
Hungary's Dominik Kozma (48.83), Russia's Sergey Fesikov (48.91), Russia's Alexander Sukhorukov (48.94) and Romania's Marisu Radu (48.95) also made the championship eight with Belgium's Pieter Timmers just missing with a ninth-place 48.96 as the other sub-49 second time.
Women's 100 fly
Sweden's Sarah Sjostrom, who leads the world with a blazing 56.50 from the Sette Colli Trophy meet earlier this year, cruised through semis with a top time of 57.39.  She should be able to ramp that time up heading into the finale.
Sjostrom's Splits:

27.09 (3) 57.39
30.30
Denmark's Jeanette Ottesen, meanwhile, took second out of semis with a 57.45.  She's the only other sub-57 swimmer this year with a 56.96 from the Canet stop of the Mare Nostrum circuit, and should produce some fireworks with Sjostrom in the finale.
The Netherlands' Inge Dekker (57.83), Italy's Elena Di Liddo (58.04), Italy's Ilaria Bianchi (58.28), Great Britain's Jemma Lowe (58.34), Slovakia's Katarina Listopadova (58.53) and Germany's Alexandra Wenk (58.59) will also compete for the title in the finale.
Women's 200 breast
Denmark's Rikke Moeller Pedersen, the world leader with a blazing 2:19.61 from the Eindhoven Swim Cup, took down the meet record in the 200 breast during semis with a 2:22.32.  That swim cleared Anastasia Chaun's 2010 record of 2:23.50 with Pedersen likely refocusing on her European and World record of 2:19.11 during finals.
Pedersen's Splits:

32.19 (1) 1:08.42 (1)
36.23 1:45.39 (1)
36.97 2:22.32
36.93
Russia's Vitalina Simonova finished second in qualifying with a 2:23.35, while Spain's Jessica Vall Montero took third in 2:24.78.  Spain's Marina Urzainqui rounded out the top four in 2:24.87.
Great Britain's Molly Renshaw (2:25.55), Russia's Maria Astashkina (2:26.14), Belgium's Fanny Lecluyse (2:26.26) and Italy's Giulia De Ascentis (2:26.34) also transferred to finals by taking fifth through eighth.
Twitter Coverage
For up to the minute coverage, follow us on Twitter @SwimmingWorld: