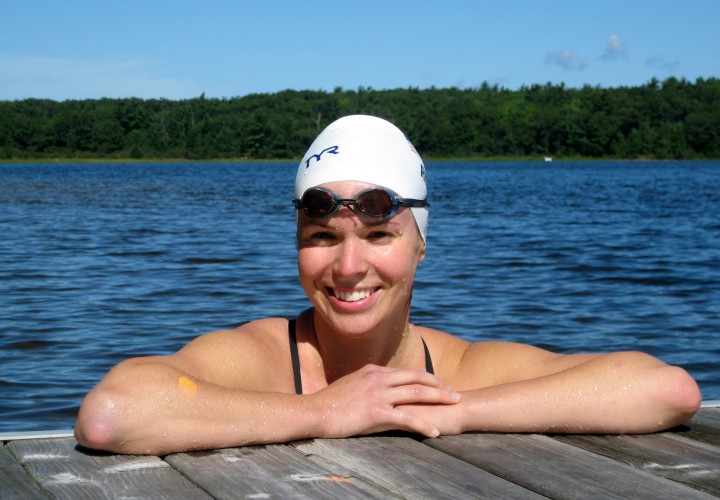 LANDERHAVEN, Ohio, September 19.  LAST night, Erica Rose and Wally Morton were both inducted into the Cleveland Sports Hall of Fame. Northwestern head women's coach Jimmy Tierney was in the audience to watch his charge Rose during the induction.
ERICA ROSE
Erica Rose wasn't born in the waters of the world. It just seems that way. The native of Cleveland Heights has swum in and around 16 countries.
Her list of accomplishments stretches from high school, to major college competition, to the international stage. Rose, who began swimming for the Lake Erie Silver Dolphins at the age of seven, was a two-time state champion and two-time runner-up in the 500 free at Hawken School where she lettered in all four scholastic years (1997- 2000). The Hawks won three state championships in her time at the Gates Mills school.
Erica was recruited by Northwestern University where she competed all four years in distance and individual medley events, advancing to a Big Ten Championship finals and an NCAA championship qualifier.
Rose excelled in open water events, enjoying a 12 year run of success that started at age 14. She was a member of seven World Championship teams, holds 10 national titles as well as seven Pan Pacific and Pan American titles.
She also scored a World Championship title in the 5K open wager swim in Perth, Australia in 1998.
Erica went out a winner. Although she had announced her retirement in 2011, she competed in the Manhattan Island Marathon Swim around New York City. At age 28, she won the grueling 28.5 mile test­ believed to be the longest swimming event in the world — with a time of 7 hours, 29 minutes and 46 seconds.
For added energy during the demanding Gotham swim she munched on sugary dried pineapple. For a light moment, Rose recalled having to tread water when a Norwegian Princess cruise ship was crossing her path.
Erica and her fiance, Brendan Dancik, live in Ann Arbor, Mi., where Erica is working on a dual degree in global public health and business administration at the University of Michigan. They will be married next month in Cleveland at The Arcade.
WALLY MORTON
Dedicated commitment.
Wally Morton was the epitome of that quality during his 39-year tenure in the Physical Education Department at Cleveland State University as the men's and women's swimming coach. He coached the Vikings to 20 conference titles during 46 winning seasons, totaling a school-record 387 dual meet victories.
After graduation from Miami University (Ohio) in 1970, where he was a member of two Mid-American Conference championship swimming teams, Morton came to CSU in 1974 and served seven years under legendary CSU coach Bob Busbey. He was named head men's coach in 1981 and women's head coach in 2007.
His teams won 14 Penn-Ohio, two Midwestern Collegiate Conference and two Horizon League championships. He was named conference coach of the year nine times. At the time of his retirement in June 2014, his swimmers held 11 men and six women league titles.
He guided five swimmers and one diver to the NCAA championships and three to Olympic qualifiers, with Nedim Nisic representing Bosnia at the 2008 Olympics in Beijing, China.
The men's team earned 47 Mid-Major All-American Awards from the College Swimming Coaches Association. He women's team received 17 Mid-Major honors.
Both teams have received the Scholar All-American Award a combined 57 times, with 27 earning Academic All-American laurels.
But all those numbers pale in comparison to Morton's tireless hours spent helping Northeast Ohio's high school and club swimming teams. As Aquatics Director, he was always generous in making the quality CSU facilities available to athletes and coaches for practices and high-caliber meets.
He lives in Strongsville with his wife, Carol. They have a son, Rob.