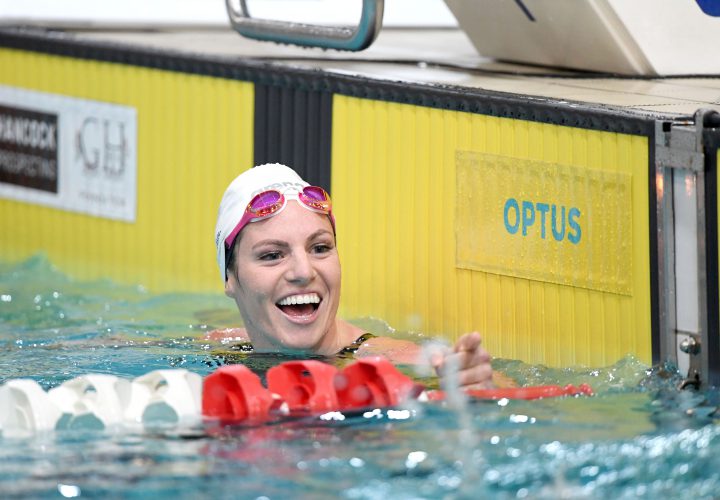 Photo Courtesy: Swimming Australia
Dual world champion Emily Seebohm has continued to lead a golden charge by Brisbane Grammar at the 2016 Hancock Prospecting Australian Short Course Championships in Brisbane tonight.
The two-time Olympian and one of Australia's most celebrated champions of recent times took her gold medal tally for the meet to five and her National Short Course career total to 12.
Fresh from her successes at the Fina World Cups in Asia, Australia's premier backstroker added the 100 metres backstroke (57.26) and the 50m freestyle (24.44).
There was a 1-2 finish in the backstroke and a 1-3 finish in the freestyle to her Brisbane Grammar club, under coach David Lush.
World junior champion Minna Atherton, just 16, finished second to Seebohm in the backstroke, pushing her all the way and clocking a World Championship qualifying time of 57.78.
There was no time to waste before Seebohm who was up on the blocks again, this time chasing gold number five in the 50m freestyle.
It took her just 24.27 seconds (a personal best) to notch her next gold from world long course champion Bronte Campbell (24.61) and her Grammar teammate, dual Olympic relay gold medallist Brittany Elmslie (24.62).
Seebohm, Atherton and Elmslie, who won the 100m freestyle on night one in 52.36 have all swum under the times required to make the Dolphins Team for the World Short Course Championships I Windsor, Canada in December.
Aisling Scott also joined Grammar's gold medal party to win the 200m breaststroke in another 1-2 finish for the club with last night's 400IM winner Calypso Sheridan grabbing the silver.
Seebohm will be chasing gold medal number six tomorrow when she lines up in the 50m backstroke as she aims to put the icing on a perfect short course cake.
"I think all the racing I have done in the World Cup meets has certainly helped me and it is so good to see the Grammar Girls digging deep also – we've had a great meet so far," said Seebohm.
Also very much in the fast lane tonight was world record holder and three-time world champion Mitch Larkin who showed all of his class in winning the 200m backstroke in a sizzling 1:47.41 – seven seconds ahead of the field.
"I was out a little bit quicker and just tried to hold on," said Larkin, who will lead the Australian team to Canada for the World Championships when it is named tomorrow night.
"My legs fell away with 75 metres to go and I had the lactate building up in my abs and the core but if you're not feeling that with 75 to go you probably did go out a bit slow.
"I was happy with that. I have had a good training base which you can draw as you get older. Having that background really helps."
All eyes were also on the men's 200m freestyle final which saw defending champion Cam McEvoy add title number two in a qualifying time of 1:42.75 from fellow Olympians Daniel Smith (1:43.21) and Olympic 100m champion Kyle Chalmers (1:43.44).
McEvoy later announced his unavailability for the World Championships which could well open the door for Chalmers who looked more than relieved and satisfied to be back in the pool tonight after his SVT episode forced him of the 100m last night.
Other winners were:
WA's pocket-rocket from Rockingham Tommy Sucipto who added the 100m breaststroke in a new Australian All-Comers record time of 57.67 – breaking Olympic silver medallist Brenton Rickard's 2008 mark of 57.82.

Clyde Lewis (St Peters Western) who narrowly missed the qualifying time to win the 200IM in 1:55.04 – before turning around to lead off the SPW 4x200m freestyle relay in 1:43.93 – which would have placed him fourth in the individual 200m final.

Mitchell Kilduff from SLC Aquadot in the men's multi-class 100m butterfly in 58.74 and Taylor Corry from MLC Marlins in the women's in 1:08.18

Former Tasmanian Arianne Titmus (St Peters Western) who clocked an impressive pb to win the women's 400m freestyle in 4:02.76.

Olympic silver medallist Maddie Groves (St Peters Western) who held on to add the 100m butterfly in 56.70 to her 200m win.

MLC Marlins Sean Russo in the 100m multi-class 100m backstroke in 1:00.02 and Taylor Corry who added her second gold of the night in clocking 1:06.56 in the women's and;

Blake Cochrane from USC Spartans who clocked 35.16 to win the multi-class 50m breaststroke and Madeleine Scott from Canberra who won the women's in 36.90.
Press release courtesy of Swimming Australia.