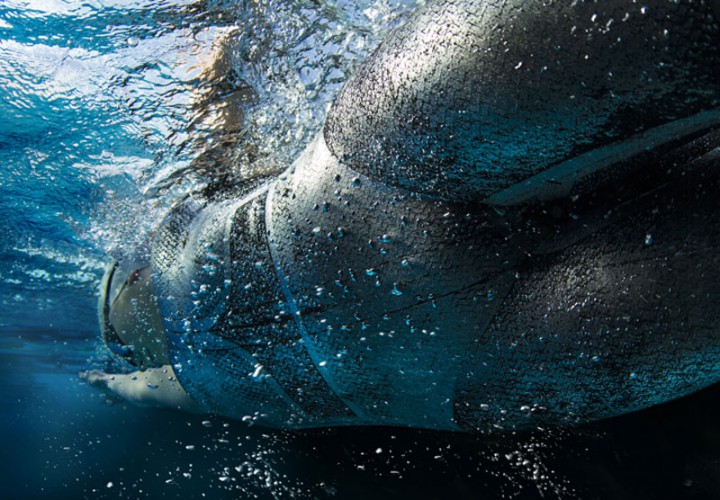 Dolfin Swimwear, the fastest growing swimwear company in the country, is partnering with the The Big Red Men's and Women's Swimming teams of Denison University as a multi-year sponsor.
The Granville-based University, founded in 1831, is Ohio's second oldest liberal arts college.  At this Division III North Coast Athletic Conference school, more than three quarters of the student population plays sports at some level.  The Big Red Swimming teams have a particularly storied past.  Matt Zimmer, Dolfin's VP Sales & Marketing says, "Denison is team that anyone would want to be associated with.  We are so impressed with Coach Parini and his team – they have the proven record of winning, and chose to make Dolfin a vital part of that continued success."
Twenty-eight year Head Coach veteran Gregg Parini is behind much of the swimming teams' success.  Since 1987, Parini's leadership boasts three national championships, 16 national runner-up finishes, and 56 consecutive Top 10 national finishes, to name a few.  The three national championship wins were in recent years – with the Women's team earning the number one ranking in 2001 and the Men's team celebrating their spot at the top in 2011 and 2012. It's no wonder Parini has been named NCAA National Coach of the Year nine times during his career.
While the teams have always been successful, they are clearly on the rise.  In 2015, both the Men's and Women's programs were the NCAA runner-up, and it is with excitement, encouragement, and determination from this success that they look forward to the 2015-2016 season.
"Denison is thrilled to be part of the Dolfin Team.  We've been very impressed with the quality of their product, their attention to detail, and commitment to providing us with outstanding service.  We're looking forward to moving forward and growing with Dolfin," says Head Coach Gregg Parini.
About Dolfin Swimwear
Dolfin has been one of the leading swimwear brands for more than 70 years. It is recognized for offering the best value in the industry with the highest standards of innovation and quality. Founded and operated in Pennsylvania, Dolfin continues to provide its customers with the best quality swimwear at the most competitive prices in the industry. From product development and design to presentation and delivery, Dolfin is committed to customer satisfaction and to our goal of becoming America's most popular brand of performance swimwear. For more information on Dolfin, please visit www.dolfinswimwear.com.
The above article is a press release submitted to Swimming World. To reach our audience, contact us at newsmaster@swimmingworld.com.