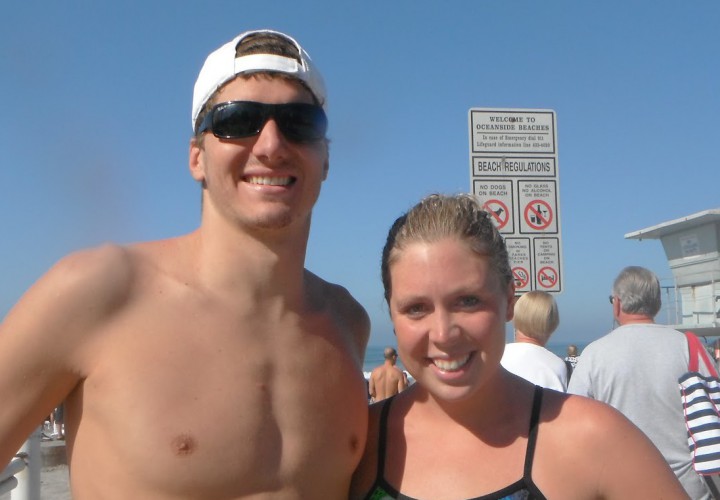 Photo Courtesy: Daily News of Open Water Swimming
READING, Pennsylvania, September 11. DOLFIN Swimwear is proud to announce the marriage of sponsored athletes Michael Klueh and Emily Brunemann on Saturday, September 6, 2014 in Brunemann's hometown of Covington, KY.
Brunemann is a recent graduate student at the University of Michigan. She has won a handful of awards including a five-time All-American, 2008 Big 10 Female Swimmer of the Year, and 2009 Open Water Swimmer of the Year.
Klueh of Evansville, IN and graduate of the University of Texas, is a 13-time NCAA All-American, US National Champion, and gold medalist at the FINA World Championships.
Emily states, "For all our former/current teammates to come and be a part of our celebration was incredible. The weekend was one that Michael and I will never forget and it would not have been possible without all our loved ones there with us. It truly was the fairytale wedding I always dreamed of as a little girl. Michael and I would also like to thank our families for helping us put this event together and for being so supportive in every aspect of our lives!"
Kyle McNeilis of Dolfin Promotions and friend of the couple commented, "The wedding went off without a hitch. The church was wonderful, Michael looked sharp and Emily looked beautiful. Their first dance to Clapton's "Wonderful Tonight" was a joy to watch. All in all, it was an amazing day for an amazing couple."
Klueh and Brunemann have been Dolfin sponsored athletes since April 2014, and both believe the partnership with Dolfin will help the two reach their ultimate goal of qualifying for the 2016 Olympics in Rio de Janeiro.
Mr. and Mrs. Klueh currently reside in Ann Arbor, MI.
The above article is a press release submitted to Swimming World. To reach our audience, contact us at newsmaster@swimmingworldmagazine.com.