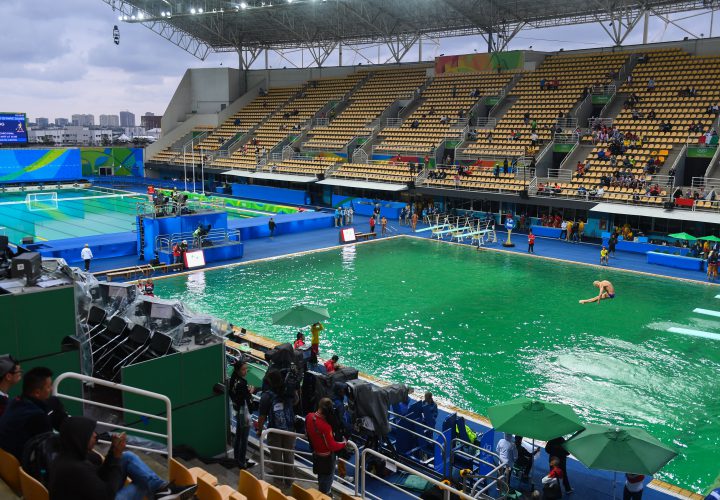 Photo Courtesy: Christopher Hanewinckel-USA TODAY Sports

Editorial Coverage Sponsored By FINIS
By Erin Keaveny, Swimming World College Intern
This morning, the diving well was closed for training in an effort to fix the green water.
The divers have had a sense of humor about the unique conditions. Germany's Patrick Hausding instagrammed one picture captioned "Good morning from the green lake!" and another where team Germany is photoshopped green (like the hulk) captioned "#adaption." Abby Johnston of the United States tweeted "#FixTheSwap should start trending."
The official Rio 2016 twitter tweeted to Tom Daly that "As approved by @fina1908, diving training is cancelled b/c the water must be still for the pool to return to its blue color."
The pool was reopened for training at 12pm ET, just in time for the women's 3m preliminaries, which started at 2:30pm ET. The pool is still green, but officials insist that it is safe, and competition must continue.
The top 18 women moving into the second round of diving have been determined. Both Americans Kassidy Cook and Johnston will continue to the semifinals. They are currently standing in eighth and sixth place, respectively. With a lot of diving left, they are both in striking distance from the podium.
Headed into tomorrow, Canada's Jennifer Abel is leading, with China's He Zi trailing her by only seven points.
The semifinals are scheduled for tomorrow at 3:00pm ET, and the finals will follow at 3:00pm on Sunday the 14th.