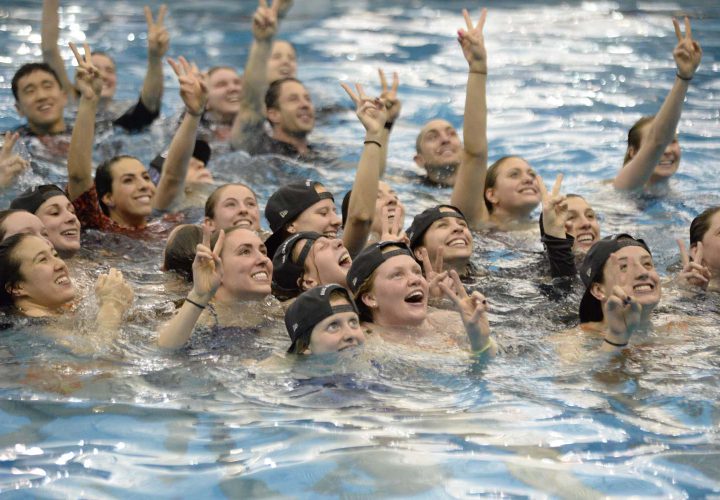 Photo Courtesy: Sarah D. Davis/theACC.com
By Chris Balbo, Swimming World College Intern.
Would a coach rather have a few top scorers and some that don't final? Or have all scorers, but none in the championship final? The answer is not simple. Some schools favor one factor over the other, but in most cases winning schools are deep. They do not all have powerhouse, superstar rosters. But some boast a pool of talent in a diverse range of events who can all score points. Unlike at college dual meets, conference championship teams with depth benefit.
A dual meet can be won by having two or three swimmers win their events. But for conference championships, the point distribution is more generous from 1st through 16th: 20,17, 16, 15, 14, 13, 12, 11, 9, 7,6, 5, 4,3, 2,1. Winning an event, therefore, does not gain a team significant points if another team has swimmers who place 8th and 9th. For a dual meet format, 1st-5th scoring points as followed: 9,4,3,2,1. Dual meets put a premium on winning, requiring less depth to win a meet. This does not mean that depth is not important for dual meets, but a team that has a perfect record may not win their conference meet without depth.
If you look at the Texas A&M University women, they had five women in the championship final of the 200-yard breaststroke (including Sydney Pickrem and Bethany Galat). Although, Pickrem did win the 200 breaststroke, the depth in that event alone is quite the feat in the SEC. The A&M women now have 3-peated as SEC champions.
If you look at other NCAA Division I Conference Championships – such as the CAA – it can be seen that depth for the William and Mary Tribe has played a part in the men's 4-peat of CAA Titles. W&M finaled all 19 swims on day 3 in the championship final. However, the Tribe only won one event at day 3 finals. Drexel won the 200 freestyle, 100 backstroke, and 100 breaststroke. Yet, still placed 2nd in the overall title because of William and Mary's depth. Winners included Jason Arthur, Ralph Cannarozzi III, and Stathis Malamas. It is also impressive to note that the W&M won their conference meet without diving. Both diving events were won by Drexel's Anthony Musciano.
Conference championships are about making as many finals as possible, regardless of winning any specific event title. The more swimmers, the more points a team earns. With this said, coaches cannot entirely control whether their roster is deep or top heavy. However, maintaining a significant talent pool in all events is critical.
Some coaches look for versatility in their swimmers whereas others recruit swimmers who are talented in one or two events. Regardless of swimmers' strengths, teams consistently win with a plethora of talent as opposed to a sprinkling of superstars. There is no "I" in team, but there is an "I" in "champion". Further analysis of conference meets would yield similar results of versatile and deep teams having a greater percentage of winning titles.
All commentaries are the opinion of the author and do not necessarily reflect the views of Swimming World Magazine nor its staff.