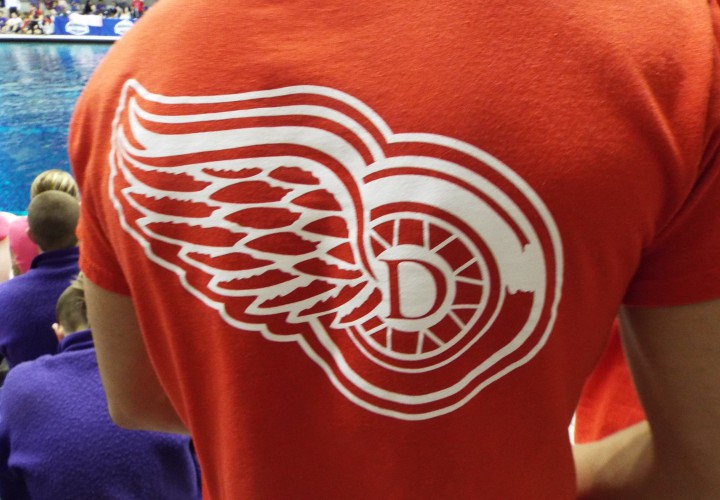 NCAA Championship editorial coverage is proudly sponsored by Competitor Swim. Visit CompetitorSwim.com for more information on our sponsor. For all the latest coverage, check out our event coverage page.
INDIANAPOLIS, Indiana, March 21. WHILE the women's race looks to be in the bag at the NCAA Division III Championships, the men's race certainly tightened up heading into the final day of competition tomorrow at the IU Natatorium at IUPUI.
Following a huge day of swimming from Kenyon, Denison held serve with its diving to remain in the lead after day three, 374-346 in the men's team title race. Emory (202.5), Johns Hopkins (183), MIT (172) and TCNJ (138) made up the top six. CMS (123), Chicago (122), Amherst (117) and Keene State (108) finished the night seventh through 10th.
The Emory women, meanwhile, took a commanding lead with 411.5 points. Kenyon (299), Johns Hopkins (298) and Denison (276) are battling for second-place on the final day of action tomorrow. Williams (180), Amherst (144), Washington U (115), Gustavus Adolphus (99), MIT (93.5) and Chicago (83) rounded out the top 10.
Mary Washington's Hugh Anderson touched out Redlands' Jeffrey Depew, 1:45.36 to 1:45.38, while Whitman's Karl Mering placed just behind with a third-place effort of 1:45.78 in the men's 200-yard fly. That's Anderson's second win after topping the 400 IM with an NCAA D3 record last night, while Mering just missed out on a butterfly sweep after winning the 100 fly lsat night as well.
Williams' Thad Ricotta (1:47.48), MIT's Remy Mock (1:48.27), Amherst's Perrin Bulakul (1:48.66), MIT's Luke Schlueter (1:48.81) and Amherst's Jeff Anderson (1:48.95) also competed in the championship finale.
With Chris Josephson's 10th-place finish of 1:49.47, Kenyon moved just two points behind Denison in the team-title race, 282-280.
Chicago's Abby Erdmann cruised to victory in the women's 200-yard fly with a time of 2:01.35, with no one else breaking 2:02 in the finale. Emory's McKenna Newsum-Schoenberg finished second in 2:02.16 with Case Western's Maggie Dillione taking third in 2:03.02.
Amherst's Sarah Conklin (2:03.06), Kenyon's Mariah Williamson (2:03.07), Emory's Nina Zook (2:03.79), Denison's Michelle Howell (2:04.12) and MIT's Sarah Osmulski (2:06.18) also vied for the national title in the finale.
With Marcela Sanchez-Aizcorbe (2:04.58) and Michelle York (2:06.31) taking 10th and 15th along with their two championship qualifiers, Emory began to stretch its lead out with 312 points. Johns Hopkins (241), Kenyon (227) and Denison (220) held second through fourth and will need to get to work to catch Emory.
Connecticut's Samuel Gill and Emory's Ross Spock shared the men's 100-yard backstroke championship title with matching 47.62s, just off Robert Barry's 2012 NCAA D3 record of 47.56. CMS' Matt Williams clinched third overall in 48.09.
Williams' Ben Lin (48.27), MIT's Bo Mattix (48.35), Johns Hopkins' Dylan Davis (48.55), Kenyon's Harrison Curley (48.86) and USMMA's Kevin Lindgren (48.92) placed fourth through eighth in the championship heat.
Curley, along with teammate Oscar Anderson's 13th-place 49.75, led Kenyon to the top of the team leaderboard with 296 points against Denison's 282.
Kenyon's Celia Oberholzer raced her way to a title defense in the women's 100-yard backstroke. She clocked a 54.33 for the win, off her NCAA D3 record of 53.46 to win a year ago but enough to walk away with another NCAA title this evening.
Johns Hopkins' Taylor Kitayama (54.48) and Luther's Clare Slagel (54.55) finished second and third behind Oberholzer, while Wheaton's Kirsten Nitz finished fourth in 54.65 a day after winning the 100 fly.
Hamilton's Maggie Rosenbaum (55.16), Emory's Ella Thompson (55.88), Kenyon's Rachel Flinn (55.90) and Gustavus Adolphus' Alissa Tinkelnberg (55.91) placed fifth through eighth.
Emory's one up (Thompson), two down (Clair Liu, 11th; Sadie Nennig, 14th) effort continued to push their team-title advantage with 333.5 points after the 100 back. Kenyon (259), Johns Hopkins (258) and Denison (222) held second through fourth after the event.
Washington U's Michael Lagieski clipped Emory's Andrew Wilson, 54.10 to 54.26, for the men's 100-yard breaststroke victory as well as the meet record. Both times beat the 54.27 set by Pavel Buyanov back in 2009. Calvin's Johnson Cochran closed out the top three with a time of 54.53.
Denison's Damon Rosenburg, who broke the overall NCAA D3 mark with a 53.61 in December this season, wound up falling to fourth overall with a 54.65 but still gained valuable team points for his squad.
Kenyon's Trevor Manz (54.95), Occidental's Steven Van Deventer (54.96), MIT's Michael Liao (54.99) and UW Eau Claire's Alex Card (55.35) also earned team points in the finale. After the event, Kenyon held a 316-297 lead for the team title.
Denison's Natalie Lugg tracked down the women's 100-yard breast title in the final 10 yards with a 1:02.27 for the win, while Emory collected a huge amount of team points with Annelise Kowalsky (1:02.52) and Elizabeth Aronoff (1:02.53) finishing second and third right behind. Emory even had Kylie McKenzie (1:03.79) take eighth overall.
UW Whitewater's Amy Spaay (1:02.55), Kenyon's Katie Kaestner (1:02.87), Middlebury's Jamie Hillas (1:03.07) and St. Thomas' Emily Punyko (1:03.37) completed the championship field.
The 100 breast might be the key event when looking back at an Emory team title as Emory finished with 377.5 points against Kenyon's 273 following the event. Johns Hopkins (258) and Denison (244) held third and fourth.
Tufts' Johann Schmidt edged Denison's Ben Lewis for the one-meter diving title, 522.95 to 521.75, in an incredibly close finish. CMS's James Stevick placed third with 510.80 points, while Denison's Max Levy claimed fourth with 508.50 points.
Amherst's Colin White (499.95), NYU's Austin Blease (482.20), Ithaca's Matt Morrison (479.65) and Denison's Connor Dignan (465.20) also battled on the boards for the NCAA title. Diving proved to be huge for Denison once again, as the team pushed back ahead of Kenyon, 340-316.
Johns Hopkins' Evan Holder (1:38.68), William Kimball (1:36.95), Joseph Acquaviva (1:38.76) and Anthony Lordi (1:37.11) cleared the field by nearly two seconds with a winning time of 6:31.50 in the men's 800-yard free relay. Denison's Carlos Maciel (1:37.59), Spencer Fronk (1:39.35), Bart Brunk (1:38.51) and Allen Weik (1:37.94) took an important second-place finish with a 6:33.39 with TCNJ winding up third in 6:35.12. Kenyon, currently in a dogfight with Denison for the team title, wound up fourth in 6:36.14. Denison ended the day with a 374-346 lead.
Keene State (6:37.12), Chicago (6:38.28), DePauw (6:39.81) and Amherst (6:40.79) comprised the rest of the top eight in the timed final event.
Johns Hopkins' Sarah Rinsma (1:50.42), Taylor Kitayama (1:51.12), Ellen Marcus (1:52.66) and Anastasia Bogdanovski (1:47.29) took home the women's 800-yard free relay with an epic anchor from Bogdanovski. Emory's Courtney McDermott (1:51.02), Marissa Bergh (1:50.50), Megan Beach (1:50.76) and Nancy Larson (1:49.64) took second in 7:21.92 to finish an awesome day of swimming to push themselves into a commanding lead.
Denison (7:24.42), Williams (7:25.13), DePauw (7:25.22), Kenyon (7:25.25), Washington U (7:28.62) and Amherst (7:31.15) grabbed the rest of the top eight spots in the timed finale.