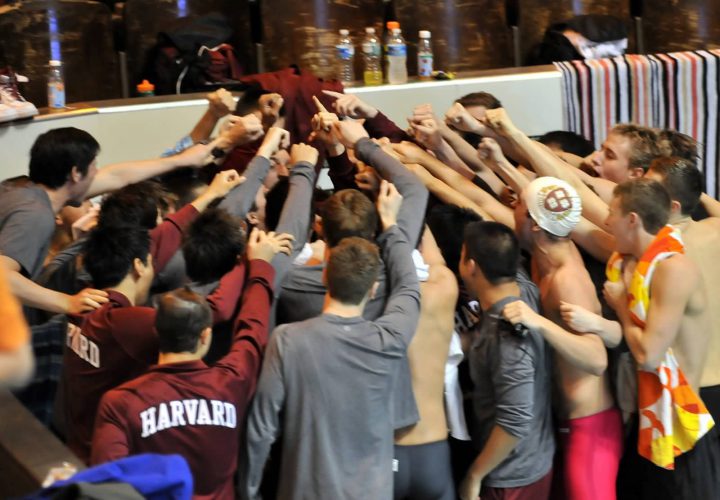 Photo Courtesy: Harvard Athletics
The Ivy League men did not waste any time on night one of the 2018 Men's Ivy League Swimming & Diving Championships. Harvard set new meet records and achieved NCAA 'A' cuts in both events competed – They lead the meet with 128 points.
Yale is currently in second with 110 points while Princeton is third with 106. They are followed by Cornell (102), Penn (100), Columbia (100) and Dartmouth (94). Brown University is not competing in the meet.
Tomorrow's schedule of events includes the 500 Freestyle, 200 IM, 50 Freestyle and 1-Meter Diving. Heat sheets for the preliminaries can be found here.
4 x 50 Medley Relay
The Harvard quartet of Dean Farris, Sebastian Lutz, Steven Tan and Paul O'Hara set new meet, pool and program records with their 'A' standard time of 1:24.52. Farris (21.22) and Tan (20.31) put up the fastest times in the field in their respective legs. The team was in the lead from start to finish despite quick splits among the other teams.
Cornell's Alex Evdokimov posted a 23.64 breaststroke split to surge his team to a second-place finish. Their swim of 1:26.00 broke their program record by just under half a second. While these two teams were far ahead of the competitors, Yale senior Aaron Greenberg had a notable split in the anchor leg bringing the Bulldogs home in 19.05. His team finished third in 1:27.14 setting a new school record that has been standing since 2009.
Princeton (1:27.35), Columbia (1:27.83), Penn (1:28.21) and Dartmouth (1:30.88) rounded out the heat.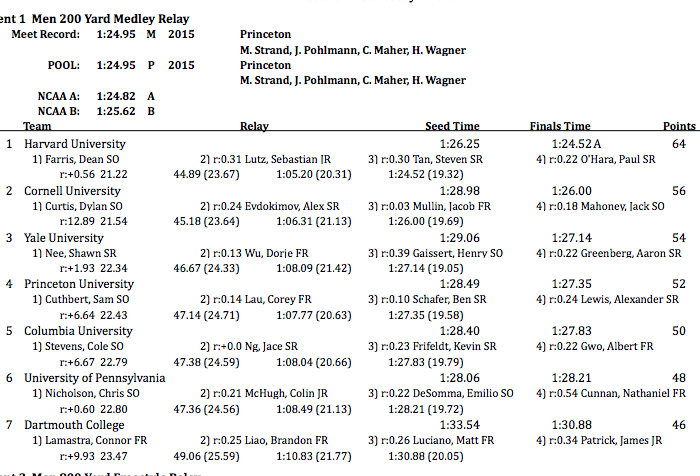 4 x 200 Freestyle Relay
The 50 backstroke was not the only event Farris dominated on night one of these Championships. He raced to one of the fastest 4 x 200 Freestyle Relay splits of all time anchoring the Crimson to victory in 1:30.69. He teamed up with junior Brennan Novak, freshman Mahlon Reihman and sophomore classmate Zach Snyder for a winning time of 6:16.78. The swim annihilated the previous meet, pool and program records.
They finished over four seconds ahead of the competition as Yale finished next in 6:21.00. They also broke their team record in  this event with a huge 1:33.99 split from senior Kei Hyogo. His efforts allowed the Bulldogs to come-from-behind and snag second-place honors. Princeton was just behind in 6:21.84. Penn was also in the mix at 6:22.90.
Columbia set a new school record of 6:26.26 with their fifth-place finish. Senior Michal Zyla set his own mark with a leadoff split of 1:35.22. Dartmouth did likewise with their 6:34.43 while Cornell came in seventh in 6:34.73.