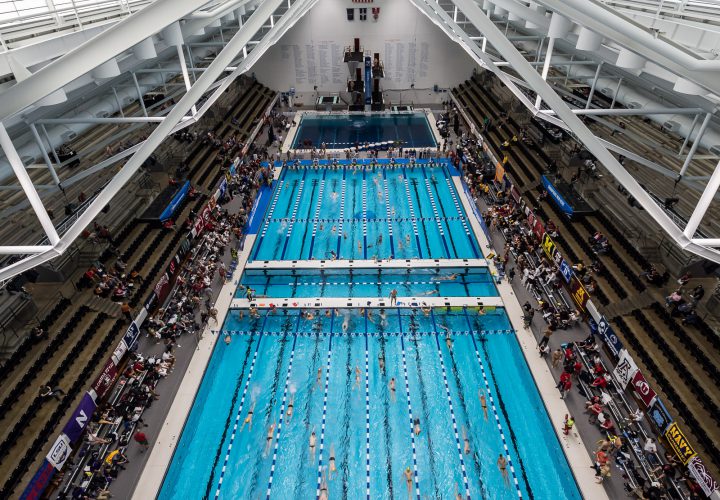 NCAA DI editorial coverage is proudly sponsored by Adidas. Visit adidasswimming.com for more information on our sponsor. For all the latest coverage, check out our event coverage page.

CLICK HERE FOR LIVE RESULTS
Miami freshman David Dinsmore dethroned Purdue sophomore Steele Johnson in the platform diving at the 2017 NCAA Championships Saturday night. Dinsmore was beat out by Johnson at the Olympic Trials last summer and went back and forth with the 2015 NCAA champ round after round, with Dinsmore staying ahead each time. Dinsmore won with 528.20 to Johnson's 506.05. Johnson missed a chance at sweeping all three boards after he won the 1m and 3m events here.
Ohio State's Colin Zeng (478.25), Purdue's Brandon Loschiavo (445.75), Texas A&M's Tyler Henschel (437.35), Southern California's Dashiell Enos (428.30), Minnesota's Matt Barnard (422.90) and Stanford's Theodore Miclau (391.85) also competed in the A-final.
Miami now has eight NCAA titles in the platform diving, the most of any school. Dinsmore joins Imre Lengyel (2002), Kyle Prandi (2001), Tyce Routson (2000, 1997, 1995), Rio Ramirez (1999) and Bryan Gillooly (1996) as winners in the event for the Hurricanes.
 Event 20  Men Platform Diving
=========================================================================
 Championship: C 548.90  3/26/2011 Nick McCrory, Duke
    Name                 Year School            Prelims     Finals Points 
=========================================================================
                       === Championship Final ===                        
 
  1 Dinsmore, David        FR Miami              443.05     528.20   20  
  2 Johnson, Steele        SO Purdue             416.75     506.05   17  
  3 Zeng, Zhipeng          SO Ohio St            498.40     478.25   16  
  4 Loschiavo, Brandon     FR Purdue             467.45     445.75   15  
  5 Henschel, Tyler        JR TAMU               465.40     437.35   14  
  6 Enos, Dashiell         JR Southern Cali      383.40     428.30   13  
  7 Barnard, Matt          SR Minnesota          406.65     422.90   12  
  8 Miclau, Theodore       JR Stanford           377.45     391.85   11
                 Men - Team Rankings - Through Event 20                  
 
  1. Texas                             502   2. California                        319
  3. Florida                         260.5   4. NC State                        248.5
  5. Stanford                          214   6. Indiana                         207.5
  7. Southern Cali                     205   8. Univ of Georgia                   183
  9. Missouri                        165.5  10. Louisville                      143.5
 11. Alabama                         135.5  12. Auburn                          115.5
 13. Purdue                          106.5  14. South Carolina                     99
 15. Texas A&M                          87  16. Michigan                           82
 17. Arizona State                      74  18. Tennessee                          55
 19. Ohio St                          54.5  20. Wisconsin                          53
 21. University of Miami                51  22. Virginia Tech                      48
 23. Minnesota                          35  24. Arizona                          34.5
 25. Lsu                                28  26. Harvard                            24
 27. Northwestern                       23  27. Penn St                            23
 27. Notre Dame                         23  30. Denver                             19
 31. Florida State                      16  32. Duke                               12
 33. George Washington                   9  34. Pittsburgh                          8
 35. Cornell                             7  36. UNC                                 6
 37. Kentucky                            4  38. University of Wyoming               3
 39. Missouri State                      2  39. Hawaii                              2
 39. Penn                                2  42. Towson                              1
 42. Yale                                1