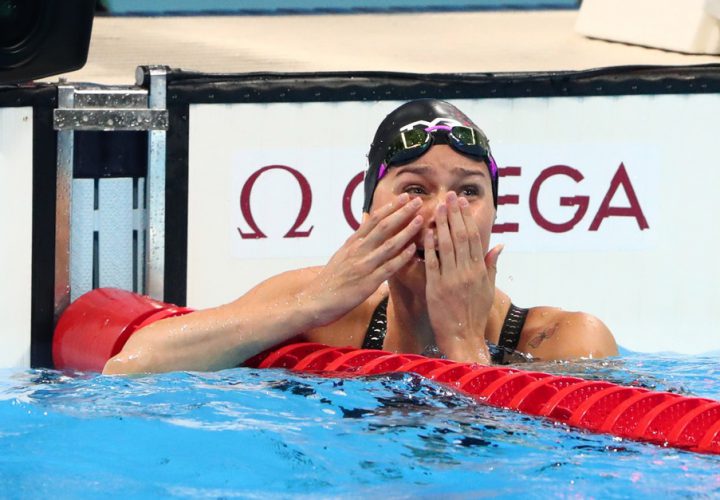 Photo Courtesy: Rob Schumacher-USA TODAY Sports
The Danish Swim Federation has come out in defense Olympic gold medalist Pernille Blume after a Russian group known as "Fancy Bear" released private medical information from the World Anti-Doping Agency database.
Danish Swimming director Pia Holmen condemned the hack and the leak and called for tighter security on such information.
"It is deeply shocking to hear that it has been possible for attackers to force access to such private information, as is the case here. It is a serious crime and I really hope that there will great efforts, partly to get hold of the people who are behind this and partly to ensure that in the future these databases will be, if possible, even harder to hack into."
Blume, who won the women's 50 free last month in Rio, has a temporary use exemption (TUE), which "is an exemption for medication that is on the doping list, but which athletes need to take due to a specific illness, condition or injury that requires medical treatment."
Other swimmers listed as having TUEs include U.S. Olympians Kathleen Baker, Jack Conger and Connor Jaeger, Great Britain's Siobhan-Marie O'Connor, Spain's Mireia Belmonte and Denmark's Jeanette Ottesen, who joined Blume on Denmark's bronze medal-winning 400 medley relay in Rio.
Other athletes whose information has been leaked include American gymnast Simone Biles, tennis stars Serena and Venus Williams and Rafael Nadal and British distance runner Mo Farah.
None of these athletes have broken any rules regarding the anti-doping system as they have correctly followed procedures. Still, seeing her name associated with banned substances in the leak was embarrassing to Blume, who was quoted in the release from the Danish Swimming Federation.
 I think it is shocking that it has been possible for some people to hack into a system that full of very personal information. It should not be possible. There are, of course, many headlines being written about it right now. Some of them just mention my name and something about doping, and I know very well that what we typically remember from media coverage, is just the headlines and then the rest does not matter. Of course, I am both worried and upset by it. I distance myself from doping and I really do not hope that some people might be left in doubt about it.
Both Holmen and Michael Ask, the director of Anti-Doping Denmark, both reiterated Blume's innocence.
Holmen: "I have to say that Pernille Blume has complete control of her medication and on the formal documents that require approval at any time when you are an athlete at this level. This just makes it even more unfortunate that she should now be dragged into this matter. I cannot stress enough how innocent Pernille is, and how much I hope that the outside world will take this news to heart."

Ask: "It is absolutely inexcusable that the hackers have used not only tactless, but also illegal methods to gain access to this data. There seems to be people from the outside who consciously want to undermine the system that we, as the anti-doping organisations and, above all, the athletes must be able to totally rely on. It is important to underline that Pernille Blume is completely innocent and she has acted completely by the book by applying for an exemption for the medication that she has an illness-related need for. I am very sorry that she has to go through this, where she has openly become a pawn in a larger international game."
Ask also accuses the Russian-based hackers of trying to distract the focus of the anti-doping community from Russia, which has come under fire after the McLaren Report (released in late July) gave details of systematic doping in the country. Some Russian athletes were banned from competing at the Olympics in Rio (although all seven swimmers initially banned were reinstated via an appeals process), and all Russians were removed from the Paralympic Games.