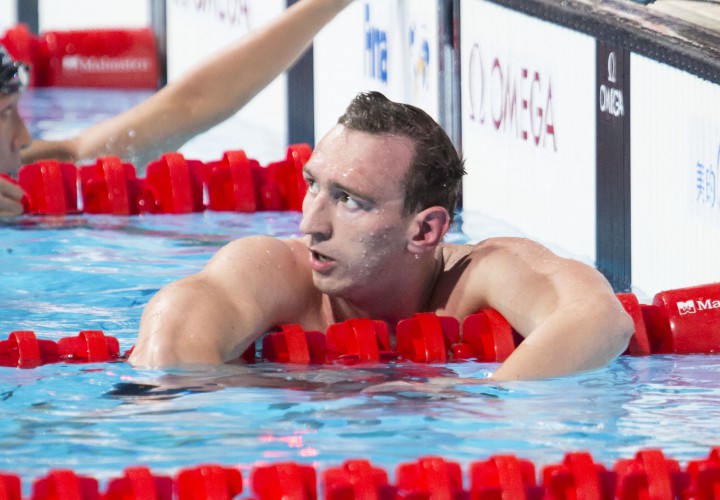 KAZAN – Danila Izotov had the top swim of the night in the men's 100-meter freestyle at the Russian Short Course Nationals.
FINALS
Valentina Artemyeva moved to eighth in the world rankings with a sizzling 1:05.45 to win the women's 100-meter breast. Meanwhile, Maria Astashkina took second in 1:05.67 to move to 12th and Daria Deeva wound up third in 1:05.69 for 13th overall.
Stanislav Donets captured the men's 50-meter back title in 23.69 for 10th overall, while Vitaly Borisov finished second in 23.86.  Anton Butymov rounded out the top three in 24.12.
Nikita Konovalov won the men's 50-meter fly in 22.69 to move to ninth in the world, while Alexander Popkov moved to 11th overall in 22.81. Evgeny Sedov posted a third-place 23.11 tonight.
Viktoriya Andreeva snared the women's 200-meter IM title in 2:09.18 for 12th in the world.  Veronika Popova placed second in 2:09.24 for 13th in the world, while Ekaterina Andreeva rounded out the podium with a third-place 2:09.39 for 16th in the rankings.
SEMIFINALS
Danila Izotov raced his way to fourth in the world rankings in the men's 100-meter free with a scorching 46.49.  That swim is behind only Cesar Cielo (46.08), Chad le Clos (46.24) and Florent Manaudou (46.48) this year.  Sergey Fesikov qualified second in 46.90 for ninth in the world, while Oleg Tikhobaev wound up third in 47.16 for 11th.
Nadezhda Vinyukova led the way in the women's 50-meter back with a 27.17, while Alexandra Papusha touched second in 27.41.  Daria Ustinova qualified third in 27.51.
Rozaliya Nasretdinova paced the women's 50-meter free in 24.31 to take 10th in the world, while Svetlana Knyaginina qualified second in 24.76.  Elizaveta Bazarova snared third in 24.87.
Anastasia Lyazeva put up the top time in the women's 100-meter fly semis with a 57.48 for 12th overall.  Svetlana Chimrova (57.66) and Alina Kashinskaya (58.62) placed second and third.
Anton Butymov qualified on top of the men's 100-meter IM in 53.61.  Vyatcheslav Prudnikov (53.78) and Dmitry Zhilin (54.19) earned second and third.
Kirill Prigoda topped the men's 50-meter breast in 26.69 with Oleg Kostin taking second in 26.79. Andrey Nikolaev snagged thrid in 26.87.
Russian Short Course Nationals / Short Course World Championship Trials
Translation by Maria Dobysheva
Kazan 8-12 2014
Day 4
Women's 100 breaststroke finals
1. Artemyeva Valentina 1986 (Novosibirsk) 1.05.45 (25m: 14.08 14.08 50m: 30.44 16.36 75m: 47.70 17.26 100m: 1:05.45 17.75)
2. Astashkina Maria 1999 (Penza) 1.05.67 (25m: 14.68 14.68 50m: 31.18 16.50 75m: 48.23 17.05 100m: 1:05.67 17.44)
3. Deeva Daria 1990 (Sverdlovsk oblast) 1.05.69 (25m: 14.47 14.47 50m: 31.02 16.55 75m: 48.20 17.18 100m: 1:05.69 17.49)
4. Simonova Vitalina 1992 (Novosibirsk-Orenburg) 1.05.87 (25m: 14.73 14.73 50m: 31.38 16.65 75m: 48.25 16.87 100m: 1:05.87 17.62)
5. Belousova Anna 1996 (Sverdlovsk oblast) 1.06.18 (25m: 14.58 14.58 50m: 31.37 16.79 75m: 49.60 18.23 100m: 1:06.18 16.58)
6. Ivaneeva Natalia 1990 (Volgograd) 1.08.05 (25m: 14.53 14.53 50m: 31.43 16.90 75m: 49.43 18.00 100m: 1:08.05 18.62)
7. Spodarenko Sofia 1998 (Tyumen) 1.08.41 (25m: 14.34 14.34 50m: 31.57 17.23 75m: 49.54 17.97 100m: 1:08.41 18.87)
8. Andreeva Sofia 1998 (Saint-Petersburg) 1.08.91 (25m: 15.09 15.09 50m: 32.67 17.58 75m: 50.79 18.12 100m: 1:08.91 18.12)
Men's 50 backstroke finals
1. Stanislav Donets 1983 (Ulianovsk) 23.69 (25m: 11.70 11.70 50m: 23.69 11.99)
2. Borisov Vitaly 1990 (Penza) 23.86 (25m: 11.82 11.82 50m: 23.86 12.04)
3. Butymov Anton 1987 (Republic of Komi) 24.12 (25m: 11.86 11.86 50m: 24.12 12.26)
4. Kosmynin Pavel 1991 (Volgograd) 24.15 (25m: 11.84 11.84 50m: 24.15 12.31)
5. Arbuzov Andrey 1989 (Krasnoyarsk) 24.49 (25m: 11.84 11.84 50m: 24.49 12.65)
6. Tazov Vladislav 1995 (Republic of Tatarstan) 24.56 (25m: 12.00 12.00 50m: 24.56 12.56)
7. Rudenko Alexey 1993 (Khabarovsk) 24.65 (25m: 12.10 12.10 50m: 24.65 12.55)
8. Iglin Dmitry 1994 (Perm) 24.76 (25m: 12.18 12.18 50m: 24.76 12.58)
Women's 50 backstroke semofinals (eight fastest)
1. Vinyukova Nadezhda 1996 (Moscow) 27.17 (25m: 13.46 13.46 50m: 27.17 13.71)
2. Papusha Alexandra 1993 (Moscow) 27.41 (25m: 13.57 13.57 50m: 27.41 13.84)
3. Ustinova Daria 1998 (Sverdlovsk oblast) 27.51 (25m: 13.81 13.81 50m: 27.51 13.70)
4. Kameneva Maria 1999 (Orenburg) 27.53 (25m: 13.54 13.54 50m: 27.53 13.99)
5. Kendzior Alina 1998 (Moscow) 27.77 (25m: 13.86 13.86 50m: 27.77 13.91)
6. Nesterova Margarita 1989 (Belgorod) 27.97 (25m: 13.95 13.95 50m: 27.97 14.02)
7. Tomashevskaya Ekaterina 1998 (Stavropol) 27.99 (25m: 13.81 13.81 50m: 27.99 14.18)
8. Egorova Polina 2000 (Republic of Bashkortostan) 28.12 (25m: 14.07 14.07 50m: 28.12 14.05)
Mens' 100 freestyle semifinals (eight fastest)
1. Izotov Danila 1991 (Krasnodar) 46.49 (25m: 10.89 10.89 50m: 22.53 11.64 75m: 34.47 11.94 100m: 46.49 12.02)
2. Fesikov Sergey 1989 (Penza) 46.90 (25m: 10.37 10.37 50m: 22.11 11.74 75m: 34.43 12.32 100m: 46.90 12.47)
3. Tikhobaev Oleg 1990 (Saint-Petersburg) 47.16 (25m: 10.47 10.47 50m: 22.33 11.86 75m: 34.68 12.35 100m: 47.16 12.48)
4. Konovalov Nikita 1988 (Volgograd) 47.54 (25m: 10.69 10.69 50m: 22.62 11.93 75m: 35.19 12.57 100m: 47.54 12.35)
5. Lagunov Evgeny 1985 (Saint-Petersburg – Arkhangelsk) 47.58 (25m: 10.83 10.83 50m: 23.01 12.18 75m: 35.41 12.40 100m: 47.58 12.17)
6. Polischuk Mokhail 1989 (Moscow) 47.59 (25m: 11.08 11.08 50m: 22.88 11.80 75m: 35.26 12.38 100m: 47.59 12.33)
7. Andrusenko Vyatcheslav 1992 (Saint-Petersburg) 47.87 (25m: 11.12 11.12 50m: 22.97 11.85 75m: 35.17 12.20 100m: 47.78 12.61)
8. Kuzmenko Ivan 1995 (Volgograd) 47.88 (25m: 10.91 10.91 50m: 22.90 11.99 75m: 35.62 12.72 100m: 47.88 12.26)
Women's 50 freestyle semifinal (eight fastest)
1. Nasretdinova Rosalia 1997 (Moscow) 24.31 (25m: 11.68 11.68 50m: 24.31 12.63)
2. Knyaginina Svetlana 1984 (Saint-petersburg-Komi) 24.76 (25m: 12.19 12.19 50m: 24.76 12.57)
3. Bazarova Elizaveta 1995 (Tula) 24.87 (25m: 12.07 12.07 50m: 24.87 12.80)
4. Surkova Arina 1998 (Novosibirsk) 25.08 (25m: 12.27 12.27 50m: 25.08 12.81)
Kudinova 1995 (Moscow) 25.08
6. Reznikova Maria 1994 (Moscow) 25.26 (25m: 12.21 12.21 50m: 25.26 13.05)
7. Ustinova Daria 1998 (Saint-Petersburg) 25.28 (25m: 12.16 12.16 50m: 25.28 13.12)
8. Kartashova Daria 1997 (Saint-Petersburg) 25.47 (25m: 12.39 12.39 50m: 25.47 13.08)
Men's 50 butterfly finals
1. Konovalov Nikita 1988 (Volgograd) 22.69 (25m: 10.41 10.41 50m: 22.69 12.28)
2. Popkov Alexander 1994 (Saint-Petersburg) 22.71 (25m: 10.43 10.43 50m: 22.71 12.28)
3. Sedov Ebgeny 1996 (Volgograd) 23.11 (25m: 10.50 10.50 50m: 23.11 12.61)
4. Koptelov Evgeny 1993 (Volgograd) 23.26 (25m: 10.75 10.75 50m: 23.26 12.51)
5. Korotyshkin Evgeny 1983 (Moscow) 23.27 (25m: 10.63 10.63 50m: 23.27 12.64)
6. Kisilev Kirill 1994 (Saint-Petersburg) 23.29 (25m: 10.57 10.57 50m: 23.29 12.72)
7. Prudnikov Vyatcheslav 1993 (Saint-Petersburg) 23.41 (25m: 10.74 10.74 50m: 23.41 12.67)
8. Sery Vladislav 1989 (Saint-Petersburg) 23.42 (25m: 10.68 10.68 50m: 23.42 12.74)
Women's 100 butterfly semifinal (eight fastest)
1. Lyazeva Anastasia 1992 (Saint-Peterburg) 57.48 (25m: 12.12 12.12 50m: 26.49 14.37 75m: 41.52 15.03 100m: 57.48 15.96)
2. Chimrova Svetlana 1996 (Moscow) 57.66 (25m: 12.39 12.39 50m: 26.93 14.54 75m: 42.10 15.17 100m: 57.66 15.56)
3. Kashinskaya Alina 1990 (Sverdlovsk oblast) 58.62 (25m: 12.82 12.82 50m: 27.59 14.77 75m: 42.90 15.31 100m: 58.62 15.72)
4. Shapanikova Ekaterina 1996 (Saint-Petersburg) 58.96 (25m: 12.48 12.48 50m: 27.29 14.81 75m: 42.93 15.64 100m: 58.96 16.03)
5. Tsvetkova Daria 1995 (Altay) 59.16 (25m: 12.24 12.24 50m: 27.00 14.76 75m: 42.53 15.53 100m: 59.16 16.63)
6. Shmakova Daria 1991 (Omsk) 59.56 (25m: 12.80 12.80 50m: 27.74 14.94 75m: 43.21 15.47 100m: 59.56 16.35)
7. Kharlamova Yulia 1996 (Moscow) 1.00.19 (25m: 12.86 12.86 50m: 27.72 14.86 75m: 43.41 15.69 100m: 1:00.19 16.78)
8. Lvova Ekaterina 1993 (Sevastopol) 1.00.28 (25m: 12.82 12.82 50m: 27.93 15.11 75m: 43.90 15.97 100m: 1:00.28 16.38)
Mens' 100 individual medley semifinal (eight fastest)
1. Butymov Anton 1987 (Republic of Komi) 53.61 (25m: 11.21 11.21 50m: 24.30 13.09 75m: 40.27 15.97 100m: 53.61 13.34)
2. Prudnikov Vyatcheslav 1993 (Saint-Petersburg) 53.78 (25m: 10.77 10.77 50m: 24.73 13.96 75m: 40.36 15.63 100m: 53.78 13.42)
3. Zhilin Dmitry 1990 (Moscow) 54.19 (25m: 11.33 11.33 50m: 24.92 13.59 75m: 40.86 15.94 100m: 54.19 13.33)
4. Kashpersky Sergey 1992 (Moscow) 54.29 (25m: 11.18 11.18 50m: 24.79 13.61 75m: 40.94 16.15 100m: 54.29 13.35)
5. Silin Sergey 1990 (Sverdlovsk oblast) 54.42 (25m: 11.09 11.09 50m: 24.68 13.59 75m: 40.56 15.88 100m: 54.42 13.86)
6. Pasynkov Danila 1994 (Moscow) 54.46 (25m: 11.22 11.22 50m: 24.91 13.69 75m: 40.85 15.94 100m: 54.46 13.61)
7. Klyukin Alexander 1993 (Novosibirsk) 54.51 (25m: 11.35 11.35 50m: 25.44 14.09 75m: 41.31 15.87 100m: 54.51 13.20)
8. Korolev Nikita 1994 (Republic of Tatarstan) 54.53 (25m: 11.30 11.30 50m: 25.05 13.75 75m: 41.05 16.00 100m: 54.53 13.48)
Women's 200 individual medley final
1. Andreeva Viktoria 1992 (Penza) 2.09.18 (25m: 12.83 12.83 75m: 44.85 16.69 125m: 1:19.81 19.11 175m: 1:54.99 15.94
50m: 28.16 15.33 100m: 1:00.70 15.85 150m: 1:39.05 19.24 200m: 2:09.18 14.19)
2. Popova Veronika 1991 (Saint-Petersburg) 2.09.24 (25m: 12.84 12.84 75m: 45.72 17.43 125m: 1:20.40 18.27 175m: 1:55.34 15.92
50m: 28.29 15.45 100m: 1:02.13 16.41 150m: 1:39.42 19.02 200m: 2:09.24 13.90)
3. Andreeva Ekaterina 1993 (Vladimir) 2.09.89 (25m: 12.96 12.96 75m: 45.29 17.36 125m: 1:19.94 18.08 175m: 1:54.89 16.22
50m: 27.93 14.97 100m: 1:01.86 16.57 150m: 1:38.67 18.73 200m: 2:09.89 15.00)
4. Simonova Vitalina 1992 (Novosibirsk-Orenburg) 2.10.32 (25m: 13.22 13.22 75m: 46.06 17.01 125m: 1:20.67 18.06 175m: 1:55.40 16.26
50m: 29.05 15.83 100m: 1:02.61 16.55 150m: 1:39.14 18.47 200m: 2:10.32 14.92)
Martynova Yana 1988 (Republic of Tatarstan) 2.10.32 (25m: 13.22 13.22 75m: 46.01 17.37 125m: 1:20.85 18.74 175m: 1:55.72 15.85
50m: 28.64 15.42 100m: 1:02.11 16.10 150m: 1:39.87 19.02 200m: 2:10.32 14.60)
6. Shvaeva Irina 1994 (Saint-petersburg) 2.11.45 (25m: 13.18 13.18 75m: 45.33 16.61 125m: 1:20.24 19.04 175m: 1:56.03 16.40
50m: 28.72 15.54 100m: 1:01.20 15.87 150m: 1:39.63 19.39 200m: 2:11.45 15.42)
7. Vershinina Kristina 1993 (Khanty-Mansyisk) 2.13.32 (25m: 13.48 13.48 75m: 45.68 16.60 125m: 1:21.15 19.75 175m: 1:57.84 16.82
50m: 29.08 15.60 100m: 1:01.40 15.72 150m: 1:41.02 19.87 200m: 2:13.32 15.48)
8. Kendzior Alina 1998 (Moscow) 2.13.59 (25m: 12.64 12.64 75m: 44.06 16.49 125m: 1:21.05 20.86 175m: 1:58.41 16.31
50m: 27.57 14.93 100m: 1:00.19 16.13 150m: 1:42.10 21.05 200m: 2:13.59 15.18)
Men's 50 breaststroke semifinals (eight fastest)
1. Prigoda Kirill 1995 26.69 (25m: 12.11 12.11 50m: 26.69 14.58)
2. Kostin Oleg 1992 (Nizhny Novgorod) 26.79 (25m: 12.25 12.25 50m: 26.79 14.54)
3. Nikolaev Andrey 1992 (Kaluga) 26.87 (25m: 12.37 12.37 50m: 26.87 14.50)
4. Geybel Sergey 1981 (Novosibirsk) 26.89 (25m: 12.30 12.30 50m: 26.89 14.59)
5. Strelnikov Kirill 1992 (Volgograd) 27.27 (25m: 12.51 12.51 50m: 27.27 14.76)
6. Trizonov Alexander 1991 (Novosibirsk) 27.28 (25m: 12.57 12.57 50m: 27.28 14.71)
7. Grigoryev Ruslan 1995 (Saint-Petersburg) 27.30 (25m: 12.50 12.50 50m: 27.30 14.80)
8. Tischenko Anton 1993 (Omsk) 27.34 (25m: 12.62 12.62 50m: 27.34 14.72)
Men's 4×50 free relay
1. Krasnoyarsk 1.27.37
Arbuzov 89 +0,70 21.75
Rybkin 94 +0,47 21.83
Kondratiev 92 +0,26 22.11 Amosov 94 +0,31 21.68
2. Moscow 1.27.52
Korotyshkin 83 +0,64 21.95 Polischuk 89 +0,28 21.95
Stepanov 95 +0,33 21.91 Ermakov 93 +0,30 21.71
3. Saint-Petesburg 1.27.53
Andreev 94 +0,66 22.20 Kurochkin 94 +0,39 21.76
Sery 89 +0,44 21.76 Aizetullov 90 +0,38 21.81
4. Volgograd 1.28.84
Ukrainsky 92 +0,64 22.02 Rybin 90 +0,25 22.23
Surkov 94 +0,18 22.24 Korolyuk 94 +0,45 21.89
5. Sverdlovsk oblast 1.29.84
Tarkhanov 95 +0,78 22.78 Kalaburdin 96 -0,03 22.00
Oleynik 93 +0,17 22.00 Kasatkin 92 +0,38 23.06
6. Belgorod 1.30.44
Ivanov 95 +0,61 23.27 Makushkin 92 +0,06 22.17
Tokarev 94 +0,10 22.60 Chernyaev 96 +0,31 22.40
7. Penza 1.31.05
Lazarev 92 +0,71 22.86 Vasiliev 94 +0,42 22.96
Larin 98 +0,18 22.89 Kharlamov 95 +0,03 22.34
8. Republic of Tatrstan 1.31.56
Krasnykh 95 +0,62 22.92 Mukhametzyanov 98 +0,22 23.15
Korolev 94 +0,28 22.49 Maxumov 97 +0,34 23.00
Mixed 4×50 freestyle relay
1. Saint-Petersburg 1.31.66
Tikhobaev 90 +0,64 21.14 Knyaginina 84 +0,43 24.65
Lagunov 85 +0,07 21.25 Ustinova 98 +0,51 24.62
2. Moscow 1.33.37
Lobuzov 91 +0,66 22.42 Nasretdinova 97 +0,47 24.14
Korotyshkin 83 +0,42 21.97 Reznikova 94 +0,41 24.84
3. Volgograd 1.34.27
Sedov 96 +0,65 20.85 Yakovleva 96 +0,37 26.06
Kuzmenko 95 +0,38 21.34 Baskakova 00 +0,35 26.02
4. Krasnoyarsk 1.34.39
Sheveleva 99 +0,71 25.68 Osipenko 98 +0,39 25.77
Amosov 94 +0,51 21.79 Arbuzov 89 +0,36 21.15
5. Sverdlovsk oblast 1.35.48
Tarkhanov 95 +0,69 22.69 Ustinova 98 +0,29 25.59
Lapshina 95 +0,43 25.31 Oleynik 93 +0,28 21.89
6. Nizhny Novgorod 1.37.44
Petushkov 96 +0,74 23.05 Veselova 89 +0,26 25.37
Shatalov 96 +0,42 22.76 Buynaya 00 +0,33 26.26
7. Republic of Tatarsatn 1.37.67
Krasnykh 95 +0,64 23.07 Prikhodko 98 +0,36 26.54
Korolev 94 +0,32 22.34 Korchagina 96 +0,16 25.72
8. Samara 1.37.83
Tambovsky 94 +0,74 23.01 Arsenyeva 94 +0,47 26.26
Kozlov 97 +0,31 22.80 Guzhenkova 97 +0,26 25.76