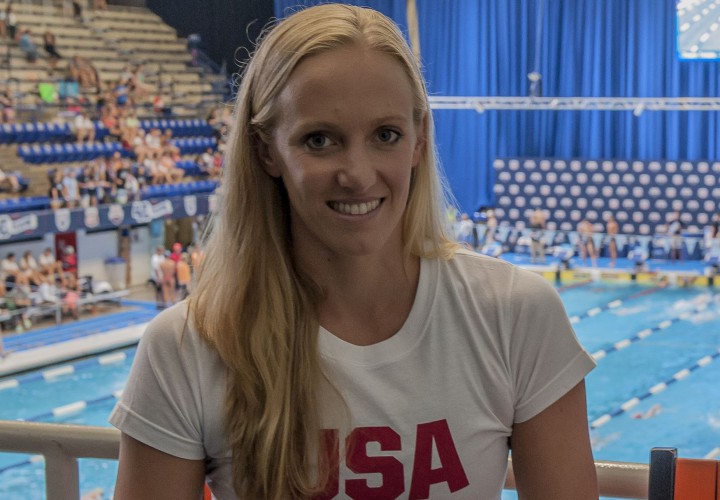 Photo Courtesy: Peter H. Bick
Editorial content for the 2015 Arena Pro Swim Series Santa Clara is sponsored by Arena. For full Swimming World coverage, check out our coverage page.
Dana Vollmer quietly stepped away from the race pool after the 2013 world championships, settling into a private life with husband Andy Grant. Almost four months ago, she gave birth to son Arlen.
In the meantime, Vollmer's world record of 55.98 in the 100 butterfly was almost broken by Sarah Sjostrom almost two weeks ago with a 56.04.
"It was fun to watch people getting closer (to my record), and I look forward to watching more," Vollmer said during the webcast of the Arena Pro Swim Series in Santa Clara, Calif., on Saturday.
But the 2012 Olympic champion in the 100 fly might do more than watch at the next Olympic Games. Vollmer announced during her chat with Universal Sports' Rowdy Gaines and Ted Robinson that she has been back in the pool for "about a month and a half," though she stopped short of saying that she is pursuing a goal of competing at the 2016 Olympic Trials.
"I never did retire," Vollmer said. "I always wanted to leave it open. If I get back in shape, I'll see what I do in the pool. I've gone a few practices with the girls at Berkeley and it's been a lot of fun."
Vollmer would have her hands full domestically to make the Olympic team. Claire Donahue, her 100 fly teammate in London in 2012, continues to rank high in the U.S. in the event. Kelsi Worrell has made drastic improvements in the past year, while Felicia Lee and Kendyl Stewart are also going to be in the hunt in Omaha next year.
"I miss the thrill, and I never thought I would miss the nerves," she said. "I want to be back in and feel that thrill."