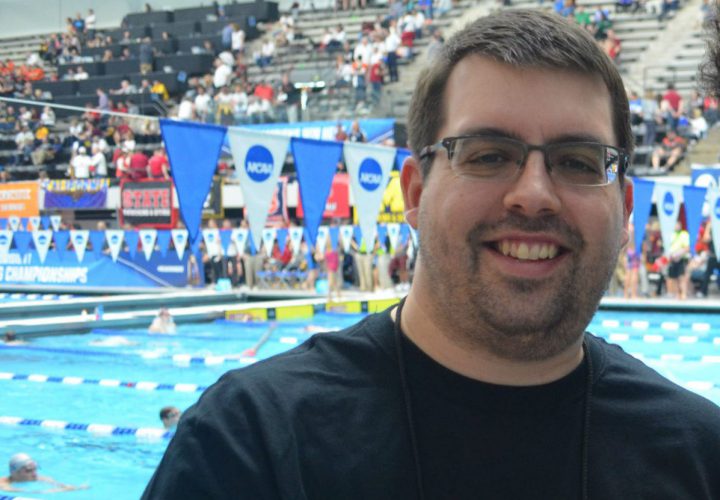 Photo Courtesy: Dan D'Addona
Swimming World is proud to announce that Dan D'Addona will be stepping into the position of Managing Editor of Swimming World, effective immediately. D'Addona's promotion comes on the heels of the announcement of the merging of the International Swimming Hall of Fame (ISHOF) and Swimming World operations. 
As Managing Editor, D'Addona will oversee all online editorial coverage, while continuing to serve as the lead college writer for Swimming World. His duties as Managing Editor will expand as the operations of Swimming World and ISHOF become more fully merged and will include running editorial for Swimming World Magazine, Swimming World Biweekly, and Swimming Technique, while working alongside Swimming World's Editor-in-Chief Bob Ingram. 
Prior to becoming Managing Editor, D'Addona has served as Swimming World's NCAA Division I correspondent for the SEC, Big 10, and Pac-12 conferences. He attended both the 2017 Men's and Women's NCAA Division I Championships in Indianapolis and has provided coverage assistance during the 2016 FINA Short Course World Championships, 2016 Rio Olympics, and more!
D'Addona explained,
"I am very excited for this opportunity. Being a part of Swimming World has been a great experience and I look forward to that continuing with my expanded role. We have a dedicated staff and great product already, and I hope to help us continue to grow and bring tremendous coverage to a sport with worldwide appeal."
Brent Rutemiller, CEO of ISHOF and Sports Publications, commented,
"Dan D'Addona brings a wealth of personal skills, experience, knowledge and expertise to this position. We look forward to seeing an immediate impact on our content from a proven professional like Dan."
D'Addona resides in Holland, Michigan, with his wife and two daughters, where he also serves as the Sports Editor at The Holland Sentinel.