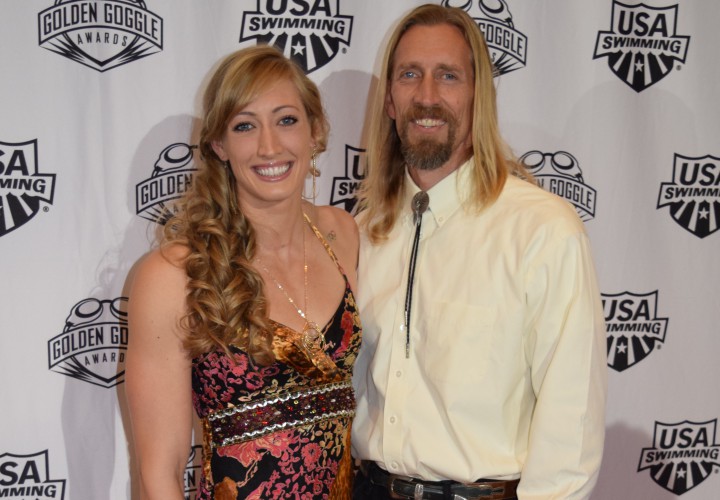 Photo Courtesy: Annie Grevers
Dads On Deck: Kjell Larson
Sponsored by Tri-Swim
Swimming World presents a quarterly series that showcases moms and dads of swimmers from around the country. The December issue features Kjell Larson, father of Olympian Breeja Larson. Breeja became a competitive swimmer a short five years ago and quickly moved up into stardom qualifying first for the 2012 London Games in the 100 breaststroke over Olympic champion Rebecca Soni.
In this short Q&A author Annie Grevers is able to provide insight into Kjell's life as a Swim Dad. Kjell talks about when he realized that Breeja was an exceptional swimmer, her late entry into the sport, his favorite Breeja swim moment, and gives some tips to the fellow swim dads out there. To read more about Kjell Larson check out this month's issue of Swimming World Magazine, available now!
Get your copy of the December 2015 Issue of Swimming World Magazine now!
Curious what else you will find in the November 2015 issue of Swimming World Magazine?
Check out the Inside Swimming World video:
Not a subscriber? Swimming World Magazine gives you unlimited access to all online content on SwimmingWorldMagazine.com and access to all of the back issues of Swimming World Magazine dating back to 1960! Purchase your Total Access Subscription TODAY!
FEATURES
014 TOP 9 OLYMPIC UPSETS: #8 SYLVIA POLL
by Chuck Warner
Beginning with the November issue and running through July 2016—a month before the start of the Olympic swimming events in Rio on Aug. 6—Swimming World Magazine will bring you its top 9 upsets in the individual events in Olympic history—in particular, in the last 50 years.
016 2015 SWIMMERS OF THE YEAR
by Jason Marsteller
World/American Female: Katie Ledecky
World/European Male: Adam Peaty
European Female: Sarah Sjostrom
American Male: Michael Phelps
Pacific Rim: Emily Seebohm, Mitch Larkin
African: Kirsty Coventry, Chad le Clos
024 10 BEST PERFORMANCES OF 2015
by Jeff Commings
The year before the Olympics often features some breakthrough swims that get fans excited about the upcoming Olympics. The performances we saw in 2015 did that in a big way, prompting many to believe that what took place in the pool around the world this year will be tough to top in 2016.
027 "LET'S GIVE IT SOME!"
by Annie Grevers
With Coach Bill Furniss at the helm, the culture of British Swimming is changing from its athletes striving to be not just the best in the nation, but the best in the world. Leading the surge is the fearsome British breaststroke contingent.
COACHING
010 LESSONS WITH THE LEGENDS: BILL BOOMER
by Michael J. Stott
012 SWIMMING TECHNIQUE MISCONCEPTIONS: ARM COORDINATION (Part II of II)
by Rod Havriluk
In the second of a two-part series, Dr. Havriluk continues to explain how the typical arm coordination (based on conventional wisdom) limits velocity and how a unique arm coordination can result in much faster swimming.
041 Q&A WITH COACH COACH JACK CAUSINO
by Michael J. Stott
042 HOW THEY TRAIN TYLER KAUTH
by Michael J. Stott
TRAINING
030 DRYSIDE TRAINING: ON-LAND SWIM STROKE MOVEMENTS—BACKSTROKE
by J.R. Rosania
JUNIOR SWIMMER
045 UP & COMERS
by Taylor Brien
COLUMNS & SPECIAL SECTIONS
008 A VOICE FOR THE SPORT
031 DADS ON DECK
032 HOLIDAY GIFT GUIDE
046 GUTTER TALK
048 PARTING SHOT