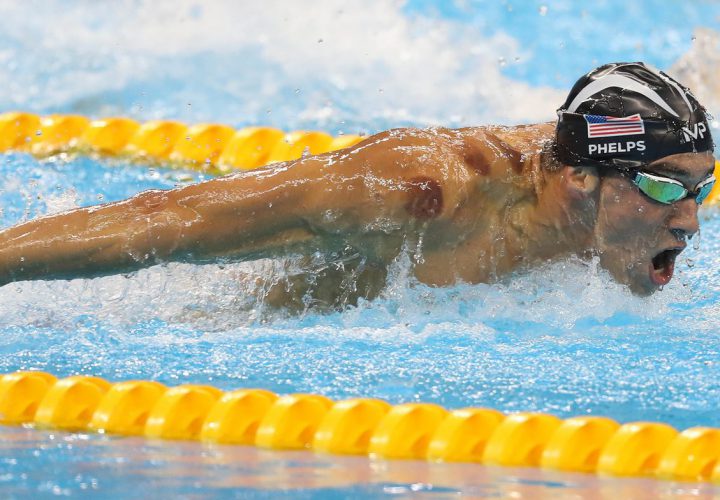 Photo Courtesy: Jason Getz-USA TODAY Sports

Editorial Coverage Sponsored By FINIS
Commentary by Jan Homolak
Michael Phelps is breaking some serious records in Rio with 21st Olympic gold added to the astonishing collection, but it isn't why his name pops in every second twitter update. What got the world upset are the mysterious red dots covering his body. They're not crop circles, tattoos or Zika virus marks but a hint that US Olympic team personnel tried to relax their golden boy before the gold rush. What is interesting is that cupping, both big Michael's recovery secret and probably the most googled term in the last few days is not new nor a new trend in any sport including swimming. What has made it take over the headlines is Phelps using it during the medal harvest. In a black and white world we live in we could have either blamed Michael for some kind of new mysterious alien meta doping or proclaim the method as pseudoscientific and paradoxically laugh at the US team preparation methods while watching them conquer the podium with 27 medals.
So what is this cupping exactly? It's a form of alternative medicine in which a practitioner tries to restore the physiological balance in the body by using local suction leaving the cool red dots as a side effect. Wikipedia, the world's most trusted medical fact gold mine also says it is a pseudoscience.
Is it really and is there any rational reason to use it? Who will have the last laugh?
Authors of a systematic review "Cupping for treating pain" published in journal Evidence-Based Complementary and Alternative Medicine in 2011 concluded that although "more rigorous studies are required before the effectiveness of cupping for the treatment of pain can be determined", two randomized controlled trials (a gold standard in so called evidence-based medicine) suggested significant pain reduction for cupping in low back pain compared with usual care (P < .01) and analgesia (P < .001). Another two studies showed positive results in patients with cancer pain (P < .05) and trigeminal neuralgia (P < .01) compared with anticancer drugs and analgesics, respectively.
Two RCTs reported favorable effects of cupping on pain in brachialgia compared with usual care (P = .03) or heat pad (P < .001). The other RCT failed to show superior effects of cupping on pain in herpes zoster compared with anti-viral medication (P = .065) (Kim, Lee, Lee, Boddy, & Ernst, 2011). Another study in 2012 concluded that although cupping has potential effect in the treatment of herpes zoster and other specific conditions (based on 135 randomized controlled trials published from 1992 through 2010) further rigorously designed trials on its use are warranted (Cao, Li, & Liu, 2012). In Journal of Advanced Pharmaceutical Technology and Research in 2013 in an article entitled Management of knee osteoarthritis with cupping therapy authors found that "the efficacy of treatment with cupping therapy in relieving signs and symptoms of knee osteoarthritis is comparable to that of acetaminophen 650 mg thrice a day orally, in terms of analgesia, anti-inflammatory and resolution of edema with minimal and temporary side-effects like echymosis and blister formation while as control drug has greater side-effects particularly on upper gastrointestinal tract." In medical community there are both advocates and opponents of cupping as a complementary method for relieving pain. One of the reasons why cupping is still widely described as pseudoscience is that inflexible western medical system established rules for accepting new therapies are created as a tool for drug evaluation. Needles, cups and many other kinds of alternative therapies and approaches are difficult to observe through the medical community's evidence-based lens made for pill examination. Ironically, the same goes for some of the western medicine's all stars like surgery, unfit for the same rigorous evaluation (eg. Double-blind placebo control design) for ethical reasons.
So is there a rational reason why US team should continue to support their athletes' fashionable red spot trend?
Fashionable bruising is caused by the the suction breaking small superficial blood vessels under the skin but it is as dramatic as a hickey – not very likely to cause any serious medical problem. On the other hand, possible benefits range from maybe nothing to stunning performance enhancement. One option is that we simply don't understand the technique well enough and maybe we will find actual physiological mechanism of action and soon all be covered in red spots for various reasons. It's possible because it is hard even to understand the logic behind understanding of normal human physiology in Chinese medicine while looking through western medicine goggles. Another option is that cupping may not do much of anything but looks cool and powerful. Even more so if you refer to it as an ancient technique. If you are familiar with the scientific literature regarding placebo effect and fascinating shift from a baseline treatment reference value in drug medical trials to fundamental physiological effect waiting to be rediscovered as the ultimate weapon against disease, you understand that even,not much of anything" can be more than a game-changer even in Olympics.
Tim Noakes, a sports physiologist at the University of Cape Town, a great researcher and authority in the field of placebo, sport science and beyond nicely said that the brain, or central governor as he calls it, can do remarkable things, but also limits us and placebo can be used to magically lift those self-imposed constraints. If $30 Amazon cupping set may be enough to slightly redesign what our brain, the most powerful performance-limiting organ set as our confinement in the race for the dreams, the social media scientist's chatter should matter no more than a hickey on the podium.