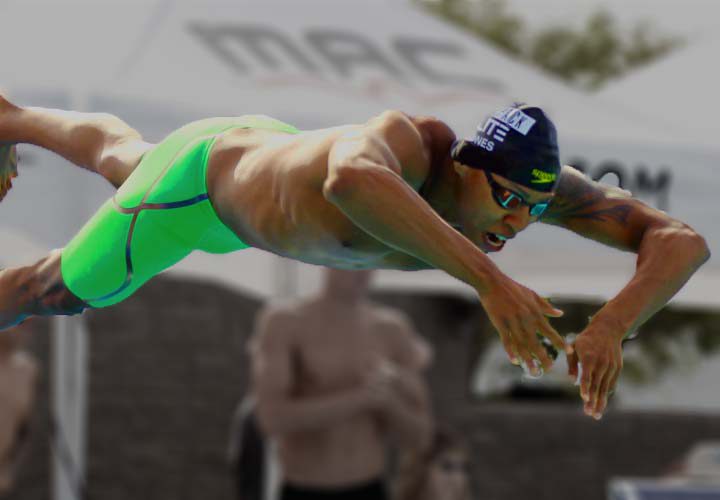 Photo Courtesy: Taylor Brien
Editorial content for the 2017 USA Swimming Nationals is sponsored by TritonWear. Visit TritonWear.com for more information on our sponsor. For full Swimming World coverage, check event coverage page.
By David Rieder.
Cullen Jones never figured he wouldn't make the Olympic team in 2016, even with the talented field that was waiting for him in the 50 free at Olympic Trials. He was the reigning Olympic silver medalist, and he had a habit of stepping up his game in the biggest moments.
But in the 50 free final, Jones touched third. Nathan Adrian won in 21.51, one hundredth ahead of Anthony Ervin (21.52). Jones was two tenths back in 21.75.
Not prepared for the fallout of finishing third, Jones took it hard.
"I was messed up," he said. "I guess making teams was something I expected to do, no matter where I was. I always knew that I was going to race fast, and I kind of counted on that. So I think it was big that I missed the team because I had to do a little bit of soul-searching after that."
At 32 years old, Jones strongly considered calling it a career, then and there.
"I was thinking about quitting," Jones said, before correcting himself. "I'm sorry, not quitting—retiring."
But not a single person Jones consulted suggested that maybe he should be done. Family, friends and then-fiancée Rupi Desai all urged him to give it another four years. Jones' mother reminded him that LeBron James, then 31, was nowhere close to retiring from the NBA and that Kobe Bryant hadn't retired until he was 37.
And then in August, the 35-year-old Ervin swam in the 50 free Olympic final—the one Jones had expected to be in all along—and Ervin won gold. Jones was happy for his friend, who he had trained with for several months at SwimMAC Carolina in Charlotte, and also inspired.
"Part of me felt like, if he can do it, I can do it, so why should I stop?" Jones said. "Tony has moved from place to place—he calls himself a nomad, and he really is. He doesn't stay in any one place for too long, and I think something about that that I took from him was, 'I need to make a change.'"
By late October, Jones had resolved to come back, but he needed something different in training. Jones' run with coach David Marsh in Charlotte had lasted for nine extremely successful years, but it was time for something different.
So he called Todd DeSorbo, the associate head coach at NC State in charge of the sprint group. Jones had swum at NC State from 2003 to 2006, long before DeSorbo came in with new head coach Braden Holloway in 2011. Jones wanted to train with DeSorbo's sprint group, and while he was there, he planned on finish up his required credits for graduation.
DeSorbo and Holloway were enthusiastic when Jones asked if he could return to the Wolfpack, even if they did have a few initial reservations.
"I think it's always great to have a postgrad or professional swimmer that has ties to your program back in your program," DeSorbo said. "But we wanted to sure he was going to be a good influence and have a good attitude. We've always heard that he is, but you always have those slight concerns when anybody from the outside comes in. For the most part, though, we were pretty excited."
But when Jones arrived on deck in Raleigh January 1, he was out of shape. Since the Olympic Trials final July 2, he had not been training, and he got to NC State 20 lbs. overweight.
"I think Todd was just like, 'Oh crap,'" Jones said.
On day one, Jones told DeSorbo and Wes Foltz, NC State's director of operations and assistant sprint coach, that he wanted to and in fact planned on making the World Championships team in less than six months' time. The coaches were skeptical.
"Todd didn't expect the commitment I was willing to put forward," Jones said. "When I told him I wanted to make the Worlds, team, he looked at me kind of crazy."
Very quickly, Jones got up to speed. He trained mostly by himself for the first three months as the college team was preparing for its spring championship meets. DeSorbo put Jones through aerobic work and yardage far above what he was used to with Marsh, and Jones quickly shed the excess weight.
After the NCAA championships, Jones jumped into full-scale workouts with the college team, and he fed off the energy and enthusiasm present on the Wolfpack pool deck.
"We're not sprinkling pixie dust on everybody to make them fast. They work really hard, but I think the majority is the environment on deck, the electricity, the energy, the passion on pool deck from the coaches, and it bleeds into the team," DeSorbo said. "I think (Jones) is definitely feeling the effects of that, and he enjoys it. Being an older guy, getting back into that environment has been something exciting and different and new for him."
"I feed off that every day when I have to be up at 5:30 in the morning, and Todd and Braden are singing songs at the top of their voice," Jones said. "It's that kind of enthusiasm that gets everyone awake and everyone going, and you see some of the best practices in the morning because everyone gets into it and starts tearing it up."
Swimming with college kids so much younger than him, Jones has embraced the challenges of keeping up daily, even if that means dedicating an enormous amount of time to recovery, and he's learned to accept the challenges of DeSorbo's challenging sets head-on.
"I think one thing I've learned from the college guys is to not cry and moan when the coach puts up a set," he said. "When they put something up, my first thought is, 'That looks so hard.' Those guys look at it as, 'Yeah, let's do that.' It's a big breath of fresh air."
Through his training, Jones began to make a believer of DeSorbo, who called Jones one of the most talented and explosive swimmers he had ever coached. By May, DeSorbo agreed that despite his long layoff, maybe Jones did have a shot to get back onto the World Championship team as soon as this summer.
"He said to me, 'Wow, you might actually be able to do this,'" Jones recalled. 'I was like, 'Yeah, I planned on that. I'm working my butt off here.'"
Also that month, Jones got married to Desai—now Rupi Desai Jones. The two had been together for seven years, so Jones feels that his life hardly changed after his wedding.
He missed about a week of training for the wedding, but when he came back, DeSorbo saw Jones' best block of training yet.
"Since his wedding, his training has gone to a whole new level," DeSorbo said. "I don't know if that's attributed to Rupi and getting married, but I think he's training at a level now over the past two weeks that I can see why he's an Olympic gold medalist, a world record-holder, a former American record-holder. He's good."
DeSorbo explained that he won't put any time or qualification expectations on Jones for this summer or any summer, just like he didn't tell Ryan Held last summer that he expected Held to make the Olympic team—which he did, finishing third in the 100 free.
In the NC State sprint group, it's all about fulfilling expectations of effort on a daily basis, and so far, Jones has done everything DeSorbo has asked.
But even if it doesn't work out this year for Jones, he could well end up making a mark on the Worlds team indirectly. Jones has tried to impart his professional approach and his accountability to the NC State sprinters, including Held and the quickly-improving Justin Ress.
And after so many years training in Charlotte, Jones has developed a close friendship Michael Chadwick, who enters World Championship Trials with the No. 2 time in the U.S. in the 100 free.
"I would like to think that when I say things to him, it matters, because I've known him since he was about that tall," Jones said, holding up his hand about four feet off the ground. He's definitely one of those guys that you're going to see on the Olympic team at some point. He's going to be part of the next group of sprinters. If we can get him to believe that, we'll have a great relay."
For now, though, Jones has no intentions of leaving the sprinting to those in their early 20s. After admittedly losing focus at points over the past four years, and he won't let that happen again in what he insists will be his final run at an Olympic Games.
"I knew that if I was going to do it, I had to do it right," he said. "If this is going to be it—and this is definitely going to be it—I want to do it right."