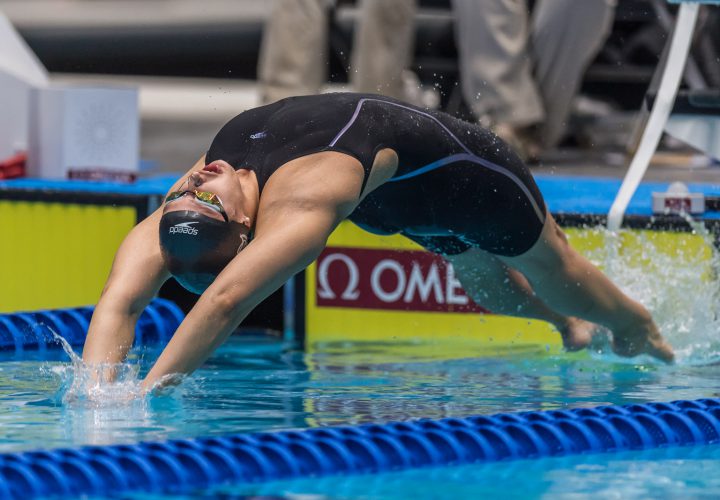 Photo Courtesy: Peter H. Bick
NCAA DI editorial coverage is proudly sponsored by Adidas. Visit adidasswimming.com for more information on our sponsor. For all the latest coverage, check out our event coverage page.
CLICK FOR FULL RESULTS
The College Swimming and Diving Coaches Association of America (CSCAA) announces the following award recipients from the 2017 NCAA Division I Women's Swimming and Diving Championships.
Diving Awards:
The CSCAA NCAA DI Women's Team Diver of the Year Award was presented to Lexi Tenenbaum from the University of Minnesota.  The Gopher Senior reached the finals on both 3-Meter and Platform and consolation finals on the 1-meter board helping to lead the Gophers to a 10th place team finish.
The CSCAA NCAA DI Women's Team Diving Coach of the Year Award was presented to Wenbo Chen of the University of Minnesota.  Chen guided three Gophers to CSCAA All-America finishes including Yu Zhou, who won the 3-Meter event.  This is third time Coach Chen has been honored as the CSCAA NCAA DI Women's Diving Coach of the Year.
Swimming Awards:
Kathleen Baker of the University of California was named the CSCAA NCAA DI Swimmer of the Year after winning three events while leading the Golden Bears to a runner-up team finish.  Baker won the 200 Individual Medley, 100 and 200 Backstrokes and was on Cal's winning 200 Medley Relay, she becomes only the third Golden Bear to win three individual titles in a single NCAA Championship.
Greg Meehan, head coach of Stanford University was named the CSCAA DI Women's Swimming Coach of the Year after leading the Cardinal to their first team title in almost 2 decades. This is the second time Meehan has been honored with the award in his 5-years as head coach at Stanford.  The Cardinal opened and closed the meet with American and NCAA records in winning both the 800 and 400 Freestyle Relays.
Press release courtesy of CSCAA