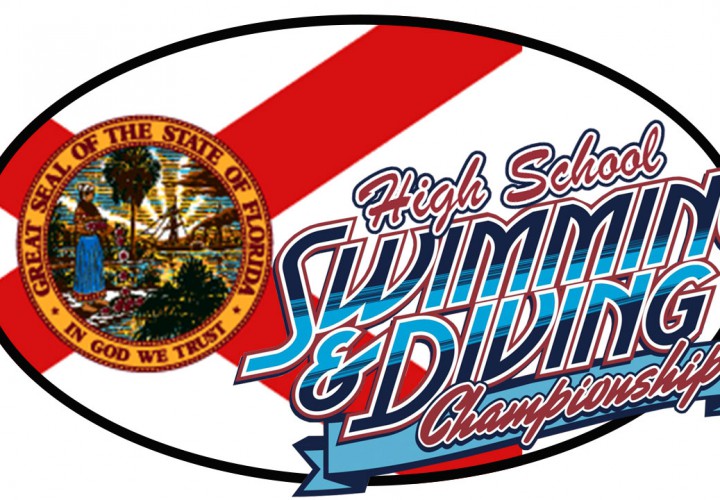 Agon is the proud sponsor of all high school coverage (recruiting, results, state championships, etc.) on SwimmingWorld.com. For more information about Agon, visit their website Agonswim.com.
STUART – The Chiles High School girls and Creekside High School boys were crowned Florida 3A Swimming and Diving champions last weekend at the Sailfish Splashpark Aquatic Athletics Center in Stuart.
Girls
Creekside raced to a win in the opening event, as Abigail Ellis, Dani Gordon, Lauren Trummel and Kate Revels picked up a win in the 200 medley relay at 1:49.07. Gainesville's Courtney Bryant, Anna Beebe, Monona Martin and Jessie Jones led at the final exchange but couldn't hold on, finishing second in 1:49.35. Osceola's Helena Heuberger, Savannah Sawyers, Taylor Williams and Nicole Nesto swam a 1:50.31 for third.
Gainesville freshman Alena Kraus held onto her top seed position in the girls' 200 free final, holding off Fort Myers' Kendall Brent on the final 50 to win in 1:49.81. Brent swam a 1:50.20 for second, while Martin County's Hannah Burdge touched third in 1:52.32.
Columbia's Hannah Burns wrapped up the 200 IM state title in a sub-2:00 swim of 1:59.92. Gulf Coast's Kayla Tennant secured second in 2:04.94, while Venice's Grace Patrice touched third in 2:05.83.
Mitchell senior Taylor Anderson earned a state title in her final high school state meet, topping the 50 free championship final in 23.00, almost a second in front of Northeast's Osianna McReed (23.96). Hannah Kendall of Winter Haven swam a 24.05 to take home third.
Allison Greene gave team champion Chiles its first win of the meet in 1-meter diving, as she scored 446.65 points to top East Ridge's Abby Howell (436.00) and Osceola's Amber Brickey (416.30) for the title.
Gulf Coast's Kayla Tennant nearly eclipsed the state record in the 100 fly but fell just short, touching in 54.09 to leave Chelsea Britt's 53.83 on the books for another year. Madison Jean of Lakewood Ranch gave Tennant plenty of competition with her 54.27 for second, while Seabreeze's Marlena Pigliacampi wound up third in 56.67.
Elise Haan made it two in a row for Gulf Coast, winning the 100 free in 49.19. She finished just outside Rhi Jeffrey's 2002 state record of 48.73 in the event. Taylor Anderson of Mitchell swam a 50.98 for second, while Gainesville's Alena Kraus picked up another top three swim with a 51.05.
Columbia's Hannah Burns won her second race of the day in the 500 free, cruising to a 4:46.68 and a four second victory. Kendall Brent of Fort Myers finished second for the second time in the meet, stopping the clock in 4:50.69. Makayla Ayers of Chiles wrapped up third in 4:58.86.
Thanks to a 22.86 anchor split from Elise Haan, the Gulf Coast foursome of Alexis Simpson, Nora Gillen, Kayla Tennant and Haan pulled away from the field to win the 200 free relay in 1:37.69. Creekside's Kate Revels, Lauren Trummel, Molly Gaver and Eleanor Pollitt stayed in contact to finish second in 1:39.55, while Chiles' Cristina Pereda, Morgan Ayers, Lauren Peavy and Makayla Ayers placed third in 1:40.47.
Haan returned to the pool minutes later to win the 100 back by four seconds in 52.60, just missing Clara Smiddy's year-old state record of 52.46. Maddy Conway of Wiregrass Ranch secured second with a 56.67, while Claire Kercheval-Roig of Leon touched third in 57.20.
Creekside senior Dani Gordon closed out her high school career in winning fashion, topping the 100 breast championship final in 1:03.88. Morgan Ayers of Chiles swam a 1:05.51 to finish second, while Osceola's Savannah Sawyers came in third with a 1:05.97.
Gulf Coast swept the freestyle relays as Alexis Simpson, Kayla Tennant, Niki Fistrovic and Elise Haan put together a 3:30.05 to win the 400 free relay. Gainesville's quartet of Monona Martin, Courtney Bryant, Anna Beebe and Alena Kraus stopped the clock in 3:34.40 to finish second ahead of Lakewood Ranch's Madison Jean, Courtney Chapin, Malorie Schuerman and Haille Bogumil (3:34.92).
Chiles's 234.5 points gave them the team title ahead of Gulf Coast (212 points) and Naples (175 points). Gainesville (159 points) and Lakewood Ranch (117 points) rounded out the top five.
Boys
Belen Prep kicked off the boys' meet with a victory in the 200 medley relay thanks to Alejandro Carriazo, Bernardo Lima, Max Garcia-del Pozo and Daniel Simpson, who touched in 1:36.11. Gainesville's Seth Borgert, Brandon Parramore, Josh Quillen and Eric Geunes came in second at 1:36.97, while Creekside took third in 1:38.68 with Ethan Chestang, Kevin Riemensperger, Sam Williams and Zach Burke competing.
Lakewood Ranch senior Luke Hanner put together a huge final 50 in the boys' 200 free to take the state title in 1:39.03. Hanner out-split Gainesville's Seth Borgert (1:39.90) and Charlotte's Hans Schroeder (1:40.10) by almost a second on the final 50 to pull away for the win.
Barron's Marco Leo had the fastest 50 breast split of the entire field to catch up and then pull away en route to a win in the 200 IM (1:52.99). Venice's Matt Pelton led at the halfway point and wound up second in 1:53.40. Fort Walton Beach's Daniel Orcutt placed third in 1:54.04.
Fort Lauderdale's Raphael Marcoux had the only sub-21 swims of the meet in the boys' 50 free, posting a 20.61 in finals to win the 3A state title. Peyton Lee of Lake Region dropped a chunk from prelims to take second in 21.17, while Ryan Walker of Braden River touched third in 21.55.
Chiles swept the diving competitions as Chase Lane picked up the boys' 1-meter title with 485.05 points. Sebastian River freshman Jake Servaites finished a distant second with 401.75 points, while Northeast's Joshua Morehouse scored 384.20 points to take third.
St. Augustine's Nicholas Loomis led a trio of swimmers under 50 seconds in the boys' 100 fly final. In his final high school state meet, Loomis posted a 49.43 to edge Fleming Island freshman Nick Hackett (49.48) by .05. Creekside's Gian Garcia made it interesting, finishing .21 behind Hackett with a 49.69 for third.
Fort Lauderdale siblings Raphael and Philippe Marcoux pulled out a 1-2 finish in the final of the 100 free, with Raphael taking the win in 45.17 and Philippe coming in a second later at 46.18. Bartam Trail's Harrison Howerton edged Fleming Island's John Hutton for third, 46.62 to 46.75.
Lakewood Ranch's Daniel Erlenmeyer had plenty of clean water to swim through in the 500 free final as he finished six seconds in front of Gainesville's Seth Borgert for the win, 4:27.76 to 4:33.70. Eric Geunes gave Gainesville two of the top three spots with his 4:35.92 for third.
Creekside put together the fastest 200 free relay of the day at 1:26.72, with Gian Garcia, Owen Wheeler, Carter Strickland and Zach Burke each contributing a sub-22 split. Fort Lauderdale's Philippe Marcoux, Tyler Zuyus, James Dika and Raphael Marcoux finished second in 1:27.55, followed by Fleming Island's Nick Hackett, Taylor Knight, Jon Dasher and John Hutton (1:28.36).
Nicholas Loomis of St. Augustine took aim at his second state title in the 100 back, but Charlotte's Hans Schroeder had other ideas. Schroeder built a solid lead at the halfway point and held on to top Loomis, 51.06 to 51.59. Alejandro Carriazo of Belen Prep got to the wall third in 52.12.
Juilo Horrego gave Mater Academy its first top three swim of the meet with a 57.32 in the 100 breast. Gian Garcia of Creekside also broke 58 with a 57.96 for second, while Jensen Beach's Al Madden came in third at 58.27.
Seth Borgert, Josh Quillen, Eric Geunes and Brandon Parramore led Gainesville to the 400 free relay win as the foursome posted a 3:09.67 to top Creekside's Carter Strickland, Ryan Buczkowski, Gian Garcia and Ethan Chestang (3:11.00). Fleming Island rounded out the top three with Nick Hackett, Kaleb Switanek, Jon Dasher and John Hutton stopping the clock in 3:11.49.
Creekside edged Belen Jesuit for the team title, 190 points to 181.5. Gainesville was also in the mix, finishing third with 169 points. Chiles (127 points) and Fleming Island (125 points) rounded out the top five.
Results: Florida 3A Swimming and Diving Championships