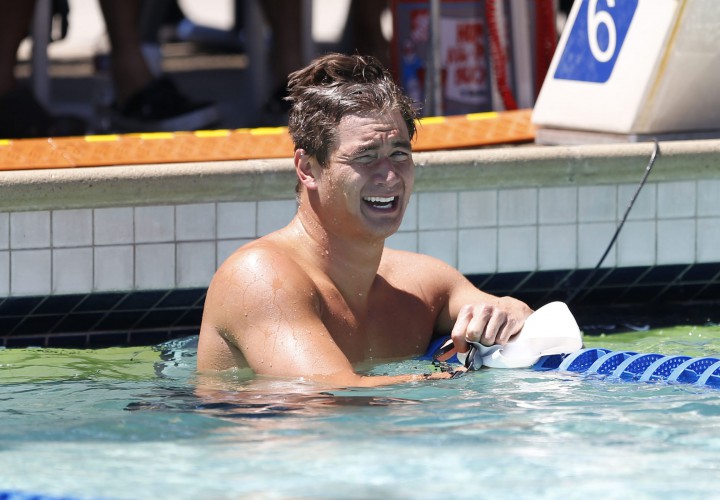 Photo Courtesy: Rob Schumacher/USA Today Sports Images
By Cathleen Pruden, Swimming World College Intern
"Control the Uncontrollables" read the purple letters on the back of our grey short course championship shirts.
"If something is uncontrollable then you can't control it! That doesn't make any sense. This shirt isn't cool."
These were the complaints of a bunch of whining 12 year olds and I was one of them. I was nagging at my age group coach because it didn't make sense: "Control the uncontrollables"?
I showed up, I swam, I had fun with my friends. At that point, I was a typical age group swimmer, simply getting faster because I was still growing. Nutrition? Mental training? Recovery? None of that had entered the picture yet.
My coach was frustrated because we wouldn't buy into this idea of controlling the uncontrollables. These "uncontrollables" were affecting me, I just didn't know it yet.
Now, as a college swimmer I am far more experienced and my success relies on so much more than just showing up to practice. Mental training is a huge part of that success and I have come to recognize the importance of this phrase.
We encounter uncontrollable events on a regular basis. Broken lane ropes. Snow storms. Lap counters dropped into the pool. Some swimmers perform well. Others lose control.
We all hope that these issues don't become our issues. But, we'll all encounter an uncontrollable eventually: the miscommunicated warm up time, the ripped suit, the rain at an outdoor meet.
What separates one swimmer from another? How can some swimmers perform as if the issue never was an issue?
The University of North Carolina Asheville swim team encountered an uncontrollable recently. In November, the team attended the Georgia Tech Invitational. One night, the team was faced with some bus troubles and did not make it to the pool until 5:40 p.m. for a 6 p.m. scheduled start. While the other coaches and officials granted the team an extra 10 minutes, this was still not the situation swimmers expected. Despite the tardiness being out of their control, these Bulldog swimmers were prepared for this.
Head Coach Elizabeth Lykins explained, "In practice we ask them to swim fast at all different times of the session and the day, so they are accustomed to racing under varying conditions."
This was just another one of those conditions, as "their traditional warm-up routines were botched and they had to shorten the process." She added, that while the team doesn't "have a specific mental training program, we ask them to be mentally challenged in practice daily."
Consistent with their training, these swimmers took the adversity in stride. They could have swum through the first relay, blaming a lack of warmup. Instead, the team set a school record and swam well all evening. The team remained in control of what they could control: maximizing their 30-minute warmup and racing like they had practiced.
The superstars are not exempt from their own bouts of adversity. I remember watching Michael Phelps' 200 fly at the 2008 Olympics. He finished the race in World Record time, pulled off his goggles and dumped the water out of them.
Leaky goggles: Uncontrollable. Reaction: Controllable.
Phelps wasn't an age grouper who could stop at the wall and empty his goggles. He was an Olympian on the way to becoming the G.O.A.T. (Greatest of All Time). He had trained for this moment in more than just the pool. This article reminds us how. Phelps had visualized. He was mentally prepared. He did not allow the water in his eyes to fluster him. Rather, he kept his cool, maintained his confidence, and finished the race in record time.
Nearly 10 years ago, I was caught up in the seemingly contradictory words: "Control the uncontrollables."
Now, I understand. There are always going to things beyond your control. However, you determine how you react to these adversities. If you train hard day in and day out, no matter the circumstances, you will be prepared to perform well.
I think of this phrase on a nearly daily basis and it has taken on a life of its own. It's about giving my 110 percent, even if is is not my favorite set. I did not get to write the practice but I do get to do the swimming. It's about racing my hardest no matter if the pool wall is slippery or the water is foggy. It's about being a great sport, even if those around me are not.
You're rarely presented with the perfect set of circumstances. Swimming moves fast. The world moves even faster. We are presented with adversity, but we have the ability to manage how we handle these situations. Control the uncontrollables.