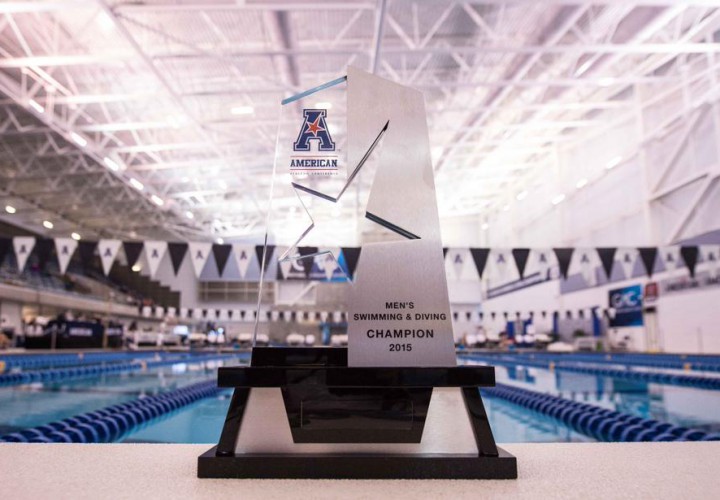 Photo Courtesy: American Athletic Conference
Day one of the American Athletic Conference took place today at the University of Houston.
2017 American Athletic Conference Day 1 Finals – Results
Cincinnati took gold in the women's 800 free relay to begin the meet. The team of Sara Wanasek (1:47.16), Michaela Wheeler (1:50.50), Sarah Laabs (1:49.73), and Jacqueline Keire (1:42.68) posted a time of 7:10.07.
Keire had the fastest split in the field by nearly three seconds.
East Carolina's Marion Abert (1:46.56), Stefanie Scherwitzel (1:49.92), Anna Svanbergsson (1:48.40), and Tori Angermeier (1:46.51) took second in 7:11.39. Southern Methodist's Maddie Hoch (1:49.82), Ursa Bezan (1:48.06), Adri Santa (1:47.95), and Vicky Cunningham (1:45.71) took a close third in 7:11.54.
East Carolina opened the men's meet by taking gold in the 800 free relay. The foursome of Fran Krznaric (1:37.39), Grega Popovic (1:38.74), John Myhre (1:35.30), and Blaz Demsar (1:36.38) finished in 6:27.81.
Connecticut's Will Kearsey (1:36.07), James Donlevy (1:36.59), Kyle Kimura (1:39.35), and Chris Girg (1:37.73) took second in 6:29.74, just ahead of Southern Methodist's Bartosz Krzyzaniak (1:37.11), Lucas Schenke (1:37.36), Carson Klein (1:37.54), and Christian Scherubl (1:38.10) in 6:30.11.
Connecticut swept the podium in the women's 1m diving event. Senior Alli Butera took gold with 282.50 points ahead of teammate Monica Marcello (280.85). Michelle Kalups rounded out the top three with 272.80 points.
Southern Methodist's Bryce Klein dominated the men's 3m diving event. The junior won with 436.45 points, 116 points ahead of the runner-up. His score broke his own meet record he set this morning during prelims.
Cincinnati's Louie Hunt dove to second with 320.30 points and Connecticut's Dan Kinney took third with 316.70 points.
Southern Methodist's Matea Samardzic (24.75), Tara Nicholas (27.69), Marne Erasmus (23.43), and Hannah Rogers (22.40) took gold in the women's 200 medley relay. They finished with a time of 1:38.27.
Houston's Eleanna Koutsouveli (25.24), Peyton Kondis (27.27), Laura Laderoute (24.03), and Caitlin Horner (22.63) took second in 1:39.17 and Cincinnati's Lindsey Niehaus (25.85), Kennedy Herbert (27.99), Katie Gob (24.39), and Michaela Wheeler (23.02) finished third in 1:41.25.
Southern Methodist's Krzyzaniak (22.13), Ziga Cerkovnik (24.19), Szymon Golczyk (20.88), and Ralph Koo (19.80) narrowly won the men's 200 medley relay to conclude day one. They finished in a time of 1:27.00.
East Carolina's Krznaric (22.75), Will Hicks (23.82), Gustavo Santos (20.67), and Victor Martins Dos Santos (19.87) took a close second in 1:27.11. Cincinnati's Eitan Holder (23.35), Ludovico Corsini (24.06), John Mataxas (21.63), and Connor Davis (20.01) finished third in 1:29.05.
Women's Team Scores
1. Connecticut-118
2. Houston-104
3. East Carolina-90
4. Southern Methodist-84
5. Cincinnati-82
6. Tulane-56
Men's Team Scores
1. East Carolina-114
2. Connecticut-105
3. Cincinnati-101
4. Southern Methodist-92
Prelims will begin tomorrow at 11 a.m. CST.