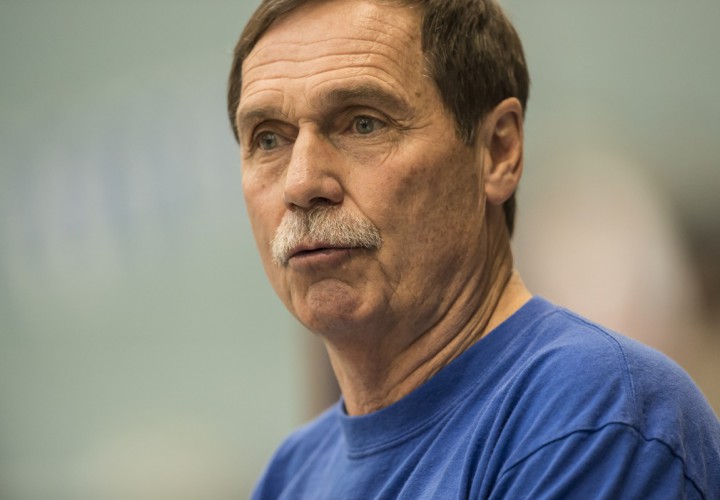 NCAA Championship editorial coverage is proudly sponsored by Competitor Swim. Visit CompetitorSwim.com for more information on our sponsor. For all the latest coverage, check out our event coverage page. Also, make sure to check out our Facebook photo gallery for the latest images from the meet in Austin.
Commentary by Michael J. Stott
AUSTIN, Texas, March 28. WITH apologies to golf's Masters, if you've never been to the men's NCAA Swimming and Diving Championships, it is the real event "unlike any other." It is fair to say, however, that morning warm-ups here in Austin do reflect the laconic feel of life under the Georgia pines.
Mornings here have a timeline of their own. If teams have mandated wake-up swims, those early risers are long gone by the time the first media members arrive around 9:00 for the 11:00 session start. For the most part there are very few swimmers in the water before 9 a.m. Motions are long, slow and deliberate as if feeling the water for the first time, flushing any lingering lactic acid left over from the previous night's swims. Unlike a high school state championship, warm-ups at the collegiate level appear decidedly self-directed. Of course, an athlete at this point in his career has a definite opinion of what they must do and what works for them. It is a practiced, if laconic, art.
Coach behavior in the early going is collegial. Coaches greet one another with brotherly affection. Arizona's leaders are present early. The unassuming Rick DeMont, clad in jeans, flashes his irrepressible smile. Permanent Wildcat presence Matt Grevers, myopia and all, appears handsome and sleepy as ever.
For those who want to be undisturbed, a stroll on the deck seems to fit the bill. Alabama's Dennis Pursley hobbles the wet deck in a boot. Chewing gum seems to help, if UVA coaches Augie Busch and Cory Chitwood are any example. Two massive human specimens, Louisvile's Joao De Lucca (when not wired to his music) and Carlyle Blondell, reflect on what the day holds for them in the 200 free andI 100 back respectively. In the distance, divers perform their routines with frightening ease, executing gymnastic moves that are as graceful as they are difficult.
As the minutes pass, more purpose comes to the pool. Athletes jump in and begin stroking and kicking in earnest. Coaches become more attentive. Gregg Troy monitors a swimmer in lane eight, taking a long look at stroke mechanics while others converse one-on-one with their prospective qualifiers.
The Lee and Joe Jamail Swim Center is fan-friendly when there are fans to befriend. At 9:15 there is not a soul to be found. However, by 9:45 there is a surge in patrons decked out in logoed garb reflecting team preferences. And there are messages galore. Some just depict the names of their competing children. Zane Grothe's mom keeps it simple. "Grothe" is emblazoned on a broad back to go with her plastic tiger helmet that contrasts nicely with the bear hats worn by the Cal multitude. Another Auburn mother has a "Nothing Meaner Than a Wet Cat" T-shirt. There are no "Go Hard or Go Home" messages here. Just statements of fact, i.e. Michigan's "Tradition of Greatness" or "Let's Go Blue," "This Team Wins, 2010-2011 Big Ten Champions." Then there's a statement for the ages, taken from the movie "Gladiator" and spoken by Russell Crowe: "What we do in this life echoes in eternity."
By 10:47, one fan base is sufficiently mobilized to hurl the first challenge at other schools. Cal parents — and there are many — sound the first clarion "CAL-I-FORN-IA, CAL-I-FORN-IA." It is countered by one nearly inaudible response. At 10:51 comes the first stentorian tone of meet announcer Sam Kendrick. Loud, clear and very authoritative he announces the first business of the day followed shortly thereafter by "Swimmers clear the competition pool, please." Minutes later, spectators begin to fill the natatorium nearly to capacity, settling in for more than two hours of superlative swimming. Day two of the NCAA Men's Swimming and Diving Championships is about to start. Kendrick growls the first of four questions to the crowd.
"Are you ready?"
Yes, we are.