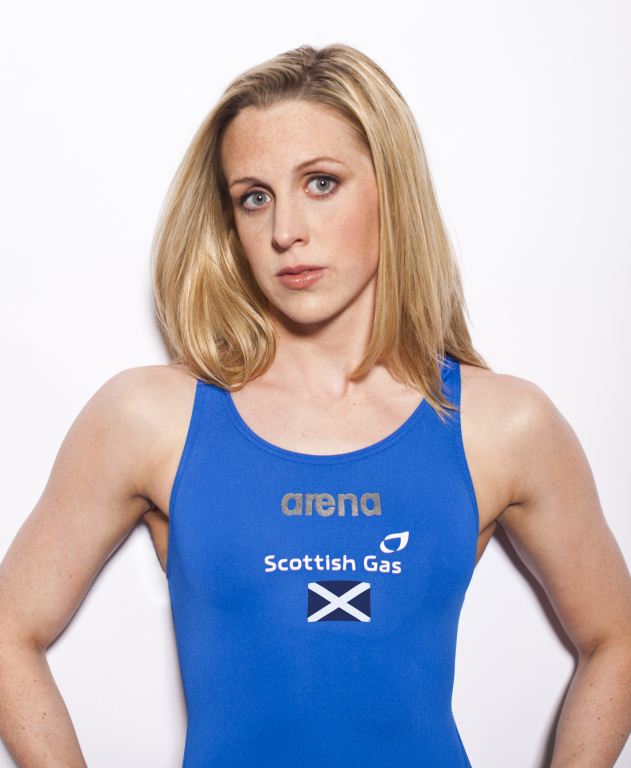 ABERDEEN, Scotland, May 31. WORLD silver medalist Hannah Miley, representing Garioch here at the North District Open/Scottish Grand Prix, put on a command performance with a strong double-dip victory in Aberdeen.
Miley dominated the women's 400-meter freestyle finale in 4:09.91 in one of the highest profile head-to-head swims of the night featuring an Olympic silver medalist (Keri-Anne Payne) against a World silver medalist in Miley. Payne wound up taking second in 4:13.74 after winning the 800 free last night. Glasgow's Camilla Hattersley checked in with a third-place time of 4:14.21.
Miley returned later in the night as part of a difficult double with a winning time of 2:13.38 in the women's 200-meter fly, and she did so in equally dominant fashion as in the 400 free. A pair of 16 year olds battled for second with Carnegie's Tain Bruce taking second in 2:18.71 with Ireland's Gemma Kane in third in 2:19.69.
Miley closed the night with a fifth-place time of 58.01 in the women's 100-meter free. Stirling's Sian Harkin won that race with a touchout triumph ahead of Aberdeen's Rachel Masson, 56.39 to 56.43. Stirling's Eloise Barber (56.91) and BEST's Lucy Hope (57.66) placed third and fourth.
In one of the fastest relative times of the entire meet thus far, Stirling's Ross Murdoch charged to a 1:00.29 win in the men's 100-meter breaststroke. That would have ranked him ninth in the world if he hadn't already been third with a 59.56 from the British National Championships in Glasgow earlier this year. Stirling's Joseph Welstead finished second in 1:02.82 with Edinburgh's Calum Tait taking third in 1:02.94.
A close battle kicked off the night as Carnegie's Rachael O'Donnell overtook Swansea's Alice Tennant down the stretch in the women's 200-meter IM, 2:18.13 to 2:18.59. Warrender's Sally Wood checked in with a third-place time of 2:19.18.
Glasgow's Robbie Renwick had a close call of his own, having to track down Stirling's Joshua Walsh for the men's 200-meter freestyle title. Trailing 1:22.94 to 1:23.12 at the final wall, Renwick powered past Walsh for the win in 1:50.00. A trio of other swimmers also posted 1:50s with Walsh taking second in 1:50.64, while Perth's Stephen Milne (1:50.85) and FIRST's Duncan Scott (1:50.95) placed third and fourth. That's a Scottish junior record for Scott, lowering his previous mark of 1:51.12 from last August.
The close finishes kept on coming in the women's 200-meter breaststroke finale as Stirling's Kerry Buchan just clipped Warrender's Emma Chittleburgh, 2:31.71 to 2:31.95, for the title. Edinburgh's Hayley Monteith checked in with a third-place time of 2:32.20. Chittleburgh, 16, took down the Scottish junior record of 2:32.80 set by Rebecca Hillis back in 2006.
Carnegie training partners Mark Szaranek and Craig Bowman put on a battle in the men's 100-meter fly championships heat. Szaranek had just enough in the take to knock off Bowman, 54.49 to 54.97. Ireland's Brendan Hyland snatched third in 55.24. Lewis Smith smoked his Stirling training partner Ross Muri, 4:24.95 to 4:27.69, in the men's 400-meter IM. Garioch's Alastair Miley snagged third overall in the distance medley with a 4:37.69.
As was the case for most of the 50s from yesterday, prelims told the story in the women's 50-meter breaststroke today. Corrie Scott of Edinburgh posted the top time of the day with a 32.00, but finished second in the finale behind teammate Kathryn Johnstone, 32.16 to 32.24. Inverness' Kara Hanlon took third in 32.46. That's a Scottish junior record for the 17-year-old Hanlon, bettering the 32.90 set by Erin Robertson in April.
Edinburgh dominated the men's 50-meter free with a podium sweep. Richard Schafers won in 23.32 with teammates Kieran McGuckin (23.40) and Jack Thorpe (23.46) capturing second and third in the men's splash-and-dash finale. BEST's Lucy Hope followed with a 1:03.73 to win the women's 100-meter back. Carnegie's Chelsea Lawson (1:04.96) and FIRST's Charlotte McKenzie (1:05.03) rounded out the top three.
After clocking a 2:01.46 this morning, Stirling's Charlie Boldison showed some consistency with a 2:01.34 to win the men's 200-meter backstroke finale tonight. Glasgow's Ross McCafferty posted a second-place time of 2:06.48, while Coast's Joe Yeoman wound up third in 2:07.79.
The mixed 400-meter medley relay closed out the night with the University of Stirling winning in 4:00.66. Carnegie (4:05.56) and Edinburgh B (4:05.62) finished second and third.