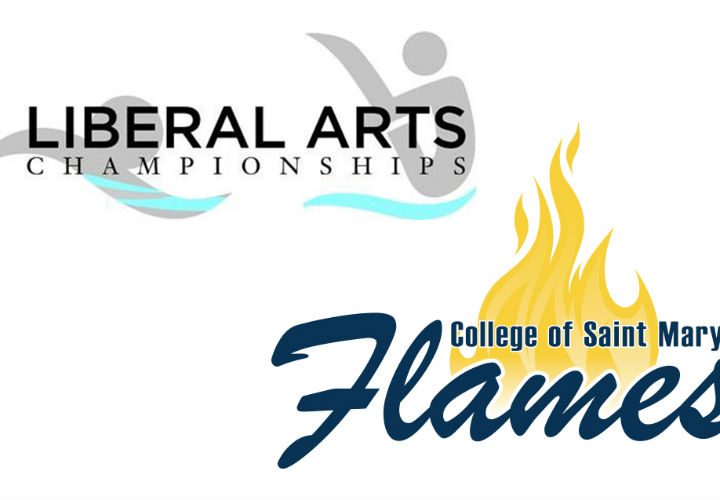 Photo Courtesy: College of Saint Mary Athletics
The College of Saint Mary swim team has been accepted into the Liberal Arts Championships, starting in the 2018-19 season.
CSM competes in the Great Plains Athletic Conference for most sports, however the GPAC does not recognize swimming and diving at the conference level. Joining the Liberal Arts Championships will help the Flames get some of the opportunities that being part of a conference allows.
"I am happy to announce that starting the 2018-19 swim season, College of Saint Mary will be joining the Liberal Arts Championships," CSM Coach Cole Malin said. "This is a huge step for the CSM swim team. Being part of the Liberal Arts Championships gives the CSM swimmers great opportunities to swim against great NCAA Division III talent along with other NAIA schools in a championship environment."
Current members of the LAC include: Franklin College, Illinois Institute of Technology, Luther College, Coe College, Morningside College, Loras College, University of Minnesota-Morris, Simpson College, Mills College, Nebraska Wesleyan University and Principia College.
The end-of-the-year championship meet is a four-day preliminary and final championship event. The event reflects the same lineup as the NCAA and NAIA championships. Next year's event will be hosted by Coe College in Cedar Rapids, Iowa, and will run Feb. 13-16, 2019.
To gain entrance into the championships CSM had to apply to the LAC board, which are all current LAC team coaches, and fit the criteria set forth by the LAC. The board voted to accept CSM on May 16.
"Here at CSM, I am always looking at ways to elevate the student-athlete experience and this is a fantastic way to do it," Malin said. "Next season all CSM swimmers will be eligible to work towards swimmer of the week awards, swimmer of the meet (championships only) award, an all-championship team award and other postseason awards.
"This is a great opportunity for the CSM swim team to get great recognition, but also for a great student-athlete experience that each of the CSM swimmers will be able to remember for a lifetime. The future looks bright going into the 2018-19 season."
The above press release was posted by Swimming World in conjunction with the College of Saint Mary. For press releases and advertising inquiries please contact Advertising@SwimmingWorld.com.