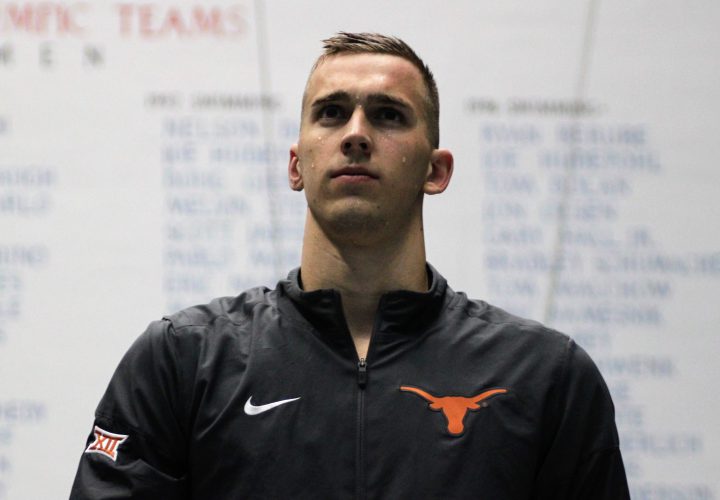 Photo Courtesy: Andy Ringgold / Aringo Photos
Clark Smith just wrapped up his collegiate career at Texas with NCAA titles and American record-setting performances in both the 500 and 1650 free, and now he has taken the next step as a professional swimmer.
Smith has signed with Arluck Promotions, according to founder David Arluck. Arluck was the originator behind the popular Fitter and Faster clinics and represents a number of athletes who swam on the U.S. Olympic team this past summer.
"Clark was a huge asset for the University of Texas a few weeks back at the NCAA Championships where he won the 500 and 1650 freestyles – breaking the American Record in both," Arluck wrote on Facebook
"Each record was previously held by clients of ours: Peter Vanderkaay and Connor Jaeger respectively. Pete's 500 free record was one of the longest standing in the books- having not been touched since 2006. In the 1650, Clark got his hand on the wall first in a race where three swimmers all went under the existing American Record. He also holds the AR in the 100 free."
Smith also swam in the Olympics in Rio in the 800 free relay, winning a gold medal for his efforts in the prelims. Earlier in the summer, he finished sixth in the 200 free at Olympic Trials to make the team and fourth in the 400 free.
Read Arluck's Facebook post announcing the news by clicking here.