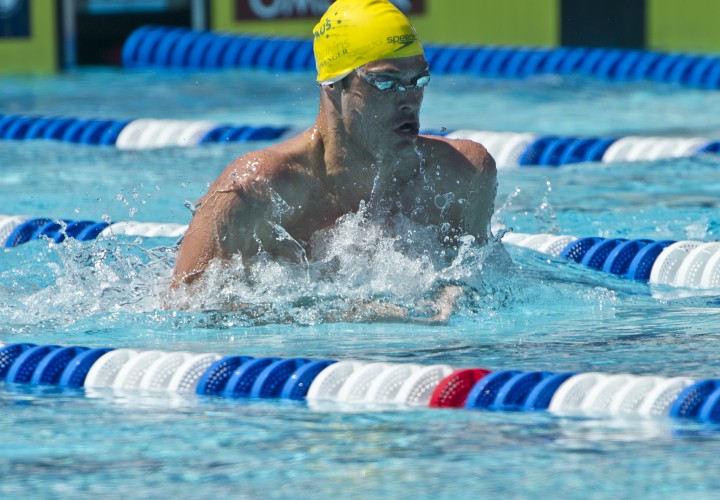 BRISBANE, Australia, April 5. IN the most impressive night of the meet thus far, Christian Sprenger headlined night five of the Australian Nationals and Commonwealth Games with a textile best in the 50 breast.
FINALS
St. Pete's Mitchell Larkin started the night off with a bang as he popped a Commonwealth record time of 1:55.26 to win the men's 200-mater backstroke finale. The time surpassed both the Australian record of 1:55.82 set by Ashley Delaney back in 2009 as well as James Goddard's Commonwealth mark of 1:55.58 set back in 2009 as well for Great Britain. It also pushed Larkin to second in the SwimVortex world rankings behind only Kosuke Hagino's sizzling 1:54.77 at the Tokyo Championships earlier this year.
Tigersharks' Matson Lawson, last year's winner with a 1:56.59, had a faster time this year with a 1:56.35 but had to settle for second behind Larkin's backstroke clinic. The swim pushed Lawson to fourth in the world rankings. Lawson's teammate, Josh Beaver, checked in with a third-place time of 1:56.83, while Delaney finished fourth in 1:57.50 as his Aussie record fell by the wayside. Beaver now holds fifth in the world, while Delaney moved into the top 10.
SoPac's Jessica Ashwood, the Aussie record holder in the women's 800-meter free with an 8:19.76 from the NSW State Championships earlier this year that puts her No. 1 in the world, cruised to victory in the finale with an 8:22.51 tonight. That's still two seconds inside the 8:24.63 she used to win the event a year ago.
Rocky City's Alanna Bowles had set the FINA World Junior Record in the 800-meter free with an 8:29.40 in prelims came up a bit short of that time with a second-place effort of 8:30.52. Ryde Carlile's Laura Crockart rounded out the top three in the distance event with an 8:31.84.
In an incredibly close finale, Indooroopilly's Lorna Tonks overtook the field with a monster 35.24 final split to win the women's 100-meter breaststroke in 1:07.31. After turning fifth at the wall, she came roaring back to top Southport's Leiston Pickett (1:07.56) and Marion's Sally Hunter (1:07.73) into the wall. Tonks had been faster with a 1:07.26 during semis that put her fourth in the world. Pickett and Hunter, meanwhile, broke 1:08 for the first time this year to move into the top 10.
St. Pete's Madeline Groves, who is having herself a transcendent season after having already led the world with a 2:06.81 at the NSW State Championships, smoked the women's 200-meter fly field this evening with a 2:06.95 for the win. That's nearly three seconds better than the 2:09.39 she used a year ago to win the 200 fly national title.
Nunawading's Ellen Gandy, a British Olympian who changed her allegiance to Australia, finished second this evening with a 2:08.60, well off the second-ranked 2:07.06 she posted at the Victorian Open Championships in Melbourne. Perth City's Brianna Throssell snared third overall in 2:09.83.
Commercial's Christian Sprenger nearly cracked Cameron van der Burgh's world record in the men's 50-meter breaststroke with a 26.74 scorcher this evening. That time just missed van der Burgh's 26.67 mark from 2009, but did finish inside of van der Burgh's textile best of 26.77 from the 20113 World Championships in Barcelona. Sprenger also beat his own Australian record of 26.78 as well as his own All Comers mark of 26.90.
Sprenger is the first swimmer to break 27 seconds this year as he crushed the previous top time of 27.28 posted by Ross Murdoch at the Scottish Nationals earlier this week.
Nunawading's Max Ireland finished second this evening in the sprint breast event with a 28.07, while Leisurepark's Tommy Sucipto picked up third overall in 28.18.
Commercial's Cate and Bronte Campbell road the momentum of Sprenger's sensational swim with a pair of blazing times in the women's 100-meter freestyle. Cate popped the first sub-53 swim of the year with a 52.68 to beat her top-ranked 53.01 from semis. That performance eclipsed her previous All Comers record of 52.83 set a year ago at the Australian Nationals.
Bronte, meanwhile, charged to second in the world rankings with a sterling 53.02, while West Illawarra's Emma McKeon claimed third in 53.57. St. Pete's Brittany Elmslie and Southport's Melanie Schlanger tied for fourth with matching 54.06s.
The men's 100-meter fly proved to be a barnburner as well with Christopher Wright throwing down a 27.36 on the way home to closed out the win in 52.16. Tommaso D'Orsogna had built a huge lead at the 50 with a 24.06 on the way out, but wound up second in 52.21 after Wright put on a back-half clinic in the finale. SoPac's Jayden Hadler snared third-place honors with a 52.33.
The Nudgee Brothers' quartet of Emily Seebohm (55.76), Ellen Fullerton (56.31), Lizzie Gannon (56.80) and Mikkayla Sheridan (55.57) topped the women"s 400-meter free relay in 3:44.44 to closed out the finale. Sydney (3:46.72) and Nunawading (3:49.33) placed second and third.
SEMIFINALS
Eamon Sullivan rocketed to the top of the world rankings in the men's splash-and-dash as he scorched the semifinal heats of the 50-meter free with a 21.65. That's better than the 21.74 clocked by Cesar Cielo in Brazil earlier this year that had stood atop the mountain.
Sullivan set up an epic head-to-head matchup with James Magnussen, who cruised through the first semifinal heat with a second-seeded time of 22.07. He's been faster this year with a third-ranked 21.88 from the Australian Aquatic Super Series. Along with Sullivan, the duo should put on a tremendous show in the finale.
Cameron McEvoy, who claimed an upset victory over Magnussen in the 100-meter free, pushed himself into the conversation with a third-seeded 22.08 to also rank seventh in the world this year.
Nudgee Brothers' Emily Seebohm continued her strong meet thus far by jumping into a three-way tie for third in the world in the women's 50-meter back. She dropped a 27.96 this evening in the sprint backstroke semis to match Mie Nielsen and Aliaksandra Herasimenia's European efforts from earlier this year. Only Georgia Davies (27.80) and Fu Yuanhui (27.91) have been faster.
St. Pete training partners Madison Wilson (28.25) and Meagen Nay (28.74) qualified second and third into the finale with Wilson now standing tied for sixth in the world rankings with her performance.
MULTI-CLASS
A trio of swimmers competed in the men's 200-meter IM with Jesse Aungles charting the top-ranked time with a 2:29.54. Blake Cochrane (2:30.01) and Jordan Dessent (2:45.37) also swam in the finale. Taylor Corry followed with a 4:51.40 for the top ranking in the women's 400-meter free. Amanda Fowler (4:58.67) and Lake Patterson (5:25.34) finished second and third. Kayla Clarke then led the women's 50-meter fly in 30.69 with Taylor Corry (31.83) and Anna Williams (33.61) placing second and third. Mitch Kilduff closed out the night with a 26.83 to win the men's 50-meter fly. Matt Cowdrey (27.58) and Daniel Fox (27.87) rounded out the top three.