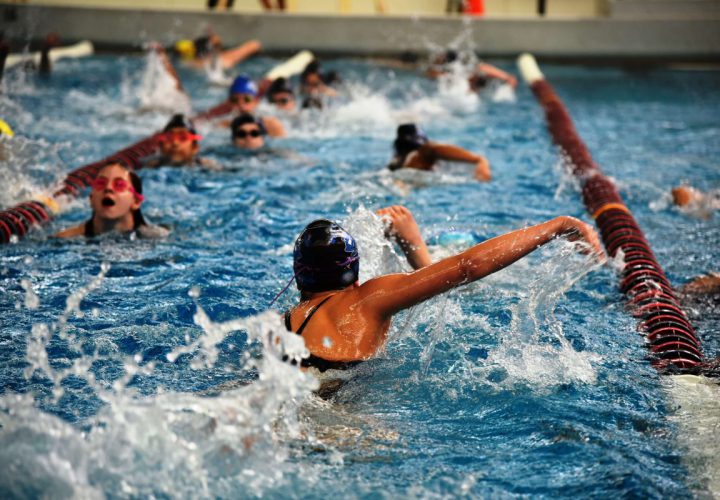 Photo Courtesy: Chicago Park District
Approximately 1,900 athletes and 100 coaches will be enrolled as USA Swimming members through a new multi-year partnership between USA Swimming, the Chicago Park District and Illinois Swimming to increase multicultural participation and bring additional opportunities to the community.
In addition, the Chicago Park District program will become a USA Swimming member club and its athletes will be eligible to compete in USA Swimming-sanctioned events. Coaches will have access to increased resources, such as technical and safety training, educational assets and mentoring activities.
With the 1,900 athletes, the Chicago Park District team will be among the top five among all 3,000 USA Swimming clubs for most athlete members. Nitro Swimming of Austin, Texas, is the largest with 2,139 swimmers.
"The primary objective of this Community Swim Team partnership with the Chicago Park District is to make swimming a part of the everyday life of young people in Chicago," said Pat Hogan, USA Swimming Managing Director of Club Development. "Recreational leagues can be a great pathway for swimmers and this partnership will support that with a new wave of swimming opportunities. We're continually looking to bring young people from new communities into the sport, and Chicago is a wonderful melting pot of cultural diversity."
A partnership kick-off, on Saturday, April 1, included a visit from Olympic gold medalist Cullen Jones, who swam a relay race against 16 Chicago Park District athletes. Approximately 650 Chicago Park District swimmers competed in their first-ever meet as USA Swimming members, along with educational sessions and autograph opportunities. The event took place at UIC Natatorium.
"We are excited to partner with USA Swimming to host this citywide event," said Chicago Park District General Superintendent and CEO Michael Kelly. "Together, we're giving local swimmers a unique opportunity to experience the sport on a competitive level. In addition, we are continuing the very important work of promoting swimming as a life skill that everyone should have."
As part of this program, USA Swimming provides group in-service coach instruction sessions and other educational and participation opportunities for Chicago Park District coaches and swimmers. This partnership increases the number of training locations from two swimming pools to almost 50, reaching every neighborhood in Chicago with an affordable and nearby swimming pool to train. The Chicago Park District manages 49 outdoor pools, 28 indoor pools and operates 14 Chicago Public School pools that offer community programs.
The collaborative program will positively impact the community by:
Providing Chicago Park District athletes with USA Swimming athlete membership benefits
Offering Chicago Park District coaches access to education, safety training and additional resources through USA Swimming coach membership
Introducing a new multicultural population of children and coaches to USA Swimming
Giving additional coach mentorship opportunities to diverse swim teams
Developing lifelong skills that combat child obesity through increased health, recreational and fitness opportunities
Utilizing a multi-level, progressive swimming program to teach children the process of being a good teammate, aspirational goal-setting and working to achieve measureable results
Enhancing Chicago Park District programs through additional support and resources to expand participation in competitive swimming
Showcasing how swimming is a vehicle to make a difference in Chicago to local and state organizations
USA Swimming offers an outreach membership with a reduced registration fee for athletes from low-income families.
More information on USA Swimming Diversity and Inclusion programs is available at http://www.usaswimming.org/diversity.
Check out photos from the meet, courtesy of the Chicago Park District.
This slideshow requires JavaScript.
Press release courtesy of USA Swimming.