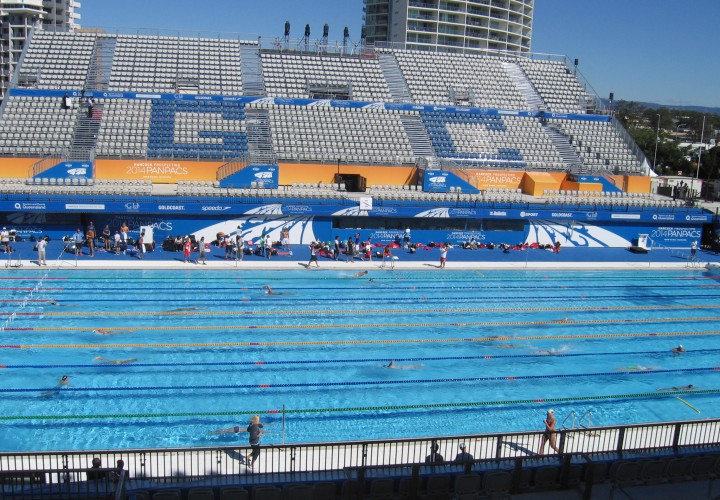 Editorial coverage for the Pan Pacific Championships is proudly sponsored by Master Spas! For complete coverage of the Pan Pacific Championships, check out our event landing page.
GOLD COAST, Australia, August 21. CHASE Kalisz's withdrawal from the A final of the men's 200 butterfly was the only scratch for tonight's finals at the Pan Pacific championships.
Kalisz qualified seventh overall for tonight's final, but his scratch means Tyler Clary will be the sole American representative against a tough field that includes Daiya Seto and Masato Sakai of Japan as the first and third seeds. Brazil's Leonardo de Deus is the second overall seed, while Clary is fourth.
Missy Franklin intends to swim the 200 freestyle and the 100 backstroke tonight despite feeling what she called "discomfort" in her back in prelims this morning, two days after experiencing back spasms during a team practice. Franklin is in the B final of the 200 free thanks to the meet rule allowing only two swimmers per country in the championship final, while she is the third seed overall in the 100 back and will swim in the A final. Katie Ledecky and Shannon Vreeland qualified for the USA in the 200 free A final.
Ledecky will have a tough double of her own, swimming in the 800 freestyle less than an hour after the 200 free final. Ledecky is the prohibitive favorite in the 800 free, though New Zealand's Lauren Boyle will give Ledecky a chase.
The two-swimmer-per-country rule that applies to the A final kept a three-way swimoff from happening in the men's 200 freestyle. Matt McLean of the United States and Yuki Kobori of Japan will be relegated to the B final, while Nicolas Oliveira of Brazil is in the A final though all three posted times of 1:47.91 this morning.
The meet will feature A and B finals of each event except the men's 1500 free and the women's 800 free. The session will start with the B finals of the women's and men's 200 butterfly, presumably to fit with Australian television coverage. The 200 free and 100 back will swim the B final just before the A final.
Click the images below to see tonight's heat sheets!