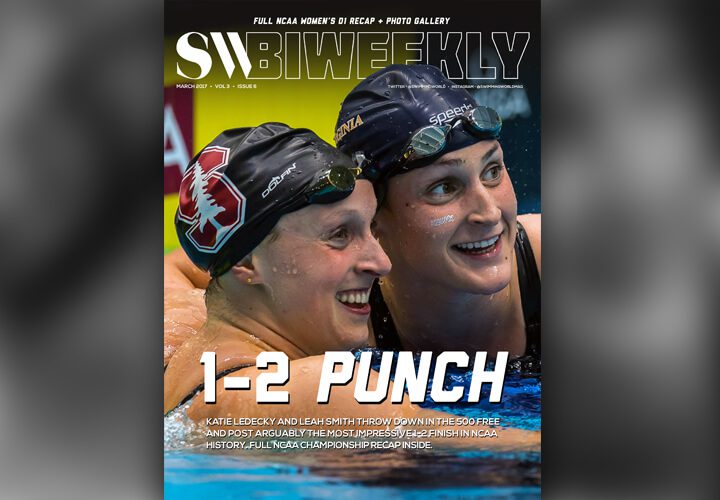 Current subscribers can visit the Swimming World Vault to download this iconic issue now!
Relive the 2017 NCAA Women's Swimming and Diving Championships in this exciting Swimming World Biweekly issue.  Inside readers will find full reports of the women's meet in addition to a DI photo gallery by Swimming World's chief photographer Peter H. Bick.
Featured on the cover are Stanford's Katie Ledecky and Virginia's Leah Smith, who continued to solidify themselves as the distance queens with a 1-2 punch in both the 500 and 1,650-yard free.
Also available in this issue are features on Cal's Kathleen Baker, Louisville's Mallory Comerford, and a full recap of the 2017 NCAA Division III Championships.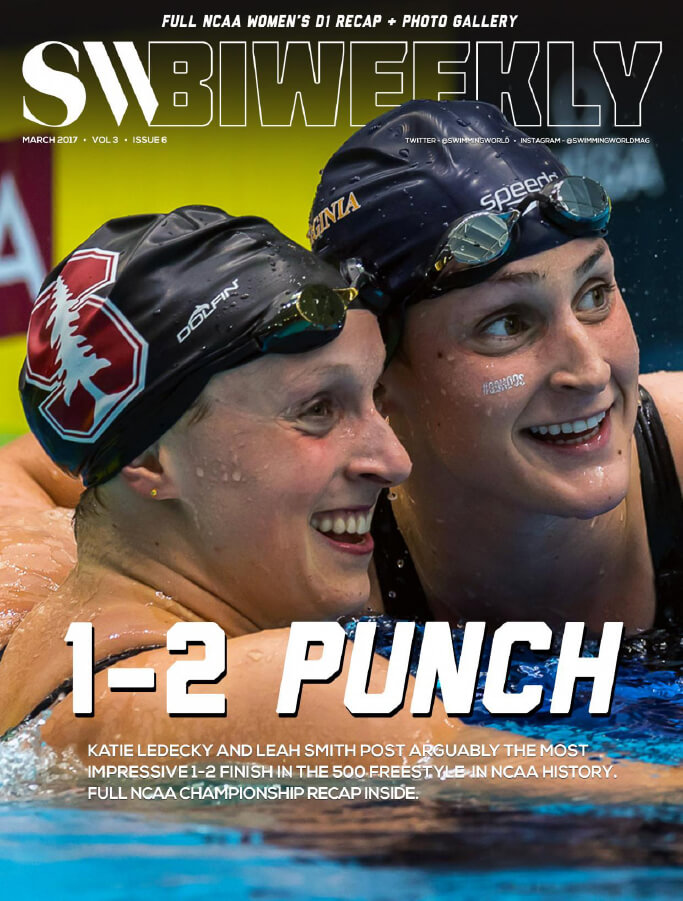 Be sure and download your FREE copy of Swimming World Biweekly today or take advantage of Swimming World's 72 hour $24.95 Special Offer* to get a 39% Discount off of a 1 year subscription that is regularly priced at $39.95
Note: *72 Hour Offer Ends March 25th.   After March 25th, you can still enjoy a discount if you CLICK HERE and use Coupon Code Below
Use Coupon Code: realnews and save 25%
A monthly print copy of Swimming World Magazine in the mail for 1 year!
Free download of the next 12 issues and the past 12 issues of Swimming World Magazine!
Free download of next 24 issues and the past 24 issues of Swimming World Biweekly!
Free download of next 4 issues and the past 4 issues of Swimming Technique Magazine!
Click Here For This Special Offer with coupon code "realnews"
FEATURES:
006 WOMEN'S NCAA D1 CHAMPIONSHIPS PHOTO GALLERY
photos by Peter H. Bick
032 WOMEN'S NCAA D1 CHAMPIONSHIPS FULL FINALS RECAP
by Dan D'Addona & Andy Ross
All the action from Indianapolis as the Standford Cardinal take home their first team title in 19 years.
036 SWIMMING WORLD'S ANNUAL SWIM CAMP DIRECTORY
046 LEDECKY & SMITH A DOMINANT AND STUNNING 1-2 PUNCH
by Dan D'Addona
It was perhaps the most dominating 1-2 performance in NCAA history. But it was almost to be expected with the way Ledecky and Smith performed at the Olympics in Rio…
048 MALLORY COMERFORD'S BREAKTHROUGH MOMENT
by David Rieder
It was billed as a showdown between Olympic gold medalists and Stanford teammates Katie Ledecky and Simone Manuel, but after 150 yards, there was just one problem: Mallory Comerford would not go away…
050 ELLA EASTIN'S RECORD 400 IM KEEPS STANFORD CRUISING AT NCAA'S
by David Rieder
With a 77-point lead over Cal coming into Friday, Stanford sophomore Ella Eastin set the tone from the night's first race that the Cardinal weren't done with their dominance in Indianapolis…
051 KATHLEEN BAKER FULFILLS BIG EXPECTATIONS AT NCAA's
by David Rieder
A full 364 days after she finished up her last NCAA championships in Atlanta, much has changed for Baker: She has two Olympic medals to her name and, now, three individual NCAA titles…
052 LIA NEAL ANCHORS STANFORD'S EMOTIONAL, DOMINANT NCAA TITLE
by Dan D'Addona
Stanford's first national championship in 19 years was expected, but it didn't become real until the final relay. As senior Lia Neal dove in for the anchor leg of the 400-yard freestyle relay, following Simone Manuel, Katie Ledecky and Janet Hu, the moment began to hit the Cardinal…
054 EMORY MEN & WOMEN TAKE HOME TEAM TITLES AT NCAA D3 CHAMPIONSHIPS
by Diana Pimer
Emory captured both the Men and Women NCAA DIII National Swimming and Diving Championships on the final day of competition…