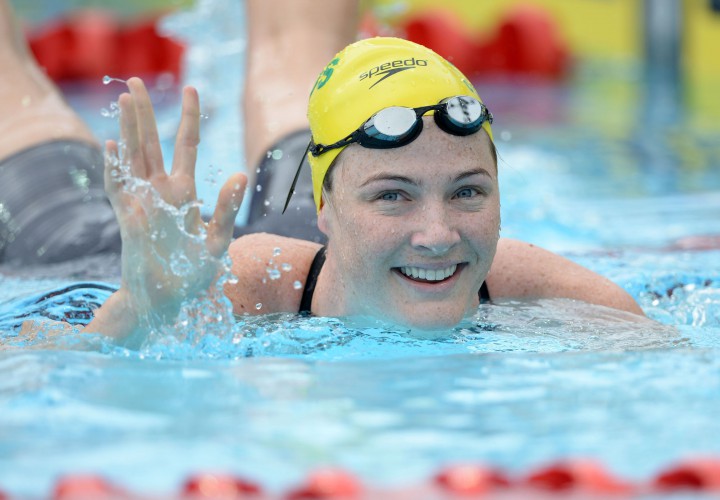 Photo Courtesy: Delly Carr
Sprint queen Cate Campbell created history in Sydney tonight when she became the first woman to crack 51 seconds for 100m freestyle in the final of the 200m event on a record-breaking final night of the Hancock Prospecting Australian Short Course Swimming Championships in Sydney.
Campbell told her competitors in the marshalling room at the Sydney Olympic Park Aquatic Centre just minutes before the race that she would only swim the first 100 metres – and only her coach Simon Cusack and a handful of coaches knew the plan.
When she split 24.20 at the 50m mark even National head coach Jacco Verhaeren knew "something was on" and all eyes were on lane six as the long, fluid strokes of the 2013 world champion ploughed through the water.
Then she stopped, touched the wall at the 100m mark and looked around to see her time of 50.91 – 0.10 faster than Australian Olympic gold medallist Libby Trickett had swum in 2008 with her 51.01 –as Emma McKeon continued through the next 100m to set a new Commonwealth record for the 200m of 1:51.66.
"It is my first individual world record, I can't believe that just happened," Campbell told a stunned press corps.
"It doesn't really feel real, especially because I came dead last by about 25m, so I think it is pretty unique to get a world record and finish dead-last in your race.
"Not many people can claim that but I have always been a trailblazer, so I will take it.''
There was a total of seven records in that one race – the World, Commonwealth, Australian and Australian All-Comers records in the 100m to Campbell and the Commonwealth, Australian and Australian All-Comers records in the 200m to McKeon.
All-in-all there were 20 records broken tonight – one world, five Commonwealth, six Australian and eight Australian All-Comers and records set on the final night – taking the record tally to 40 in three days – two world, eight Commonwealth, 12 Australian and 18 Australian All-Comers.
Mitch Larkin, who set a new 200m backstroke world record last night, continued the record rage, twice setting new Commonwealth, Australian and Australian All-Comers records – first off in his individual 100m backstroke final with a sizzling 49.04 and then improving it 30 minutes later to 49.03 as he led the St Peters Western medley relay team to an Australian club relay record – just 0.09 shy of Nick Thoman's 2009 world mark of 48.94.
Not to be out done, a revitalised, refreshed and re-loaded Tom Fraser-Holmes put his hand up, slashing his own Commonwealth and Australian records in the men's 400m individual medley in a time of 3:57.91 – and only 3.41 outside Ryan Lochte's 2010 world mark.
Then Emily Seebohm finished her campaign with a new Australian All-Comers record of 26.30 in the 50m backstroke final, only just out-touching her training partner, 15-year-old World junior champion Minna Atherton who clocked 26.56.
Then 24 hours after breaking Ian Thorpe's 200m freestyle Commonwealth record, Cam McEvoy kept the records tumbling with his 20.75 in the 50 metres freestyle final to become only the second swimmer since 1982 to win the 50,100 and 200m freestyle treble to Tom Stachewicz (1988).
McEvoy analysed his race, saying: "The first 25 metres felt a bit messy because I just wanted to get out as quick as I could and the technical side of things kind of fell apart.
"I guess with the 50 short course, after the turn it's all about trying to get into that rhythm, not trying to over-spin and just trying to get to the other end as quick as you can as well. A lot of it is a blur.
"I've been very close to getting the treble the past two years at the long course championships. It is an added bonus, it's nice to finish off a competition like that and the week with three gold medals and it's great to do be able to do something like that for the first time in a long time."
In other events:
Kenneth To (Trinity Grammar, NSW) won his fifth 100 individual medley title in six years in 52.38, with Justin James (Mackay) second in 53.59 and defending champion Daniel Lester (Lawnton, QLD) third in 53.89. To also won the 200IM earlier in the meet.
Madeline Groves (St Peters Western, QLD) won her first 200m butterfly short course title, to match her long course gold medal from earlier in the year, hanging on to stop the clock at 2:03.08 – just 0.20 outside the Commonwealth and Australian record of 2:02.88, set by Ellen Gandy in 2013. Groves held on to beat the fast finishing Brianna Throssell (Perth City, WA) 2:03.25 and An Sehyun (Korea) 2:08.74.
David Morgan (TSS Aquatic, QLD) successfully defended his 100m butterfly title with an all-the-way win in a personal best time of 50.14 from ChrisWright (50.59) and Tommaso D'Orsogna (50.79).
World Junior Championship silver medallist in this event Matthew Wilson is proving his potential at the open level with a win in the men's 200m breaststroke final tonight. Wilson took his first title in emphatic fashion, finishing half a body length ahead of the rest of the field. The 16-year-old clocked a 2:06.50 to relegate Canada's Ashton Baumann (2:08.01) to second with TSS Aquatics swimmer Joshua Tierney (2:08.89) taking the bronze.
World Championship representative Jake Packard touched in second place but was later disqualified for an illegal touch.
St Peters Western swimmer Georgia Bohl is brimming with confidence after taking her second title for the meet in the 50m breaststroke tonight, only her second ever open national's title. Bohl held on to take the win in a time of 30.03 leaving Leiston Pickett (30.11) to settle for second and Sally Hunter(30.34) with the bronze.
After taking the win and equalling her own Australian record in the 400m individual medley earlier in the week, Ellen Fullerton added the 200m IM title to her tally tonight. Sprinting home in the freestyle leg, Fullerton finished in 2:07.97 with West Australian Blair Evans (2:07.97) sneaking into second and Alicia Coutts (2:08.11) rounding out the top three.
The men's 1500m freestyle was a fight to the finish, with both Jack McLoughlin (14:54.12) and George O'Brien (14:55.69) going stroke for stroke for the duration of the 60 laps. McLoughlin started to pull away at the 1400 metre mark and managed to touch just ahead of O'Brien and steal the national short course title. The bronze medal went to Marion's Ethan Owens who hit the wall in 15:21.71.
IPC World Champion Tiffany Thomas-Kane (1:38.40, 992 Multi Class points) wrapped up a successful short course meet with a gold medal in the women's 100m Multi Class breaststroke. The 14-year-old got the better of Madeleine Scott (1:18.66, 934 Multi Class points) and Paige Leonhardt(1:20.95, 857 Multi Class points).
The men's 100m Multi Class breaststroke saw Ahmed Kelly in his element. Kelly was crowned the eventual winner with a time of 1:49.94 – giving him 936 Multi Class points. The Silver medal went to Mitchell Kilduff (1:12.92, 709 Multi Class points) with Matthew Ward taking the bronze in 1:13.28 (653 Multi Class points).
Fourteen-year-old Jenna Jones (32.75, 1111 Multi Class points) collected her first national short course title in front of a home crowd in the women's 50m Multi Class backstroke final. The silver medal was awarded to Taylor Corry (31.07, 1029 Multi Class points) with Teigan Van Roosmalen (34.09, 985 Multi Class points) joining them on the podium for third.
In the corresponding men's Multi Class event, Michael Anderson (26.97, 1038 Multi Class points) was too strong over the 50m backstroke, taking the title ahead of Sean Russo (27.62, 966 Multi Class points) and Joshua Alford (30.49, 835 Multi Class points).
Swimming Australia contributed this report.