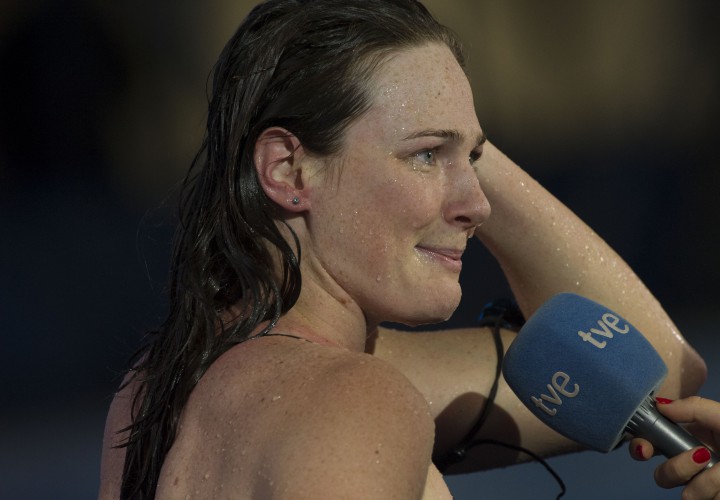 PERTH, Australia, February 2. WORLD champion sprinter Cate Campbell has capped off an extraordinary year in the pool by winning three major awards, including Swimmer of the Year, People's Choice and Swimmer's Swimmer at the 2013 Swimmer of the Year Awards at the Perth Convention and Exhibition Centre in Western Australia.
The 21-year-old, who currently holds the fastest time for the 100m freestyle in a textile suit, set the pool alight in 2013, winning a gold medal in the 100m freestyle at the FINA World Championships in Barcelona as well as three silver medals in the 50m freestyle, 4x100m medley relay and the 4x100m freestyle relay.
The freestyler demonstrated her dominance early on in the year, taking out the female swimmer of the meet at the 2013 BHP Billiton Aquatic Super Series in Perth and then going on to take two national titles in the 50 and 100m freestyle at the Australian Swimming Championships – setting her up for her world championship title in Barcelona.
Not only did Campbell pick up the Swimmer of the Year Award for her outstanding achievements, but the Simon Cusack coached star was also recognised by the public and her peers who voted her as the People's Choice and Swimmers' Swimmer for 2013.
After making her first Australian Senior team in Beijing 2008 at just 16-years-of-age, Campbell will this year be looking forward to continuing her good form and potentially representing Australia at her first Commonwealth Games.
She will be in good hands, working closely with her long-time coach Simon Cusack who, after successfully coaching two of his athletes; Campbell and Christian Sprenger, to individual world titles in 2013, was awarded the Coach of the Year.
Other award recipients on the night included rising distance star Jordan Harrison who picked up the Australian Institute of Sport Discovery of the Year.
Harrison made his debut on the senior Australian Swim Team at the Barcelona World Championships, qualifying for the finals of the 1500,800 and 400m freestyle.
Harrison's teammate Simon Huitenga , also a debutant on the senior Australian Swim Team, picked up the Open Water Swimmer of the Year Award after he finished 11th in the men's 10km open water at the FINA World Championships.
While Australia's most successful Paralympian Matthew Cowdrey who won a total of five gold medals at the 2013 IPC World Championships in Montreal, was awarded the trophy for Multi Class Athlete of the Year.
Cowdrey's Coach Peter Bishop, was also recognised on the night with the award for Multi Class Coach of the Year.
The above article is a press release submitted to Swimming World. To reach our audience, contact us at newsmaster@swimmingworldmagazine.com.